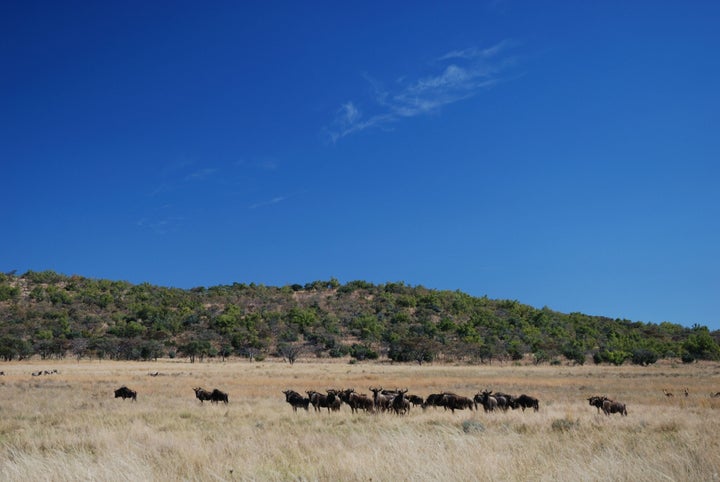 Memo to Governor Rick Perry:
I notice you didn't make an appearance at COP 17, the United Nation's most recent stab at controlling climate change. I realize you were probably busy, beings as the Republican presidential nomination process is in full swing. Oh yeah, that and the fact you don't believe in global warming. I've got an idea, though, since you've made it abundantly clear that, in the thinking under your big Texas Stetson, scientists are manipulating the data behind global warming.
How about trying the South African Rain Queen theory? It'll undoubtedly play better to the 83 percent of Americans who believe climate change is a serious threat. Let me explain.
I recently had the privilege of an audience with the Rain Queen. Or at least I thought I did. I was traveling in Limpopo, the southwestern province of South Africa, home to Kruger National Park and classic African bushveld, wide open expanses of beautiful flat scrub, dotted with small acacia trees.
Limpopo is also where the great and powerful Rain Queen has reigned for more than 300 years. Every October, this Modjadji, as she's called, comes out of seclusion to make rain. It's an elaborate ceremony that involves homemade sorghum beer, a black sheep and kids licking the remains off the ground. Don't ask.
In Sub-Saharan Africa, the Rain Queen's mythic powers are legendary. In times of drought, caravans of gifts are sent to the tribe's 150 villages. Everyone from Shaka, King of the Zulus, to Nelson Mandela and F.W. De Klerk have paid their respects. Fear of her powers, passed down from queen to queen in a rather unique matrilineage, has kept her Balobedu Tribe safe for centuries.
It's obvious she knows what she's doing. The mist and rain belt of the valley surrounding her royal compound is a climatic anomaly. Set on dry slopes above an even drier plain, the lush highlands around her village coax enough rain from the clouds blown off the Indian Ocean to grow bananas and a 750-acre forest of rare cyclad trees, the world's largest.
So here's the new climate change theory: The last Rain Queen died in 2005 in a rather questionable early death. She has a daughter, who by all rights should be the new rainmaker, but she's only six. And, in the meantime, factions are feuding and no one has been officially installed. Could it be, Governor Perry, that rising global temperatures are directly related to the current lack of a Balobedu Rain Queen?
Her representative, the guy who gave us the tour of her walled complex and explained the fascinating centuries old rituals, didn't come right out and say it, but it was easy to ascertain that there's trouble in the Rain Queen kingdom. To put it bluntly, the Al Roker of Sub-Saharan Africa has gone missing.
It seems the last Queen, the one who died at 27, only two years into her reign, had her detractors. After centuries of living in seclusion, being waited on by countless "wives" (they're actually more like ladies-in-waiting, sent by each tribal village to gain favor with Modjadji), the new Queen talked on a cell phone, frequented discos and had a boyfriend. In fact, it was her boyfriend, a city worker without the proper royal lineage, who fathered the next rightful Rain Queen that's part of the problem.
You've also got to figure that when they start letting in commoners like me -- and anybody else willing to fork over the requisite tour dollars -- visit the Rain Queen's kingdom, our weather patterns are bound to be in peril. Sure, I took my shoes off -- you can't get inside without doing so -- but to have a dynasty without a queen, well, we may never see the end of global warming. So Governor Perry, since the National Academy of Science is obviously trying to pull the wool over our eyes, how about seeing what you can do about getting a new Rain Queen?
As for me, I was leery at first of the Rain Queen's power. My girlfriends and I, in fact, had the temerity to poke a little fun after our visit. But that night, at our hotel in Limpopo's majestic Magoebaskloof mountains, the heavens opened up with a powerful wallop. It rained and stormed so hard that all power was knocked out in our hotel. We could do nothing but sit in the pitch black. Kinda like anybody who doesn't believe in global warming.
Related