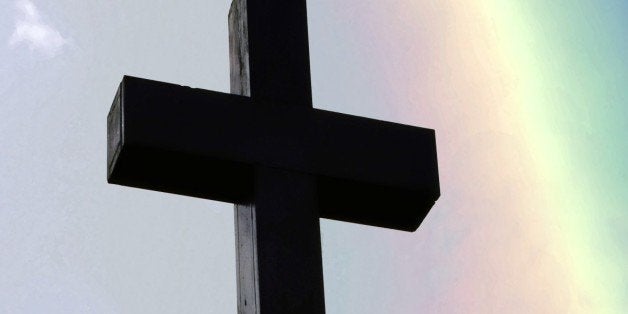 "We must now have the courage to take the final step and call homophobia and heterosexism what they are. They are sin. Homophobia is a sin. Heterosexism is a sin."
Thus preached the Very Rev. Gary Hall, dean of Washington National Cathedral, in an October 2013 sermon. The sermon was part of a special service that the Cathedral offered to honor lesbian, gay, bisexual, and transgender (LGBT) youth who suffer daily from intimidation, discrimination, and violence. Although quotes like that raise eyebrows, another part of the sermon that I consider even more important was when Dean Hall said:
It is not only just OK to be gay, straight, bisexual, or transgender; it is good to be that way, because that is the way God has made you. ... Your sexuality is good. The church not only accepts it. The church celebrates it and rejoices in it. God loves you as you are, and the church can do no less.
I've been visiting Costa Rica and traveling throughout Latin America for many years, but in my most recent visit, I came as a volunteer missionary to work with the Episcopal Church of Costa Rica while on leave from Washington National Cathedral, where I serve as director of communications. During my two months in Costa Rica, I have had the opportunity to get to know the bishop, the Rt. Rev. Héctor Monterroso, better, and we agreed that part of my work could be to look for an opportunity to plant a seed with the creation of an LGBT ministry here. As Bishop Monterroso said in a recent interview with La Prensa Libre last week, "We want to heal the wounds that many [LGBT] people have with religion."
As it has turned out, my attempt at applying my activist skills in Costa Rica in the same way as in the U.S. has been both an enriching and humbling experience. As a foreigner, I observe the situation and the reality in this country, and I should admit clearly that I cannot fully understand what it means to be an LGBT Costa Rican (or an LGBT Latino, for that matter) because I don't live here and I'm not Latino. Still, I do believe that there are certain things that we LGBT people around the world who have grown up in a faith community have in common. I've seen it time and time again everywhere I've traveled, including among the friends I've made here in Costa Rica.
Who among my Latino friends has felt hurt by the church at some point? I regret to say that the majority of them have. And I would share that at times I also felt that way when I was young.
But why do we feel that way, and why do countless children suffer every day because they're LGBT? Like Dean Hall also said, "That prejudice persists because Christian churches continue to promote it."
So how can we, as LGBT people who also want to follow the Way of Christ, live openly and be part of the change that we hope for?
I believe that part of the solution of changing society's mindset and obtaining full equality starts with our returning to churches and being who we are. If we return to the Bible, which is the text most used to cause us pain, we can discover that the predominant message in the Scriptures is love. If we learn the perspective and the progressive interpretation that thousands and thousands of Christians have affirmed, we can learn the context in which the verses used to condemn us were written, and we will be able to read them differently. And most importantly, we will also be able to live and share in the great commandment of Jesus -- including with those who cause us pain -- and "love our neighbors as ourselves" (Mark 12:31).
The Episcopal Church in the U.S. has been studying and discussing the diversity of human sexuality for more than 30 years. This reflection has resulted in the full participation of LGBT members -- including laity and the ordained -- and in certain dioceses the sacrament of marriage between same-sex couples. The Episcopal Church of Costa Rica is now taking its first steps in reflecting on this same subject.
In collaboration with the Costa Rican LGBT activist organization Movimiento Diversidad (Diversity Movement) and the Human Rights Campaign Foundation (HRC), we are hosting a special film screening and forum featuring the the short documentary Before God, We Are All Family, produced by HRC. We hope that through this event, set to take place at the University of Costa Rica Tuesday, March 4, members of the LGBT community become aware that the Episcopal Church here welcomes them, and at the same time we hope that members of the Church become better informed about the experience of the LGBT community.
As a Christian, I see a future in which all my LGBT brothers and sisters will not be condemned for who they are and a future in which our churches love and affirm all their members without conditions. In the case of the Episcopal Church of Costa Rica, I'm proud to have played a small part in planting a seed toward that reality. If you or someone you know would benefit from considering the full diversity of human sexuality through a faith lens and is interested in obtaining tools for biblical study and reflection, I commend to you HRC's "A la Familia" program, which published a free bilingual study guide downloadable on their website and written especially for Latin American families. You can even request a film screening of Before God in your community and find recommendations for getting involved in the fight for LGBT equality.
Our LGBT youth today and in generations to come need to understand and celebrate that God loves you as you are. I didn't understand that when I was young. Now, as a more mature, religious, Christian gay man, I am proud to call the Episcopal Church my spiritual home. I feel honored to be part of a Church that proclaims a welcoming version of Christianity, firm in its center and soft around the edges. Regardless of your spiritual home or beliefs, I pray that one day we all can find a place in which all are able to participate, learn, and cultivate a closer relationship with God.
Calling all HuffPost superfans!
Sign up for membership to become a founding member and help shape HuffPost's next chapter