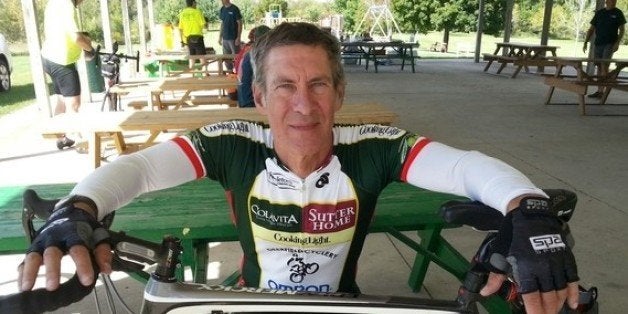 What if your passion preserved your life? Would you think about it differently, even to the point of making it a priority? For Daryl Kunz, whose passion for 20 years has been cycling, these questions are more than rhetorical musings.
Every year, Daryl covers thousands of miles and competes in ultra-distance races in which he's won a handful of medals. For an amateur, though, it's an expensive sport: the gear, the training, traveling to compete. Daryl's justification was that being part of a community of enthusiasts and always challenging himself made it well worth the investment of time, money, and sweat.
Then one day five years ago, Daryl found out just how important cycling is to his life.
About 35 miles into a 60-mile brisk ride with friends, Daryl, who was 54 at the time, struggled to keep up with his companions as he cycled up a small hill. "I got winded and heard myself wheezing," he recalls.
At first, doctors suspected exercise-induced asthma and possibly an issue with his heart, which led to four years of prescriptions for inhalers and follow-ups with cardiologists and other physicians. Finally, in June 2014, Daryl was diagnosed with Alpha-1 Antitrypsin Deficiency (Alpha-1), a rare genetic form of chronic obstructive pulmonary disease (COPD).
By the time he was diagnosed, Daryl's lung capacity was reduced to 58%. The number is startling for two reasons. First, he had been competing against cyclists with normal lung function -- and even won medals with the disease. Second, that number could have been -- and perhaps should have been -- far worse. "If not for bicycling, my lung capacity would be a lot lower, and I've been told by doctors that the loss could have happened so much sooner," he explains.
One of the first fellow "Alphas" Daryl met at a support group was a man in his mid-40s who has been on a waiting list for a lung transplant for more than a decade (protocols for eligibility can change frequently). "His lung effectiveness is under 20%," Daryl says softly, his voice wavering for a moment with the emotional realization that, without cycling, that story could have been his: being unable to walk more than a few blocks at a time.
Today, at age 59, Daryl receives intravenous drug treatments once a week to compensate for the fact that while his body does produce the protein needed to protect his lungs from outside irritants, his liver doesn't process it. And, he's still cycling: a 60-mile ride is standard, and a 100-miler is an enjoyable outing with a friend.
Daryl became a serious cyclist in 1994 and quickly ramped up from long rides for leisure to entering competitive racing. In 2010, he won his age group in the Bike Sebring 12/24 Hour Race in Sebring, Florida. His favorite event is the National 24-Hour Challenge held over Father's Day Weekend in Michigan, in which he placed second in 2007 with 396.4 miles in a 24-hour period. As he sees it, being an "Alpha" is no reason to hang up his helmet.
Understandably, though, his first reaction to his diagnosis spanned a range of emotions from shock and anger to sadness. As he grappled with it, Daryl asked a minister, "Why did God do this to me?" The answer, he says, was life-changing: "He told me, God didn't give it to you, but God will use it to shape your character."
After that conversation, Daryl learned to embrace the disease and his new "family" of other "Alphas," becoming involved in support groups in the Chicago area where he lives. He's written in cycling publications about being an "Alpha cyclist" and shares his story to raise awareness about the condition. Advocacy for others is his new passion.
And then Daryl gets on his bicycle and rides and rides -- an example for all of us, that what we think of as only a hobby or pastime may not only enrich our lives, but quite possibly preserve them.
REAL LIFE. REAL NEWS. REAL VOICES.
Help us tell more of the stories that matter from voices that too often remain unheard.