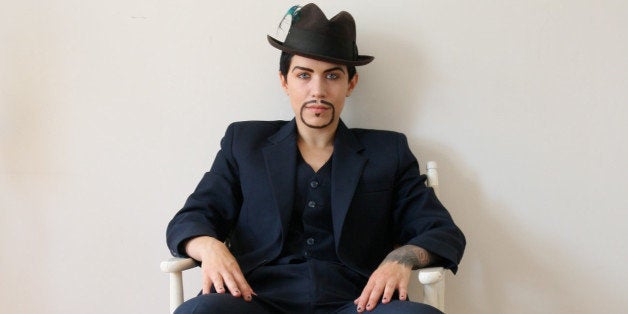 This is the fourteenth installment in an ongoing series that explores drag culture and the nightlife scene in Brooklyn, N.Y. Over the past several years, following the large-scale exodus of artists across the East River and into northern Brooklyn, those engaged in drag culture in this outer borough have created a new, queer world entirely their own. Accompanied by a larger movement to understand drag culture outside of the pageant circuit, many individuals engaged in the drag community in this borough approach drag culture through a nontraditional lens of "alternative" drag or performance art, enabled largely by the malleable and queer nature of this part of New York. Visit HuffPost Gay Voices regularly to learn not only about the individuals involved in Brooklyn's drag community, but more about the culture of the community itself.
The Huffington Post: How did you get your start in the drag world?
Goldie Peacock: Well, as the great RuPaul says, we're all born naked and the rest is drag! I've always been a performer and I started officially doing drag while I was a student at Oberlin College. They had an incredible scene and I wanted in. I have always been drawn to physical transformation and saw drag kinging as a welcome challenge, particularly because I identified and presented as femme at the time. After I won the "Oberlin Drag Ball," I decided I was on to something and started performing professionally, first in Portland, Maine, and then all over the country. I've called Brooklyn home for the past four years and I love seeing how the drag scene is growing.
Do you find empowerment through drag?
I find drag to be extremely empowering, so much so that I've written this article on the topic. I think that if everyone played around with gender a little more in their lives, we'd achieve something like world peace.
Gender is a complex animal, part nature, part nurture and part mystery. If more people allowed themselves to play around with what they thought the acceptable range of personal expression to be (in terms of identity, attire, creativity), we would all have more more self-love and compassion for everyone. If you have a burning desire to put on a pink frilly dress or a fake mustache or an alien costume, even if you perceive it as in some way forbidden to you, then try it (in a safe environment). A lot of misanthropy and misunderstanding (and definitely the "-isms") come from people secretly desiring what they see as unattainable for themselves. They don't allow themselves to go out on that limb, and so they sort of implode. The jealousy and shame that result from this state can be dangerous. The more we work through these issues, the better of a place the world becomes. Playing around with gender -- this thing we've been falsely taught is fixed, inherent and reliant on binaries -- is one of the keys to liberation.
Describe the drag scene and community in Brooklyn -- how is it different from drag culture elsewhere?
The Brooklyn drag scene is explosively populous and filled with performers influenced by the visual and performance art worlds. Originality and DIY genius are prized. There is an incredible amount of performance going on all the time, which provides for a steady flow of inspiration. I have found fellow performers in the Brooklyn drag community to be mostly kind and collaborative, as opposed to cliquish or catty. I'd say that in this scene anything goes as long as it's fabulous and fiercely executed. I've performed all over the place and look forward to continuing to do so, but I will say that I am a Brooklyn boi at heart! I live and make work here for so many reasons.
Bushwig and Switch N' Play have also exponentially grown and strengthened the scene. The legendary energy here inspires creativity, which is why so many artists of all kinds have flocked to Brooklyn. We have a lot of diversity of all types, and that definitely helps to keep the scene fresh and interesting.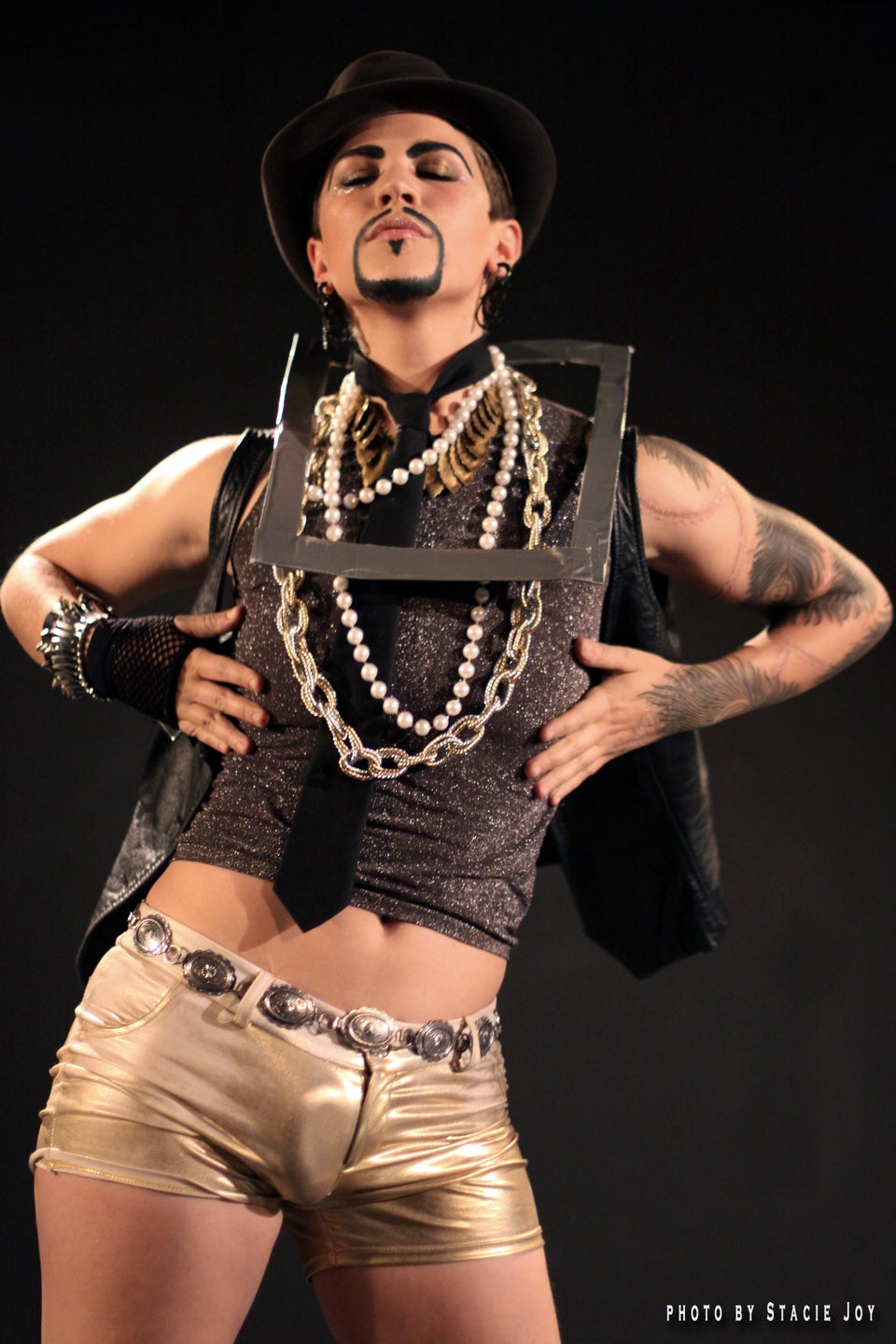 Goldie Peacock
Why do you think drag kings don't receive as much visibility as other forms of drag performance?
That's a big question. Some people find something threatening and challenging about drag kings, since we are primarily people assigned female at birth who take on some form of maleness/masculinity and therefore debunk the myth that being a man (and symbolically dominant within this society) is inherent or difficult to attain. Our very presence forces people to deal with their "-isms" in a different way than that of queens, since we are seen as taking on power as opposed to surrendering some portion of it.
I've heard plenty of harmful stereotypes about how kings are less interesting, fabulous and professional than queens. Clearly, those people have never encountered Switch N' Play, Murray Hill, Diane Torr, Spikey Van Dykey or Landon Cider. Or me, for that matter. What is true is that typical Western menswear is generally less ornate, with less variety than womenswear -- but so what? Drag kings aren't trying to be typical men any more than drag queens are trying to be typical women.
Ultimately, visibility also has to do with who/what is seen as marketable, which depends upon who has the most money and thinks they can make a buck from whom. Right now, the people with the money don't see drag kings as a hot commodity, with a few exceptions. I think that as the general acceptance level of queerness and genderbending increases, drag king performance will find its way back into the spotlight.
K.James previously mentioned that you teach "drag education" workshops for those new to the scene. What happens in these workshops and what are you trying to provide?
I offer drag king workshops where I teach interested students all about the art form -- I tailor it to both complete beginners and more seasoned performers who want to delve deeper into kinging. The class is half lecture/demo and half hands-on. I cover the history and current state of drag king culture, and I do a makeup demo and discuss all of the different options people have in terms of performance genre, persona, attire and styling. We dress up and practice kingly body language, and I end by teaching people a short, easy lip-syncing routine so that they can prance around in their new personas. It's fun! I last taught it in May 2013 and I will teach it again this year (subscribe to my monthly updates for more info, and read more about the class here). My goal is to grow the drag king community and to create a safe space for people to learn about and explore gender performance. I love teaching -- after almost a decade of performing professionally, I have a lot to share.
Where can you be found throughout the week?
Come to "Merrie Cherry Presents: Brooklyn Nightlife Awards" on Feb. 9! I'll be performing with Drae Campbell. Make sure to catch this one, because after that I'll be heading to several out-of-state artist residencies. When I'm in Brooklyn I perform all over the place, from nightclubs to theaters to galleries to private parties. You can also often find me at Switch N' Play's monthly open drag nights.
Any parting words?
Check out goldiepeacock.com for more.
Missed the previously featured drag performers and installments in this series? Check out the slideshow below.
Support HuffPost
Every Voice Matters
Before You Go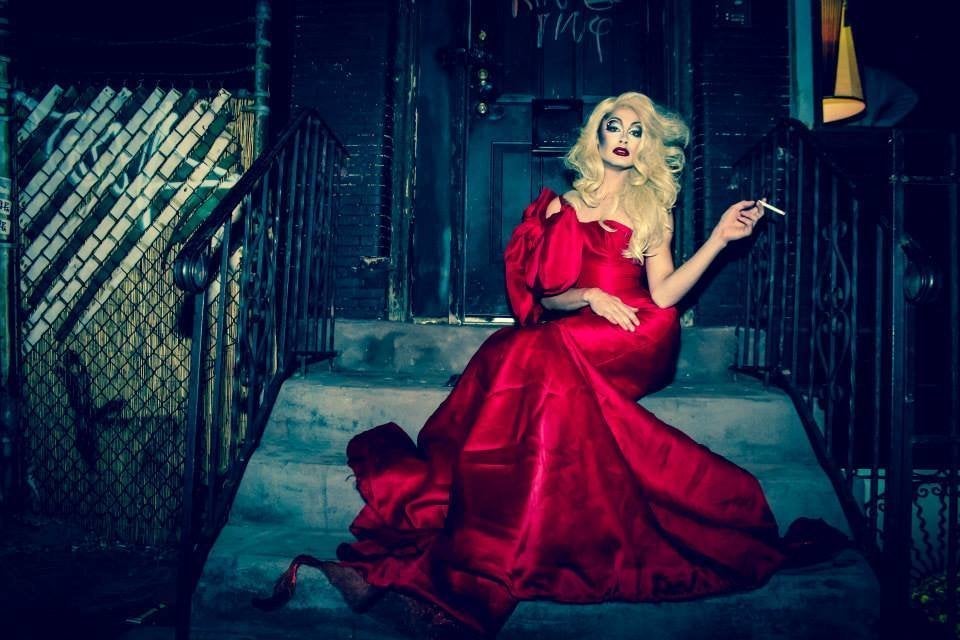 Queer New World: Brooklyn Drag Culture
Popular in the Community