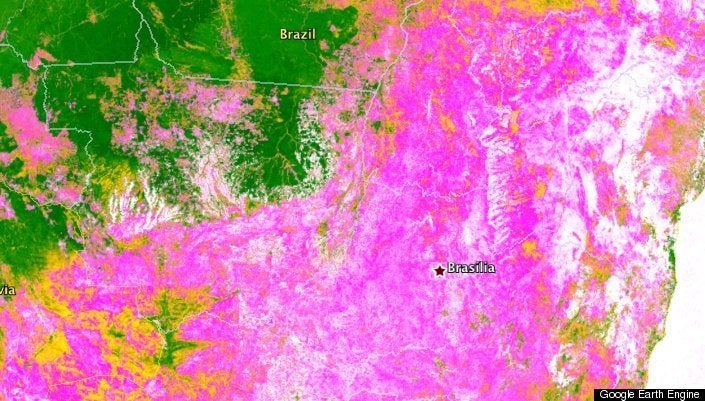 Google.org, the philanthropic arm of Google, debuted its shiny new tool at the COP 16 climate conference in Cancun today. It's a database that will help scientists and conservationists track and analyze changes in Earth's environment, and hopefully slow deforestation.
The satellite imagery tool, called Google Earth Engine, takes advantage of Google's large-scale "cloud" computing infrastructure to build a powerful database out of the thousands of satellite photographs from the past 25 years, many of which have never been analyzed. It will be available online for use by scientists, independent researchers and nations.
This year's United Nations Framework Convention on Climate Change in Cancun was a fitting setting for the launch, as the platform can be used to monitor deforestation, natural disaster response, and water resources, among other things. As the U.N. works toward implementing the REDD framework (Reducing Emissions from Deforestation and Forest Degradation in Developing Countries), Google hopes that the Google Earth Engine will make accountability and monitoring easier. For example, creating a detailed forest cover and water map of Mexico, a task that would have taken 3 years on one computer, was accomplished in less than a day.
Google plans on "donating 10 million CPU-hours a year over the next two years on the Google Earth Engine platform," to aid the effort to combat global warming by slowing deforestation.
The Washington Post quoted Doug Boucher, who directs the Tropical Forest and Climate Initiative for the Union of Concerned Scientists, as saying the global trend in deforestation "is one of the few bright spots amid the otherwise gloomy news as far as climate change is concerned." Brazil, for one, has slowed its deforestation to a 22-year low.
CLICK HERE to check out Google's other incredible initiatives in tackling climate change.