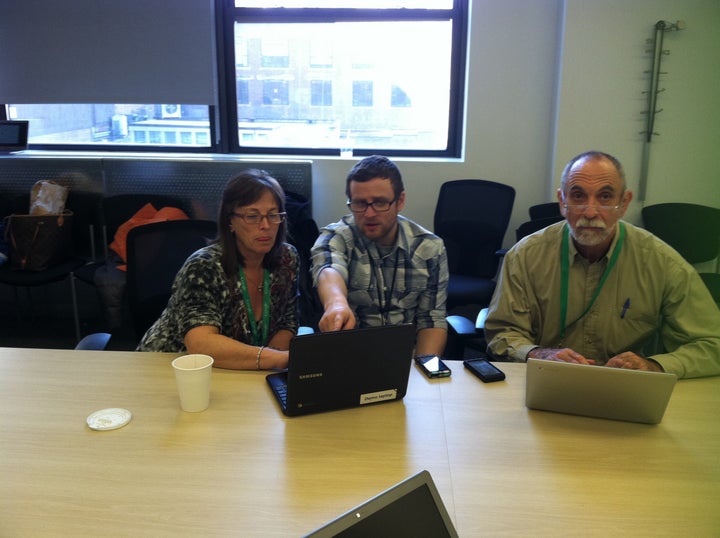 Everyone's heard of "Take Your Children To Work Day," right? Well, at Google, you're nearly as likely to spot an endangered red wolf as you are anyone over 30, meaning many of the employees -- or Googlers -- don't have children. But they do have parents who are incredibly eager to learn more about what their kids do all day inside the mysterious 16-story office facility stretching across a full city block between 8th and 9th Avenues in New York City.
With that in mind, Google rolled out its first "Take Your Parents To Work Day" in its Manhattan offices on Friday, during which 285 parents who may not have known their Androids from their algorithms were able to get an inside look at the goings-on at the tech giant.
"I wish my office was like this one," said Bruce Reid, who works at a real estate development company in Chicago. "We have a stocked kitchen but we don't have massages. And you've got to see the library here!"
When asked what his daughter does at Google, he replied that she works on "the YouTube account."
"I still don't understand what she does exactly," said her mother, Judith Reid. "Give me English or history or geography and I'll understand it completely. I feel very uneducated when it comes to what's going on here."
Parents were allowed to take two of several workshops offered throughout the day, including: "So You Think You Can Search," "Google Hardware," "How Google Makes Money" and "Pictures & Video On The Web." Afterwards they could tour the offices and enjoy lunch with their Googler in the office's Water Tower Cafe.
In the class on Google Hardware, during which parents got to play with Google's new Chromebooks, engineer Ari Shamash showed a film starring a blind person behind the wheel of one of Google's self-driving cars.
"The nice thing about the car is that it obeys all the rules so it's very safe," he said, as a roomful of parents looked on in amazement.
Rather than walk around all day, nodding appreciatively while muttering "So this is what you do all day...," most parents seemed to be more taken with the company's bells and whistles than with their kids' jobs. And there are plenty of them.
And it is, indeed, pretty fabulous.
In one cafeteria, made to look like it was constructed from brightly colored Legos, the healthy drinks -- like juices -- were stocked at eye level. If you wanted a soda, you had to bend way over to get it. In addition, healthy snacks such as dried dates, fig bars and almonds were available inside clear jars while the not-so-healthy snacks such as Trident gum, Life Savers and M&Ms were impossible to see -- but available -- inside opaque jars.
"We nudge people towards the healthier options," explained an employee.
The popcorn and espresso makers added to an atmosphere made even more whimsical by jeans-clad Googlers zipping down the halls on scooters. In addition, every time you step off an elevator you're never sure what you might find; perhaps a mural featuring dragons or a floor-to-ceiling space covered in doodles by Googlers. And the library! Oh, the library. Located on the 5th floor -- or the "Forgotten New York" floor since each floor has a theme -- the library includes a wall of virtual books that employs a touch screen and touch sliders so that you an flip through pages from any one of hundreds of selections, then take a picture of the "virtual" book's bar code and purchase it with your phone.
In another part of the library there are traditional bookshelves that -- when pushed -- open up to reveal secret compartments with comfy sofas -- just like in the movies.
"I work in an office but it's nothing like this office ... this office is filled with fun," said parent Judy Fink. "Nowhere in the world is there another office like this one.
"I'm here to see where my daughter works. I know that she works on the legal team," she added. "If she did anything else here I probably wouldn't get it."
Jason and Francine Winters traveled from Connecticut to attend "Take Your Parents To Work Day." They both described the company as extremely "forward-thinking."
"You don't have to pay for any of the food and there are places where you can shut down and relax. It's very progressive," Jason Winters said. "They really support the creative process. They give you the space to have those 'aha' moments.
"They know it's better to do what they can to keep their employees happy and in the building," he added. "This company knows what it's doing."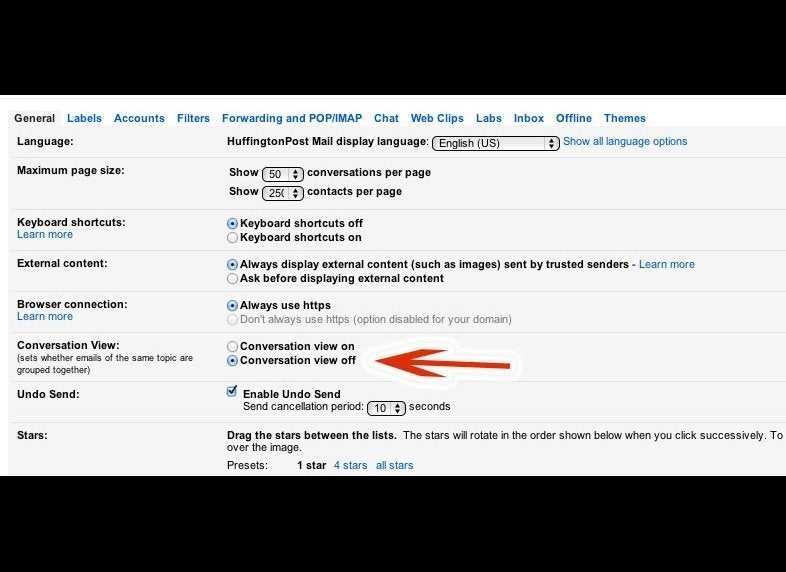 7 Gmail Questions You Were Afraid To Ask
Popular in the Community