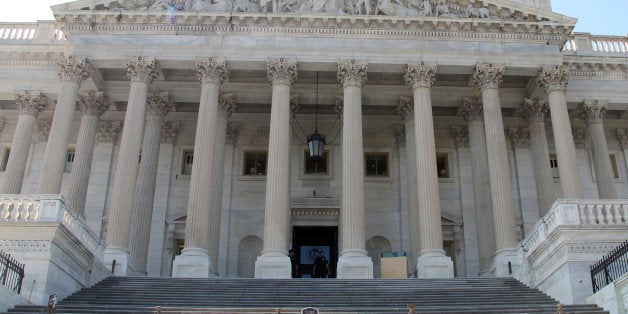 WASHINGTON -- Despite the tough rhetoric from President Barack Obama and Senate Majority Leader Harry Reid (D-Nev.) about respective refusals to negotiate, there is talk that a way out of the government shutdown and debt ceiling deadline could include a bargain of sorts -- even if it isn't exactly grand.
One Republican lawmaker walked a group of reporters through how this might happen on Thursday afternoon, and said that he thinks a deal will be reached by the Oct. 17 deadline to raise the debt ceiling.
"I think we'll avoid default. I think we'll stumble toward a larger deal that will continue to narrow the deficit," said the lawmaker. "I don't think it will be as grand as the grand bargain."
In short, the GOP member, who spoke on the condition he not be quoted by name in order to speak more frankly, said during an hour talk that members of his party might be willing to vote to end some or all of the sequester, in exchange for changes to Social Security and Medicare.
The sequester was the result of the last budget showdown, and it cut discretionary spending across the board. Because neither party is happy with the sequester cuts, they could become another key bargaining chip in a deal to pass a funding bill and end the government shutdown. Republicans could possibly seek the changes to entitlement spending, and in turn vote to restore funding in other areas -- all within negotiations over a deal to reopen the government and raise the debt ceiling.
"Sequester is a very blunt instrument," the GOP member said. "It's a pretty common view among Republicans that we've done way too much. So some of the spending can be restored. ... Then the president's going to get some of what he wants, for domestic initiatives, Head Start and whatever."
The lawmaker said non-discretionary spending, or mandatory spending that's locked in each year and not appropriated by Congress, could "hold the savings of the sequester," while Republicans could "let the belt out a couple notches on the discretionary side of the budget."
The changes the GOP is aiming for, he said, would include "at least chained CPI and at least means testing." In other words, a different measure of inflation would be used to calculate Social Security benefits, leading to lower increases over time, and lower-income Americans would receive more generous Social Security and Medicare benefits than those in high-income brackets.
One Democratic congressional source noted that Obama has signaled in the past -- including in his budget this year -- that he is willing to support using chained CPI. And a Republican leadership aide said this week that Republican hopes for a deal are based in part on their understanding that Obama wants very badly to get rid of the sequester cuts.
The Democratic source laid out a way a deal could proceed so that the president could claim to have won a "clean" government funding bill and a "clean" debt ceiling increase, but changes to the sequester and entitlements would be tied to these actions.
"The political appeal of this kind of approach ... is that it offers each party a way out of the corner it's in," wrote conservative policy expert Yuval Levin, editor of National Affairs and an informal adviser to Rep. Paul Ryan (R-Wisc.), in National Review Online. Levin laid out in detail how a deal such as the one described by the Republican lawmaker to reporters would work.
The Republican member said that if a such a deal is reached, House Speaker John Boehner (R-Ohio) can move forward even if his right flank in the House, and tea party lawmakers in the Senate like Sen. Ted Cruz (R-Texas), oppose it.
"If it's a real bargain and the president and the speaker come to the deal, that way you make the left wing and the right wing irrelevant, because deals have votes from both sides," he said.
"The irony of this is that the guys who got us into this mess won't be there to cut the deal that gets us out. And they will attack the people that actually come to the deal, and profit by it politically," he said. "This is more about political position for a few members. For most of them I don't question their motives."
As for Cruz, the GOP lawmaker said: "I tell you one thing: He's never played team sports in his life."
CORRECTION: A previous version of this story misstated the president's position on the chained CPI.