The White House said this week that it has created a new team of tech wizards, led by a former Google employee, to help the government avoid another blunder like the troubled rollout of HealthCare.gov.
But the challenges facing the new U.S. Digital Service run much deeper than the failure of one government website.
Consider the chart below, which depicts the dismal record of government tech projects over the years. Only 4 percent of 488 large government IT projects in the past decade were deemed successful, according to research by the Standish Group, a consulting firm. The rest were considered "challenged" or "failed," meaning they were delayed, over budget, didn't meet expectations, canceled, or were never used.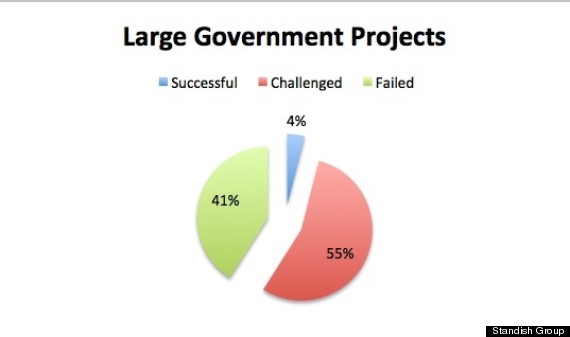 As The Huffington Post has reported, the government's tech struggles stem mostly from its inability to lure the best engineers and programmers away from Silicon Valley and its out-of-date method for developing new technology.
The White House says the U.S. Digital Service will consist of "America's best digital experts," who will work with government agencies to make websites "more consumer friendly," fix software glitches, and upgrade the government's technology infrastructure.
The new team marks the latest effort by President Obama -- who relied on an army of programmers and engineers to win reelection -- to recruit more techies to help run the government. In March, the administration launched 18F, a team of about 30 tech experts who are trying to shorten the time it takes to build new websites and hire tech talent. In 2012, the White House created the President Innovation Fellows program to recruit employees from the tech industry to work on federal government IT projects for six to 12 months, hoping that some will stay to work in Washington full-time.
In an interview this week, Mikey Dickerson, a former site reliability manager for Google and head of the new U.S. Digital Service, said the new team would help change how the government buys software and builds technology. For example, Dickerson said he wants government agencies working like startups and testing software projects every few weeks instead of waiting until they are completed months later to see if they work.
Dickerson said he will draw upon his experience as one of the tech experts hand-picked by the White House to rescue the health care website. He said many people working on the website wrongly assumed they had to follow certain government regulations.
"The biggest lesson from that whole situation was that a lot of the things people thought were unsolvable just weren't once we brought the right people together," Dickerson told HuffPost.
But bringing the right people together is another challenge. The government has struggled to recruit tech experts because of its relatively low pay and slow hiring process compared with Silicon Valley, as well as a culture that many tech experts have found frustrating and confounding.
For example, HuffPost reported earlier this year that the offices of CGI Federal, the contractor tasked with building HealthCare.gov, were largely empty on a Saturday last fall as the broken website continued to suffer glitches.
At a tech startup, the office would have been filled with programmers scrambling to fix the website because not showing up for work during a crisis would be unacceptable, according to tech industry employees.
For Dickerson, that culture clash between Silicon Valley and Washington is an example of the many obstacles that lie ahead.
"There are plenty of other challenges on the scale of HealthCare.gov," Dickerson said. "If we are able to make a similar impact on one or two of those big issues, then it will be worth having spent my time on it."
Calling all HuffPost superfans!
Sign up for membership to become a founding member and help shape HuffPost's next chapter