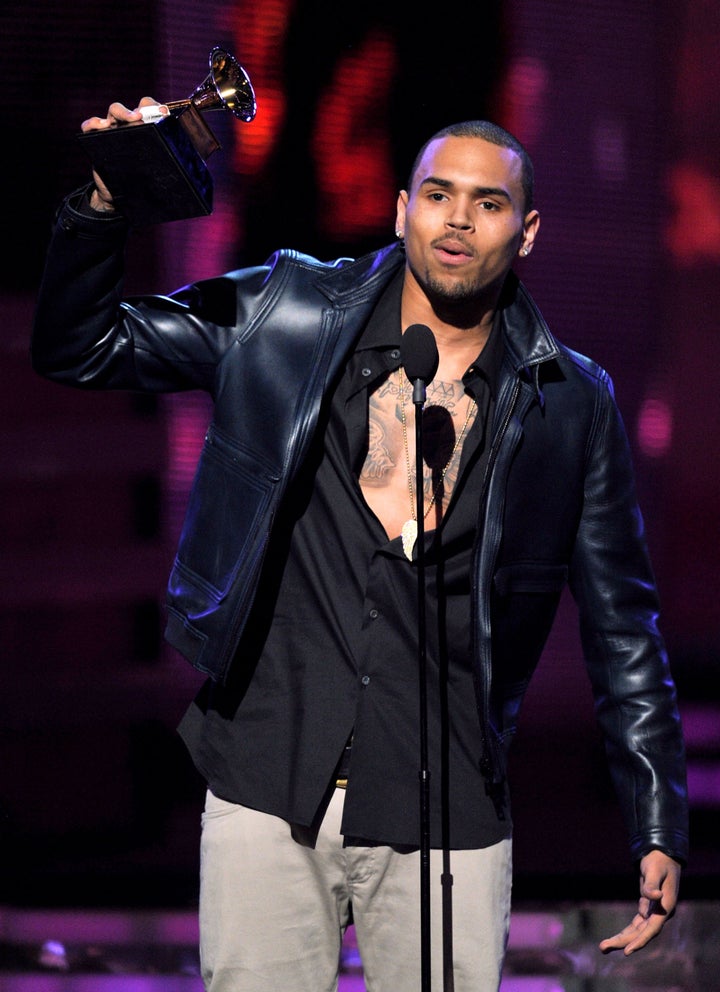 The Grammys should be ashamed of themselves.
To preface this, we all know that, as a voting body, the Grammys are not always the best representation of the music industry itself. They have a marked bias against rap, and they usually award the whitest person in every category, which explains why they awarded Bon Iver "Best New Artist" for his second album, while snubbing Nicki Minaj. In an ironic inverse of this, they gave pianist Herbie Hancock "Album of the Year" in 2007 over Amy Winehouse's seminal and soulful Back to Black -- but for no apparent reason. But we come to expect these eccentricities from the Grammys, and it's part of why we love to hate them. Our complaints about the Grammys are generally superficial, and more meant for our Twitter followers than making the Grammys change their geriatrics, their annual out-of-touchness.
However, this year, the Grammys did give us something complain about, a win that says troubling things about their priorities and about ours as a culture.
In case you missed it, the Grammys awarded Chris Brown with "Best R&B Album" on Sunday, almost three years after he very publicly assaulted his girlfriend, the ubiquitous R&B singer, Rihanna. I have many issues with awarding Brown's newest album, F.A.M.E., with any sort of artistic merit -- first off, because the album isn't very good. F.A.M.E. wasn't critically savaged because Brown beat his girlfriend, although that surely didn't make him a darling with the critical community. Critics took issue with Brown's inability to artistically mature after the incident, his seeming unwillingness to grow. The album was divided between soulless rap and R&B jams about getting money and women and a few maudlin ballads meant to appease his critics, rather than engage in any meaningful introspection in regard to his actions.
In transforming controversy into great art, all Chris Brown had to do was look to his fellow nominees, especially "Best Rap Album" winner Kanye West. West's 2010 masterpiece, My Beautiful Dark Twisted Fantasy, is not only one of the greatest rap albums ever made -- a 13-song opus that explores masculinity and a society in economic collapse -- but it also challenges rap music to think big if it wants to adapt to a changing industry. In making a this grandiose statement, West does not eschew the ego that got him into trouble -- on top of the Taylor Swift controversy, West raps about his history as a domestic abuser on "All of the Lights" -- and in tracks like "Monster" and "Runaway," Kanye puts squarely it on trial, his many guest vocalists and collaborators a Greek chorus, there as both his supporters and accusers. Kanye West becomes a tragic figure in a rap opera of his own making, and the result is musical drama at its most thrilling, an album far more personal and tormented than anything Brown is willing to put out.
Elsewhere on Sunday, the night showcased powerful, personal singers like Rihanna and Adele, rewarding her for six Grammys, for "rolling in the deep," for "[turning] her sorrows into treasure troves." In fact, moving past heartbreak is the exact topic of Adele's 21, the very thing that helped it become the biggest album in recent memory. Adele connected with audiences because of her ability to be strong yet vulnerable, a place that Brown doesn't seem willing to go with his music, one he seems to insist he does not have to. However, not exploring these themes in a meaningful way takes away from the music he does choose to produce; in "Look At Me Now," Chris Brown invites us to look at the fame and success he has achieved, but at what cost has he succeeded? When we look at Chris Brown, what can he expect that we see?
I don't believe that we should stigmatize Chris Brown forever for his actions, that his life and career should now be over. As the child of a domestic abuse survivor -- a woman who endured daily physical abuse at the hands of her third husband, someone who beat her in the face with a box fan, who threw bricks at her outside of a schoolhouse -- I understand the necessity and solace of simply moving forward and never looking back. However, I also know how important contrition and apology are, the acts of reaching out and trying to create peace in the lives you've damaged. For years, my mother struggled to make sense of her abuse and the violence she suffered continues to haunt her; during this time, what she wanted was not to see him punished, but to see him repent. She wanted not just to know that her pain had caused him suffering, too, but also the solace of knowing that her life would not become someone else's, that his abusiveness ends with her.
This act, of seeking grace from the people you've hurt, is one Chris Brown needs to learn -- if we are expected to forgive him. Brown, and any celebrity rewarded with fame after unapologetically brutalizing someone, needs to show us that he knows how important forgiveness is, that he understands the role he could play in starting a meaningful conversation on domestic abuse.
However, I don't believe that it should only be Chris Brown's job to stand against the culture of violence and abuse that affects women's lives every day, as we all must do so in our every day lives, to stand with those who are oppressed. In addition, I think that it should have also been Charlie Sheen's job to ask for forgiveness from the women he abused, the ones that the media pushed aside in order to make him into a lovable anti-hero, a Howard Kurtz for the YouTube era. We must not overlook the extreme racialization of the Chris Brown conflict, and the ways in which popular representations of black men keep Brown a "punk" when white abusers are allowed to be "bitchin' rock stars from Mars." But the media framing of the Chris Brown-Rihanna controversy does not let Brown off the hook for being an attacker, and it certainly does not let him off the hook for apologizing, an act he has yet to do.
On Sunday, Chris Brown had a perfect opportunity to take a stand against violence and the culture of rape and abuse that surrounds us, one where we silence domestic abuse and sexual violence against women; where our LGBT youth continue to be bullied inside and outside of schools; where, as a queer person, I can't walk down the street holding hands with my partner without fear of attack; where the LAPD minimizes my ability to be assaulted or raped, something I have a personal history with. This culture affects all of us -- including, but not limited to, women, men, LGBT persons, sex workers, immigrants and trans women -- and Chris Brown must recognize his personal role in perpetuating that violence.
By remaining silent on stage -- at a time when women on Twitter were making light of his history of violence by saying that he could abuse them any time -- Brown may have continued his history of silence on abuse, but in giving him a space on television, the Grammys supported that narrative. We might pretend that the Grammys are just superficial and irrelevant, but they are, for better or worse, the most influential music body in the country and say a great deal about what we hold up as being of worth. When the Grammys celebrate a space where women are not safe and then bring that space into our homes, we have a duty to do more than shut off our televisions. We have a duty to speak up and use our voice to end the silence. We have a duty to make sure it doesn't happen again.
Popular in the Community