I don't usually pick up the supermarket gossip rags -- In Touch, Us Weekly, Life & Style, the Star, and the like. They all seem to be covering the same celebrities in the same ways, and it just doesn't appeal to me. I think these types of magazines and websites, together with the current overflow of "reality" TV programs, have taken celebrity worship to dangerous levels.
Imagine my surprise then, on a recent trip to London, at developing a quick affection for Grazia magazine. Published by Bauer Media (the huge European parent company of several magazine, radio, TV and online properties, including In Touch and Life & Style in the U.S.), Grazia certainly gives you the requisite celeb gossip -- who's dating, sleeping together, pregnant, breaking up, etc. But I find the British magazines add a slightly more interesting edge to their coverage.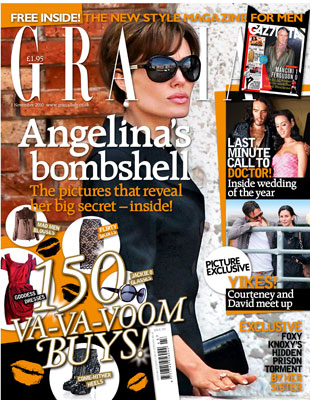 Also, the magazine feels different, which adds to the experience. Grazia is slightly oversized, larger than her American counterparts. Her pages are not glossy, but of a soft, matte-surface quality, reminiscent of the old-school department store catalogs (don't act like you don't remember them).
The real thrill here is Grazia's fashion coverage. She gives you an incredible mix of high and low: street looks of the H&M and Zara variety, all the way up to the best of designer fashion, accessories and beauty. Their editorial fashion pages are on par with any of the top American fashion magazines. (A recent "urban highland" layout, styled by Anna Foster and photographed by Neil Kirk, was particularly strong.)
While I could personally care less about Courteney Cox and David Arquette's break-up (and even less about the Katy Perry and Russell Brand wedding), there were a few things that peaked my interest -- tales of a long-ago gay affair involving pop star Gwen Stefani's husband, rocker Gavin Rossdale; Lady Gaga strolling down the aisle in a "secret" Greek wedding (really?); a great piece on The Kids Are All Right director Lisa Cholodenko (responsible for one of my favorite films this year); 52-year-old Madonna's latest boy toy, 24-year-old, mixed-race French dancer Brahim Zaibat (with whom the superstar has been hitting London's hottest nightclubs).
In a nod to their male fans, Grazia has just launched a test issue of sister publication Gaz7etta, fully fitted with all the things on a proper lad's radar -- sports, fashion and powerful men to emulate (advertising/art magnate Charles Saatchi; will actor Daniel Craig quit the Bond film franchise?).
Kudos to editor Jane Bruton and her hard-working staff. I think I've found a new source for my fashion/lifestyle/fabulosity fix.