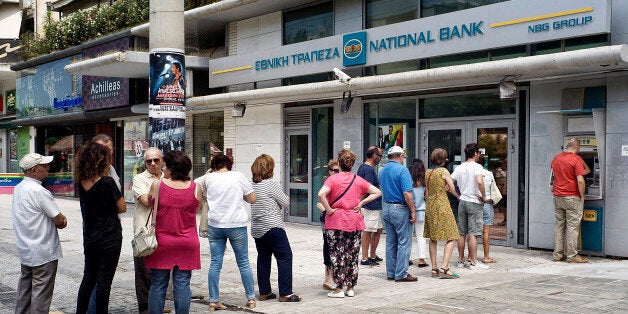 Greek Prime Minister Alexis Tsipras announced on Sunday that the nation's banks and stock market would be closed on Monday amid fears of financial collapse. Greece is also set to impose capital controls that will limit the amount of funds that citizens can transfer or withdraw from its financial institutions.
Tsipras made the address hours after the European Central Bank stated it would not increase the levels of emergency credit, known as emergency liquidity assistance, that it provides to Greek banks in order for the institutions to keep running. The prime minister blamed the ECB for forcing Greece to impose the measures, which are intended to prevent a bank run by Greeks from draining the country's remaining funds.
No information was given as to the specifics of the controls or the limits that may be placed on ATMs, which have already seen long lines of people seeking to take out their cash. Over 1 billion euros have been withdrawn from the Greek banking system since Friday night, Agence France-Presse reported.
"I would withdraw money today, anyway. Now I will withdraw more to be safe for the next few days. I am certain that ATMs will run out of money, it has already happened at some places," one man in line at an Athens ATM told HuffPost Greece.
"Yes. I am scared of bankruptcy, of the ruthless devaluation of currency and the general isolation of the country once it exits the EU," another woman said.
Sunday's events are an alarming development in the ongoing Greek debt crisis, as negotiations between the nation's left-wing Syriza government and the so-called troika of the European Commission, ECB and International Monetary Fund creditors have taken a dire turn over the weekend.
On Saturday, he declared that he would seek a national referendum on the bailout terms and asked creditors to extend the bailout program so that a vote could be held on July 5.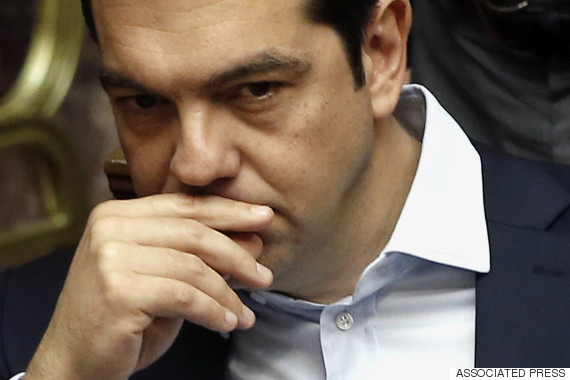 Greece's Prime Minister Alexis Tsipras attends an emergency Parliament session for the government'€™s proposed referendum in Athens, on June 27, 2015. (AP Photo/Petros Karadjias)
Tuesday is the deadline for Greece to pay off a 1.6 billion euro debt to the IMF, something the nation currently does not have the money to do.
The nation and its creditors have been negotiating for months to extend the bailout program and release a 7.2 billion euro tranche of its funds that would allow the Greeks to pay off forthcoming debts. Disagreements over creditors' demands for strict austerity cuts to Greece's public spending and economic reforms have resulted in continual breakdowns in the talks.
If Greece cannot make Tuesday's payment then it will default, which could have potentially disastrous effects on its economy and put it on a path to exit the eurozone.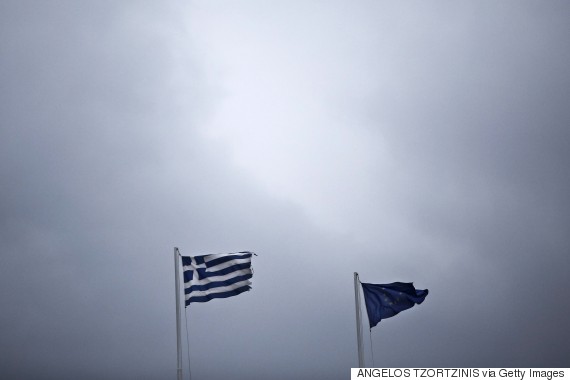 Greek and European union flag flutter on top of a building in Athens on June 28, 2015. (ANGELOS TZORTZINIS/AFP/Getty Images)
U.S. President Barack Obama and German Chancellor Angela Merkel discussed the crisis on Sunday, with the White House saying that the two leaders agreed it was "critically important" to keep Greece in the euro, Reuters reported.
EU chief executive Jean-Claude Juncker announced that there would be a news conference on Monday to discuss the crisis, as officials from creditor organizations insisted that a deal may still be salvageable before the deadline hits.
Calling all HuffPost superfans!
Sign up for membership to become a founding member and help shape HuffPost's next chapter
BEFORE YOU GO
PHOTO GALLERY
Athens' Badass Street Art