NBA coach Gregg Popovich had more than basketball on his mind before his San Antonio Spurs played the Milwaukee Bucks in Milwaukee on Sunday.
The outspoken Popovich, referring to the weekend's March For Our Lives in Washington to push for gun control, ripped President Donald Trump's "cowardice" for leaving town instead of meeting with protesters.
The march attracted hundreds of thousands to rally for tougher gun laws after last month's Parkland, Florida, mass shooting and other school killings. Trump proposed tightening some laws earlier this month, but apparently backed down after meeting with National Rifle Association representatives. He spent the weekend at his resort in Florida and failed to acknowledge the protest.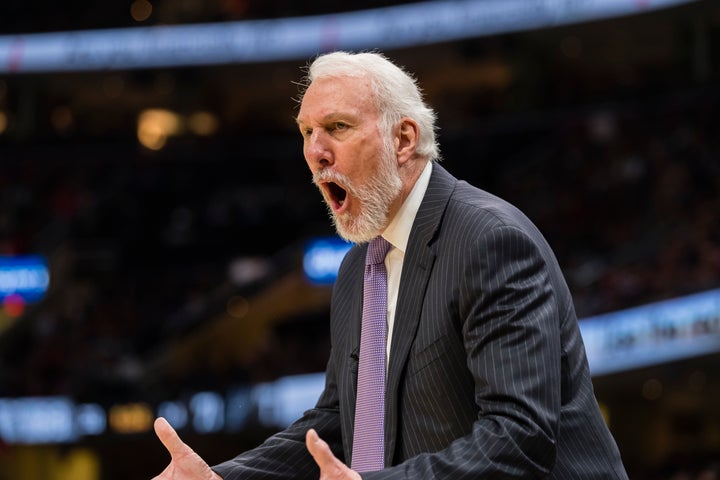 "If you just sit for a moment and imagine those bullets going through those bodies, and what those bodies might have looked like afterwards, how can the president of the country talk about all the things he's going to do, and then go have lunch with the NRA and change it?" Popovich said, according to CBS Sports.
"It's just cowardice," the coach continued. "A real leader would have been in Washington D.C., this weekend, not at his penthouse at Mar-a-Lago. He would have had the decency to meet with a group, to see what's going on, and how important it is, and how important our children should be to us. So for all those politicians involved, it's just a dereliction of duty." 
Popovich, one of the more socially conscious coaches in professional sports, has questioned Trump's leadership before. In October, he called the president a "soulless coward" and "pathological liar."
Calling all HuffPost superfans!
Sign up for membership to become a founding member and help shape HuffPost's next chapter