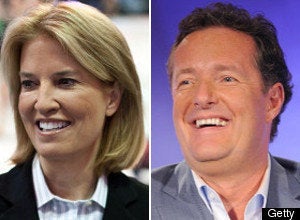 Incoming CNN host Piers Morgan was toasted by New York's media cognoscenti at a glitzy party at Daily Beast editor Tina Brown's Upper East Side home on Tuesday. Fox News' Greta Van Susteren read about the event on Wednesday, and wrote a post on her blog comparing what she called the contrasting "personalities" of CNN and her own network.
"A fancy launch party? On the Upper East Side of New York at a fancy address? How different CNN and Fox seem to me!" she wrote.
"I can't imagine Fox News Channel or friend of Fox News Channel having some fancy 'launch party' at a fancy NYC Upper East Side address with a bunch of celebrities for a new cable news show," Van Susteren continued. "It seems so out of touch with the rest of the country, doesn't it?"
At Fox News, she said. "we just get hired and go to work (and we are very glad to have our jobs!) We can celebrate later (and we have.)"
Van Susteren stressed that she was not criticizing CNN, merely noting the difference between the networks. Fox News, she said, tended to celebrate on anniversaries or other markers of success. CNN, she said, was "going the risky route -- hoping for the best!"
As the New York Times' David Carr pointed out, though, Fox News' sister network, Fox Business, did throw an extremely swanky launch party in 2007 at an extremely swanky Upper East Side address: the Metropolitan Museum of Art.
UPDATE: Piers Morgan proved he is never one to shy away from a feud by responding to Van Susteren's post with a barrage of tweets on Thursday:
"EXPOSED: @gretawire at a PARTY in DC, took @KimKardashian as her guest. Awkward. http://bit.ly/hYujgC"
"Further bombshell for @gretawire - her Fox colleague @denniskneale was at my @TheTinaBeast party and actively ENJOYING himself. #damning"
"Any more photos of @gretawire or other FOX stars at a party, any party, gratefully received. #keeping'emhonest"
"Ah, @gretawire, so that was my mistake. Should have had the party in the Temple of Dundur - http://bit.ly/exE8id"
Related
Popular in the Community