The House voted to make it harder for Obama to begin shifting inmates, adding a restriction to the National Defense Authorization Act of 2014 that bars any of the roughly 56 prisoners who have been cleared by military and intelligence officials to be sent to Yemen from being transferred there for one year. Some 30 other Gitmo inmates of the 166 kept there have also been cleared for release.
"The Defense Department should not transfer detainees to Yemen because they represent some of the most dangerous terrorists known in the world," said Rep. Jackie Walorski (R-Ind.), who sponsored the fresh ban on shipping anyone out of Gitmo.
Rep. Adam Smith (D-Wash.), who offered a competing amendment to create a plan to close Gitmo, found the new restriction especially ironic, noting that federal authorities believe the Yemeni detainees are safe enough to be set free.
"Not everybody that we rounded up and took to Guantanamo, unfortunately, turned out to be the very dangerous terrorists that we thought they were," Smith said, adding that continuing to hold them -- at a facility costing $1.6 million a year for each inmate -- was not sensible.
"Determining that if there is any minimal threat whatsoever we're simply going to hold them forever is, well, quite frankly, un-American. That is contrary to our values to say we're going to hold somebody indefinitely -- I gather forever -- because we think there might possibly be some risk," Smith said. "That's not the way the Constitution is supposed to work."
Walorski's amendment passed, 236 to 188. Smith's, also backed by Reps. Jim Moran (D-Va.) and Jerry Nadler (D-N.Y.), failed 174 to 249 after Republicans argued that it was simply too dangerous to send terrorsim suspects to the United States.
"These terrorist detainees pose a very real danger to our security in America. They mean us real harm," said Rep. Brad Wenstrup (R-Ohio), a veteran of the Iraq war who called closing Gitmo "appeasement."
"Who are these detainees? They are not innocent goat herders swept up by marauding United States military, of which I was a part, and of which I detained numerous potential terrorists," said Rep. Tom Cotton (R-Ark.), referring to his service in Iraq and Afghanistan.
Rep. Randy Forbes (R-Va.) argued that moving the prisoners to the United States would paint targets for terrorists "on every elementary school, every shopping mall, every small business" in the area where they end up being housed.
"It's important that we come together, unified, and send a message to the president," Forbes said. "We may not be able to stop every terrorist from coming to U.S. soil, but we can stop these terrorists."
Smith countered that there are already more than 300 terrorists jailed in the United States.
"We have Ramzi Yousef. We have the blind sheik [Omar Abdel-Rahman]," Smith said, referring to the two 1993 World Trade Center bombing masterminds. "We have some of the most notorious terrorists in the world housed here already, safely and securely."
The House votes run contrary not just to what the president asked for, but also to the hopes of the Senate Armed Services Committee, which voted Thursday in its version of the NDAA to ease restrictions on transferring prisoners.
Democrats' broader argument for closing the facility is that provides a rallying point for America's enemies, that it's expensive and unnecessary and that it is contrary to the Constitution.
"It is a stain on our national honor," said Nadler, calling Gitmo "an affront" to American values.
"The bottom line is we don't need Guantanamo," Smith said. "Guantanamo was set up in the first place, in the hopes that because it wasn't actually on American soil, we could somehow hold people outside the normal bounds of due process in the Constitution, but the [Supreme] Court ruled otherwise. There's no benefit there. There's no greater rights in the U.S. than there are in Guantanamo. We just continue to have this prison that has been set up in a way that the international community cannot stand."
The Supreme Court ruled that detainees have a right to be presented to a judge, and a right to be tried in a military court, but the issue of how quickly those trials must happen has not been litigated, effectively making the detentions indefinite. Numerous inmates are deemed to be too difficult to try, and are being held under the laws of war until the conflict is ended.
Michael McAuliff covers Congress and politics for The Huffington Post. Talk to him on Facebook.
Before You Go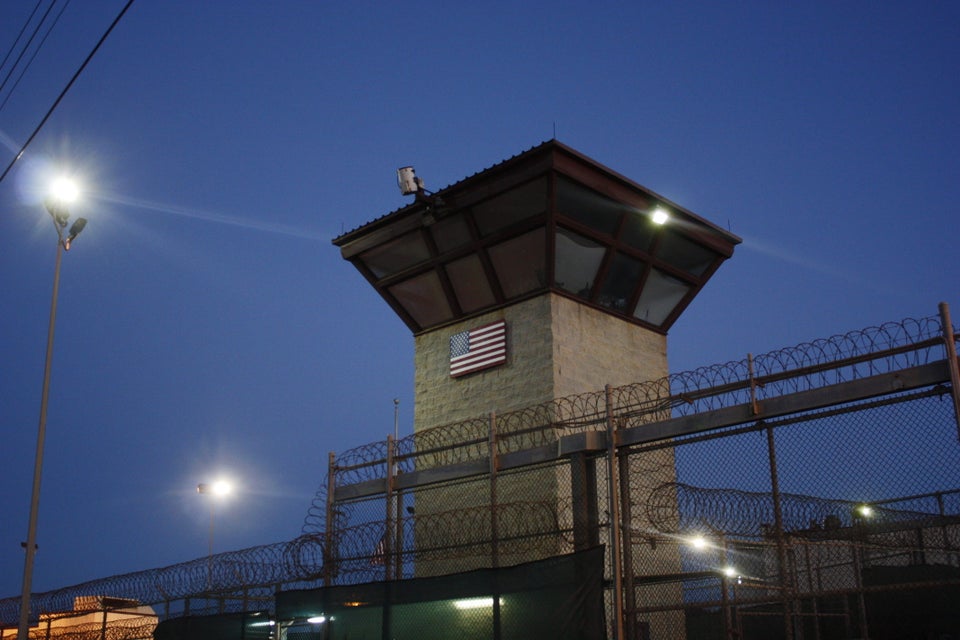 Inside Guantanamo's Prison Facility
Popular in the Community