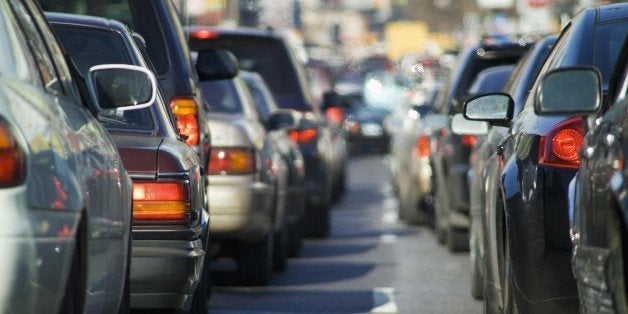 When President Obama took part in the recent CNN town hall on gun violence in America, he noted, "There's nothing else in our lives that we purchase where we don't try to make it a little safer if we can." It's a fact that in the United States, the federal government regulates every consumer product for health and safety, except for one: guns.
In fact, guns are specifically exempt from federal health and safety regulation. While the federal Bureau of Alcohol, Tobacco, Firearms and Explosives (ATF) is charged with enforcing the federal gun laws on the books, it lacks the health and safety powers routinely granted other federal regulatory agencies, such as standard setting, recall capability for defective products, and comprehensive data collection.
To understand how this contrast plays out in the real world, look no further than how we regulate motor vehicles. We've spent decades making improvements in vehicle and highway design to protect public safety. As a result, as President Obama said, "Traffic fatalities have gone down drastically during my lifetime." And while the actions of the federal National Highway Traffic Safety Administration have made motor vehicles safer, the gun industry has gone in the opposite direction: embracing heightened lethality as its driving force.
A new study by the organization I head, the Violence Policy Center, finds that gun deaths now outpace motor vehicle deaths in 21 states and the District of Columbia. The number of states where gun deaths exceed motor vehicle deaths has increased from just 10 states in 2009 to 21 states in 2014, the most recent year for which data is available.
Nationwide, nine out of 10 households have access to a motor vehicle while fewer than a third of American households have a gun. Yet there were 33,599 gun deaths in 2014 compared to 35,647 motor vehicle deaths in 2014.
The graph below shows how motor vehicle deaths have steadily declined since 1999 while firearm deaths have gone up:

In 2014, there were more gun deaths than motor vehicle deaths in the following states: Alaska, Arizona, Colorado, Georgia, Idaho, Illinois, Indiana, Louisiana, Maryland, Michigan, Missouri, Nevada, New Hampshire, Ohio, Oregon, Pennsylvania, Tennessee, Utah, Vermont, Virginia, Washington, and the District of Columbia. A tally of the gun deaths and motor vehicle deaths in each of these states can be found below.
The data is from the Centers for Disease Control and Prevention's National Center for Injury Prevention and Control. Gun deaths include gun suicides, homicides, and fatal unintentional shootings; motor vehicle deaths include both occupants and pedestrians.
Beginning decades ago, our nation recognized the threat to public safety from motor vehicles and responded with science-based regulations affecting both vehicles and highway design. Vehicles incorporated new safety features including head rests; energy absorbing steering wheels; shatter-resistant windshields; and safety belts. Roads incorporated better delineation of curves; use of breakaway signs and poles; illumination; barriers separating oncoming traffic lanes; and guardrails.
Proven, public health-based regulations for motor vehicles save tens of thousands of lives every year. It's well past time that we regulate firearms for health and safety -- just as we regulate all other consumer products.
Comprehensive regulation of the firearms industry and its products could include:
Minimum safety standards (i.e., specific design standards and the requirement of safety devices such as minimum trigger pull, magazine disconnects, and load indicators);
Bans on certain types of firearms such as "junk guns" and military-style assault weapons;
Limits on firepower such as maximum ammunition magazine capacity and caliber;
Restrictions on gun possession by those convicted of a violent misdemeanor;
Expanded prohibitions on possession by persons with a history of domestic violence and better enforcement of existing prohibitions;
Heightened restrictions on the carrying of guns in public;
More detailed and timely data collection on gun production, sales, use in crime, as well as involvement in injury and death; and,
Public education about the extreme risks associated with exposure to firearms.
Below are the complete figures for states where gun deaths surpassed motor vehicle deaths. You can read our full report here.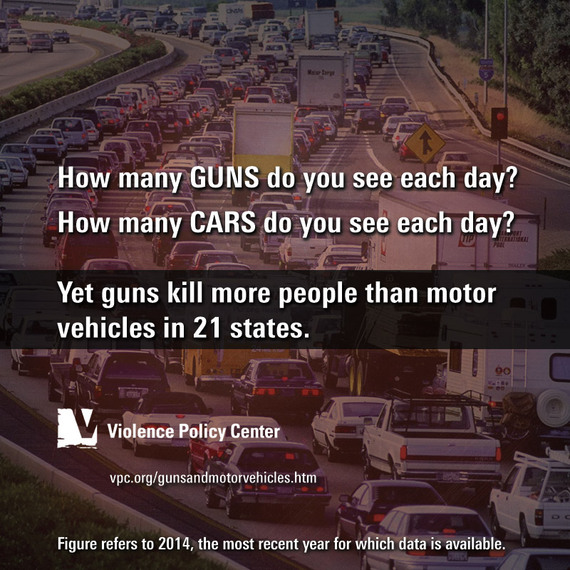 Alaska: 145 gun deaths, 87 motor vehicle deaths
Arizona: 927 gun deaths, 857 motor vehicle deaths
Colorado: 663 gun deaths, 545 motor vehicle deaths
District of Columbia: 86 gun deaths, 37 motor vehicle deaths
Georgia: 1,391 gun deaths, 1,289 motor vehicle deaths
Idaho: 213 gun deaths, 212 motor vehicle deaths
Illinois: 1,179 gun deaths, 1,075 motor vehicle deaths
Indiana: 818 gun deaths, 774 motor vehicle deaths
Louisiana: 896 gun deaths, 807 motor vehicle deaths
Maryland: 546 gun deaths, 480 motor vehicle deaths
Michigan: 1,095 gun deaths, 1,014 motor vehicle deaths
Missouri: 943 gun deaths, 801 motor vehicle deaths
Nevada: 429 gun deaths, 319 motor vehicle deaths
New Hampshire: 122 gun deaths, 107 motor vehicle deaths
Ohio: 1,211 gun deaths, 1,137 motor vehicle deaths
Oregon: 497 gun deaths, 380 motor vehicle deaths
Pennsylvania: 1,390 gun deaths, 1,287 motor vehicle deaths
Tennessee: 1,020 gun deaths, 1,000 motor vehicle deaths
Utah: 337 gun deaths, 261 motor vehicle deaths
Vermont: 69 gun deaths, 49 motor vehicle deaths
Virginia: 889 gun deaths, 789 motor vehicle deaths
Washington: 702 gun deaths, 583 motor vehicle deaths