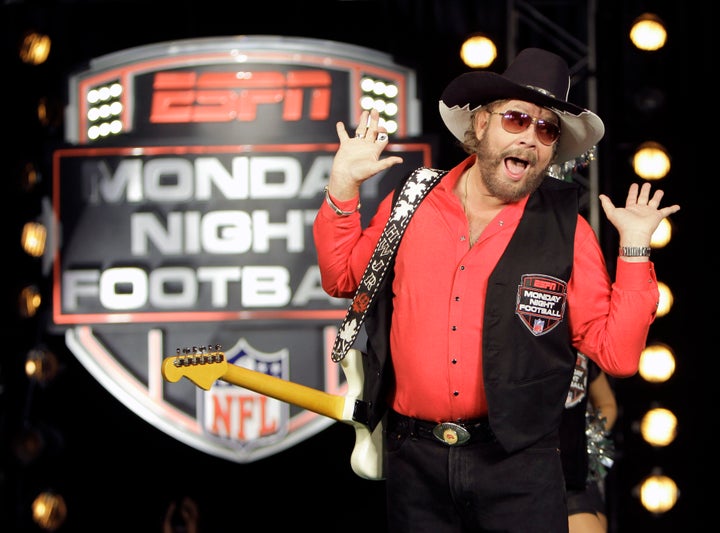 Having pulled his iconic Monday Night Football introduction song following his comments on Fox News comparing President Obama to Hitler on Monday, ESPN has announced that they are terminating their relationship with the country star permanently.
"We have decided to part ways with Hank Williams, Jr. We appreciate his contributions over the past years," the company said in a statement. "The success of Monday Night Football has always been about the games and that will continue."
AFTER ESPN SUSPENDS HANK JR. FOR ONE-WEEK, HANK JR. DECIDES TO PULL HIS SONG FROM BEING USED ON ESPN FOR REMAINDER OF SEASON!

"After reading hundreds of e-mails, I have made MY decision. By pulling my opening Oct 3rd, You (ESPN) stepped on the Toes of The First Amendment Freedom of Speech, so therefore Me, My Song, and All My Rowdy Friends are OUT OF HERE. It's been a great run."
Appearing on Fox and Friends, Williams said that Barack Obama and John Boehner's famed golfing diplomacy, "would be like Hitler playing golf with Netanyahu. Not hardly. In the shape this country is in?"
When co-host Brian Kilmeade said that he didn't understand the analogy, Williams was undeterred. "I'm glad you don't, brother, because a lot of people do. They're the enemy... Obama! And Biden! Are you kidding? The Three Stooges."
When they announced on Monday that they were pulling his intro, ESPN said that they were "disappointed" in his comments and had yet to decide whether they would use the song in the future. They pointed out that he was not an employee of the company, but acknowledged that the was closely affiliated.
"I have always been very passionate about Politics and Sports and this time it got the Best or Worst of me," he wrote. "The thought of the Leaders of both Parties Jukin and High Fiven on a Golf course, while so many Families are Struggling to get by simply made me Boil over and make a Dumb statement and I am very Sorry if it Offended anyone. I would like to Thank all my supporters. This was Not written by some Publicist."

Popular in the Community