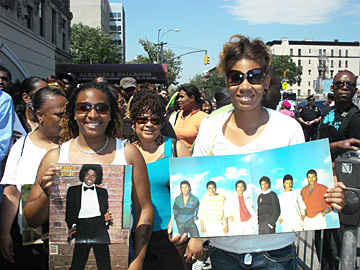 The Apollo Theater's memorial tribute to Michael Jackson might as well have been Mardi Gras in Harlem. Thousands of fans surrounded the Apollo Theater with a line that wrapped around three city blocks. People from all over the world paid their respect to the King of Pop with rapturous singing, dancing and eulogizing in the street. Within 24 hours of the news of Jackson's passing, all of the street vendors on 125th Street were fully stocked with Jackson t-shirts, buttons, DVD's, greatest hits CD's, and even the Michael Jackson dolls. The people who came to show their respect were not only fans but also people with intimate memories of meeting the star up close and personal. One woman fondly reminisced about meeting a 10-year-old Michael, who gave her a kiss on the cheek backstage at the Apollo.
An observation which became immediately apparent to me at the gathering, was that Jackson's fans truly are a cross section of all generations and nationalities. The crowd of fans was a mixture of grandmas, impersonators, Hip-Hop kids, foreigners, middle-aged adults, and grade school children, who you would have thought too young to be familiar with the star. All of the people who showed up had a common mission, and that was to celebrate Michael Jackson's legacy at the Apollo Theater. The theater is a venue where he and his brothers first gained notoriety, and where he later set the world on fire with the premier of the moonwalk dance.
Working Day and Night was not only a hit song for Michael Jackson, but could easily have been the theme for his childhood. In 1967 the Jackson Brothers won the Apollo Theater's Amateur Night competition, which is no small achievement considering the Apollo's reputation for having one of the toughest audiences in show business. After wining the competition, the Apollo contracted the boys to perform 31 shows in one week for $1,000. To clarify the situation, we are talking about underage children (Michael was 9 years old at the time) performing 4-5 shows per day in Harlem. That factoid should definitely raise an eyebrow in regards to details such as parental judgement, child labor laws and the lack of schooling.
From a fan's perspective the Jackson's career looked like enviable fun and games, but in fact it was a lot of hard work. Rehearsals, recording, touring, TV appearances and promotions are taxing enough for adults, and even more so for children working for their parents. For Michael all of these pressures must have been compounded due to his popularity. Michael sang lead vocals on the majority of the Jackson's songs, which meant that without Michael there was no show, and no show meant no money. In a family full of gifted performers Michael was not only the golden child but also the cash cow. The talented family from Gary, Indiana became one of the most popular and lucrative entertainment acts in the world during the 1970's. The Jacksons were an industry unto themselves with hit records, headlining shows in Las Vegas, a family variety show, a cartoon series and a multitude of merchandising ventures.
Upon releasing his solo albums Off the Wall, Thriller, and Bad, Jackson's popularity became not only omnipresent but also fantastic in the true sense of the word. Artistically there was no denying the man had vision. People from all walks of life were able to connect with Michael because he was able to invent a universal visual language that transcended all barriers. His videos incorporated elements of surrealism, Broadway musicals and advanced Hollywood production techniques. From the moment the Billie Jean video was broadcasted, television and the record industry was forever changed. Michael Jackson was MTV, period!
From an industry standpoint, anyone who wanted to become a star needed to be a singer and professional dancer. If you didn't translate well on the small screen, you would not be in the entertainment industry. Being able to rock was no longer good enough; you had to be able to mesmerize audiences over and over and over again. What is most interesting about Michael Jackson's fluency with visual language is that he never came across as being pre-packaged, unlike most performers today. He was innately aware of how to blend pop culture with high culture to create something fresh. He also regularly cast himself in his videos as the optimistic outsider challenging the status quo, a brilliant tactic that earned him both empathy and street credentials. To put it bluntly, Michael was "The Man".
He was the singular definition for excellence as a performer. It would be difficult to name any musical entertainer under the age of 50 who was not inspired or influenced by Michael Jackson. If you want to pick off Jackson devotees by name you can begin with Justin Timberlake, Usher, Britney Spears, Chris Brown, and even his own sister Janet Jackson...just to name a few. From that point you can throw in all the family groups, boy bands, and choreographers working within the last forty years. As one mourner puts it "He is our generation's Elvis, our generation's Lennon."
At this year's B.E.T Awards show, a tearful Janet Jackson pronounced "To you he was an icon. To us he was family." However, while I was interviewing people at the memorial, it was interesting to hear countless fans repeatedly state that Michael was a part of their family. How could that be? Again, most people under the age of 50 grew up listening to Michael Jackson's music over several decades. "Michael's music was the soundtrack to my life" was a consistent comment voiced throughout the day. I encountered an Army recruiter who said "The news of his death was so shocking to me. I didn't believe it. I thought people were playing with me." Unfortunately some people have not absorbed the shock well. The Associated Press has reported that 12 Michael Jackson fans have committed suicide within the past week. Additional suicide attempts have been reported in Australia, Great Britain, Russia, and Tunisia.
In life there is always an element of duality, and with the death of Michael Jackson there is an element of the bittersweet. One fan remarked "I think there are a lot of people out here with a lot of guilty feelings about his death. I think that a lot of those feelings will be addressed in the years to come." The paradox is that Michael Jackson is one of many people that created a major shift in our culture, was celebrated, and then later ridiculed. "It's sad to see so many people out here to show support, and when he was alive so many people tried to tear him down with hate. Regardless of what color he was when he passed, he is still our man. He is still African-American and we love him and worship him."
How you chose to judge his personal life may be up for debate, but one of the choices Michael made was to transcend the physical parameters of genetics, race and gender. His physical metamorphosis has been well documented over the years, but was never fully explained by the man himself. What is known is that people have been changing their skin tone for decades if not longer. People of color throughout the world choose to lighten their skin with a variety of unregulated bleaches and creams which are thought to be dangerous and unhealthy. Just as Caucasians throughout the world go to equally dangerous lengths to darken their complexions with the use of excessive sunbathing, tanning booths, and spray on tans. The business of skin tone is a multi-million dollar industry available at your convenience.
Admittedly, plastic surgery is also an attempt to reconstruct one's outer persona. According to the American Society of Plastic Surgeons, last year 12.1 million Americans underwent procedures to slim their noses, enlarge their lips, tighten their faces, tuck their tummies, and sculpt their backsides. For those of us who didn't get a procedure we were able to watch the practice unfold in graphic detail on TV shows like Dr. 90210.
In regards to prescription drug usage, America can easily be considered a drug-addicted nation. Pharmaceutical companies incessantly advertise commercials with the slogan 'Just Ask Your Doctor.' Well, many Americans have followed those instructions and received prescription drugs. Anti-depressants are now the #1 prescribed drug in the United States. In 2007, CNN reported the revenue for prescription drug sales reached $286 billion.
So how does all this information relate to Michael Jackson? It means that whether we would like to admit it or not, our idols are a reflection of who we are as a culture. Ultimately they are of us, not separate from us. As we judge Michael's actions, we are also judging ourselves to various degrees...take a look at the "Man in the Mirror."
Since Jackson's passing the Internet has been all a-buzz with reports that Jordan Chandler, the boy who accused Jackson of molestation in 1993, has recanted his story for the second time and is seeking forgiveness for the allegations he made against Jackson. Curiously, this latest development has yet to be confirmed or denied by any major U.S. news organization. The lack of mainstream media scrutiny has fueled speculation about the media's lack of motivation to publicize the story. "If the media discloses that the accuser lied about being molested, it clears Michael's reputation. If the charges are removed from his public record, Michael Jackson will achieve a level of martyrdom that no other person has achieved", that's a widely voiced response to the quiet storm brewing online and in the streets.
While waiting for admittance into the Apollo Theater, a rainstorm which could easily be described in Biblical terms, descended without mercy upon those of us in line. The once vibrant jubilee turned into a battle of patience and perseverance. Hours later the flock of newly baptized mourners was allowed inside for the official memorial service. You should understand that this was not an average memorial service for two reasons; 1) it was for Michael Jackson 2) it was in Harlem; and that means it was a party.
The party included hundreds of soaking wet people dancing and singing Shake Your Body Down to the Ground and Wanna Be Startin' Somethin' while looking at overhead projections of Jackson's career highlights. Among the crowd were two Jackson impersonators in full regalia, Spike Lee, Rev. Al Sharpton, and a DJ. The Apollo's stage was covered with flowers, notes, and a stool decorated with a black fedora and a glittering white glove. Michael may not have been present in the flesh, but in between hallelujahs, one woman proclaimed, "He's dancing in Heaven, he's dancing in Heaven!"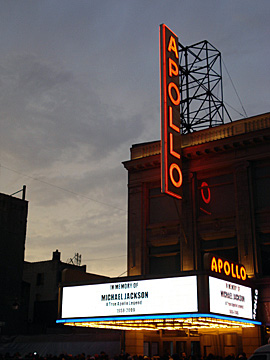 By 10 PM with the theater lights turned off and the doors locked, a group of fans remained gathered in front of the Apollo's entrance singing We Are the World. At that moment I remembered a woman I spoke with earlier in the day who said "Although Barack Obama is now President, and brought people from all over the world together, it's the same with Michael Jackson."
With the passing of time I believe people will reflect on Michael Jackson's life and legacy in the context of being a transformer. As is the case with most transformers, Michael Jackson was a complex individual moving at his own speed and time, challenging us to catch up to him.
Lauri Lyons is a photographer and the author of Flag: An American Story and Flag International.
Related
Popular in the Community