Too many people are getting by without paying for TV -- cobbling together their entertainment on phones, computers and TVs by using a mix of Netflix, Hulu, iTunes and Google.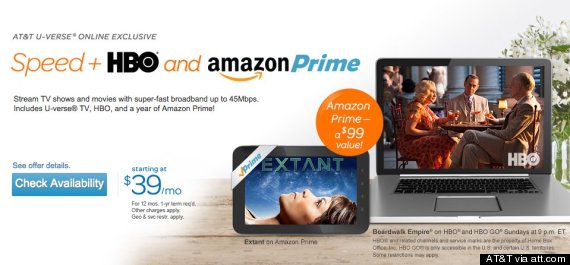 Of course, there's some fine print. Actually, there's a lot of fine print: There's a $99 installation fee, and you must subscribe to the service for a year. If you cancel within 12 months, you could be charged up to a $180 early termination fee. It's not HD -- that will be $10 more per month -- though the HBO Go App is HD even if you don't upgrade your plan. You get one HD-ready receiver for a TV, but another will cost you $8 per month, and there's a $7 monthly fee for the modem. The deal is only good for new customers, and after a year, the price more than doubles, to $91 per month. The offer is only good online, and you must sign up by December 13.
Even with all the possible extra charges, the deal is pretty good (at least for the first year), since many people pay more just for broadband Internet access. The Amazon Prime membership -- which includes music, free shipping and increasingly good streaming video programming -- is a sweet bonus; the service typically costs $99 a year. If you already have Prime, you'll get another year tacked on.
You can get the AT&T package if you live in one of the areas covered by the company's U-Verse service. It's free to cancel the subscription after the first year, but AT&T hopes that once you sign up, it will be hard to quit.
AT&T's promotion comes as pay TV providers try to fend off competition from an ever-increasing number of fronts. TV subscriptions have declined slightly in recent years. According to SNL Kagan, a media research firm, 100.83 million households in the U.S. pay for TV, down from 101.02 million in 2012. Younger consumers -- who are really important to advertisers -- are getting their entertainment elsewhere: A report last spring from Experian Marketing Services found that almost a quarter of people between 18 and 34 who subscribe to Hulu or Netflix don't pay for TV.
And as DSL Reports notes, other pay TV providers like Comcast and Verizon also offer deals similar to AT&T's to try to get new consumers hooked. AT&T itself offered a similar promotion earlier this year, though it didn't include an Amazon Prime subscription.
AT&T is in the midst of a $49 billion mega-merger with DirecTV. In terms of pay TV subscribers, the combined company would be the second-largest in the country behind a combined Comcast and Time Warner Cable, two other huge companies also attempting to merge into one. Both deals have yet to be approved by regulators.
REAL LIFE. REAL NEWS. REAL VOICES.
Help us tell more of the stories that matter from voices that too often remain unheard.