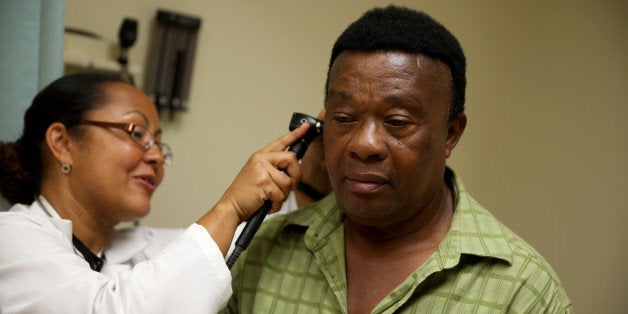 After five years of historically low inflation, national health care spending will grow a bit faster this year, according to a federal audit released Wednesday. The expected increase is due to the economy's continued recovery, millions gaining health benefits from Obamacare and more baby boomers signing up for Medicare.
Households, businesses and the government will spend $3.06 trillion on health care in 2014, a 5.6 percent increase from projected expenditures during the previous year, according to a report by the Office of the Actuary at the Centers for Medicare and Medicaid Services published in the journal Health Affairs. From 2009 through 2013, growth came in below 4 percent, the actuaries estimate. In the two decades before that, there were much higher increases; health care spending has nearly quadrupled since 1990.
Despite the uptick in spending on health care services and products like hospital procedures and prescription drugs, these expenditures are still expected to rise more slowly than they did from 1990 to 2008. Even though the economy will grow faster, more Americans will have health coverage and more will age into Medicare, other factors will keep spending increases below those historical highs, the audit concludes.
"The growth rate that we're projecting would be higher than the recent past, but much lower than the previous two decades," Sean Keehan, an economist in the Medicare actuary's office, said at a press conference Wednesday. "We're not projecting that growth will get back to its rapid pace of the '90s and early 2000s."
Health care spending will rise 5.7 percent during the 10-year period that began in 2013, which is lower than the 7.2 percent increase from 1990 to 2008 and higher than the 3.7 percent increase from 2009 to 2012, when the Great Recession drove down demand, the report says. Data from 2013 to 2023 represent the auditors' projections. A separate report next year will detail actual spending in 2013, and the tally for this year won't be available until 2016.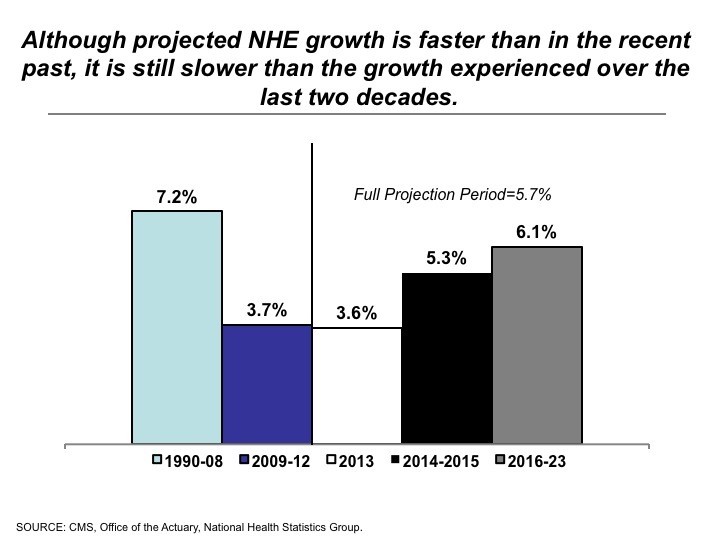 Source: Centers for Medicare and Medicaid Services
The last year for which actual spending information, not projections, is available from the Medicare actuaries is 2012. That year, health care expenditures rose 3.7 percent, which was lower than the rise in gross domestic product for the first time since 1997. The actuaries expect the increase in spending in 2013 to be lower than economic growth as well, but they say it will outpace GDP starting this year.
By 2023, health care will make up 19.3 percent of the U.S. economy, as spending will rise 1.1 percentage points faster than gross domestic product. From 1990 to 2008, health care spending grew 2 percentage points faster than the economy.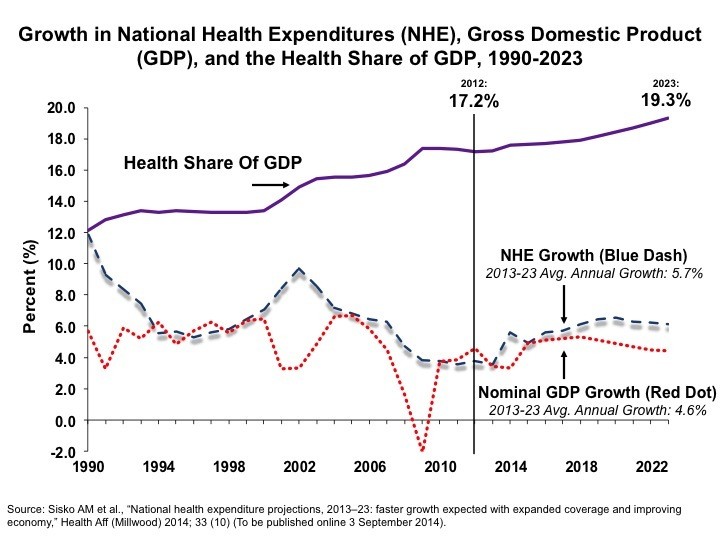 Source: Centers for Medicare and Medicaid Services
The actuaries at the Medicare agency mainly attribute the very low growth in recent years to a poor economy, which caused workers to lose jobs and health benefits and gave individuals less income to spend on medical care, and to strained state and local government budgets for health care programs. Other factors include the proliferation of health insurance plans with high deductibles and other requirements that patients pay a larger share of their medical bills, and Medicare spending cuts from Obamacare and a federal budget law enacted last year, the report says.
But the auditors are no longer breaking out Obamacare's effects on health care spending and drawing comparisons to a hypothetical world in which the law doesn't exist. "Now that the Affordable Care Act has been in place for well over four years, it is becoming increasingly difficult to accurately estimate a counterfactual -- meaning, what the world would look like in the absence of the Affordable Care Act," Andrea Sisko, an economist in the actuary's office, said at the press conference.
Calling all HuffPost superfans!
Sign up for membership to become a founding member and help shape HuffPost's next chapter