Hillary Clinton's campaign is taking her message that Donald Trump sought to profit off of the housing crisis to a new platform: Snapchat.
The campaign is releasing a Snapchat filter on Wednesday targeted to the Anaheim Convention Center, where Trump is scheduled to hold a rally. The filter simply places Trump's own words from 2006 on a yellow background with a frame.
"I sort of hope [a housing crash] happens because then people like me would go in and buy," the filter says.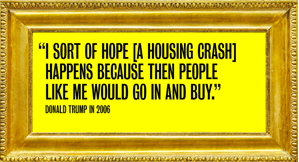 Snapchat users at the convention center will be able to overlay the message onto photos they take using the app. 
The filter comes as Clinton has ramped up attacks on Trump's character by accusing him of supporting the 2008 housing crash.
A Clinton campaign aide said the campaign's use of Snapchat was one of the first times a political campaign had used the app to target supporters of an opponent at one of their rallies.
Clinton herself was trolled with a Snapchat filter by a conservative group when she testified before the House Select Committee on Benghazi.
BEFORE YOU GO
PHOTO GALLERY
Hillary Clinton