Hillary Clinton forcefully defended her support for a no-fly zone in Syria at the third presidential debate on Wednesday night.
It was the first time she was pressed by a debate moderator about risks the controversial policy would pose. The moderator, Fox News' Chris Wallace, asked Clinton to explain how she would avoid getting into a larger war with either Russia or Syria. He noted that President Barack Obama has cited fears of escalation in rejecting the idea. Gen. Joseph Dunford, chairman of the Joint Chiefs of Staff, has raised similar concerns, Wallace said.
"If you impose a no-fly zone, how do you respond to their concerns?" Wallace asked. "Secondly, if you impose a no-fly zone and a Russian plane violates that, does President Clinton shoot that plane down?"
Clinton stuck to an argument she has made many times: Creating an area where Syrian and Russian planes cannot fly would give the U.S. "leverage" over Syria and Russia to negotiate a political resolution.
"A no-fly zone can save lives and hasten the end of the conflict," she said.
With proper planning, Clinton argued, the restriction could accomplish those goals without sparking a larger war.
"I am well aware of the really legitimate concerns you have expressed from both the president and the general," Clinton responded. "This would not be done just on the first day. This would take a lot of negotiation. It would also take making it clear to the Russians and the Syrians that our purpose here was to provide safe zones on the ground."
Ensuring the safety of civilians in areas of Syria under heavy bombardment from the Syrian and Russian air forces would even "help us in our fight against ISIS," Clinton argued.
Clinton did not directly answer how she would react if a Russian plane breached a no-fly zone established by the U.S.
Nor did Clinton address the Syrian casualties that might result from a no-fly zone. In a 2013 speech to Wall Street firm Goldman Sachs, Clinton told attendees that establishing a no-fly zone would "kill a lot of Syrians," because it would require the U.S. to take out Syrian air defenses, which are located in populous areas.
As Wallace mentioned, Clinton's support for a no-fly zone marks not only a major disagreement with her Republican opponent Donald Trump, but with Obama.
As secretary of state, Clinton was a voice for more aggressive military intervention in Syria, calling early in the conflict for arming Syrian rebel groups. She also played a key role in convincing Obama to depose Libyan dictator Muammar Gadhafi in 2011.
Clinton's Syria strategy represents a belief shared by many foreign policy experts that failing to act more decisively to facilitate the ouster of Syrian President Bashar Assad has allowed the Syrian regime to commit atrocities and enabled extremist militants to flourish in the country.
Proponents of fighting Assad, ISIS and al Qaeda, at the same time, believe the decision not to side with [non-extreme] rebels sooner, gave Assad carte blanche to commit atrocities in moderate rebel-held areas. This, in turn, allowed jihadist groups to fill the anti-Assad void, further strengthening their power in the country.

"The intent of his area bombing is to depopulate the country of moderate civilians supportive of moderate rebels," said Chris Harmer, a foreign policy analyst and retired career naval officer. "He has been able to successfully destroy the foundation of support for the moderate insurgency."

Boosting the shrinking contingent of acceptable Syrian rebels or thwarting Assad through other means is still better than continuing on the current course, these critics ― including Clinton ― argue.
Many critics of a no-fly zone focus on concerns about a military entanglement with Russia, or the danger it could create for U.S. military.
Others, like Trump, question the entire strategy of viewing Assad as an adversary whose ouster the U.S. should be trying to enable.
Trump restated his belief Wednesday night that, faced with a choice between Assad and rebel groups, Assad was preferable.
"If they ever did overthrow Assad, you might end up with ― as bad as Assad is, and he's a bad guy ― but you may very well end up with worse than Assad," Trump said.
Trump claimed during a previous debate that Assad is a U.S. ally against ISIS and other terror groups.
In reality, Assad and Russia have, by most accounts, actually strengthened ISIS. They focus much of their military efforts on non-extreme rebel groups, and commit atrocities that boost local support for extremist factions.
Before You Go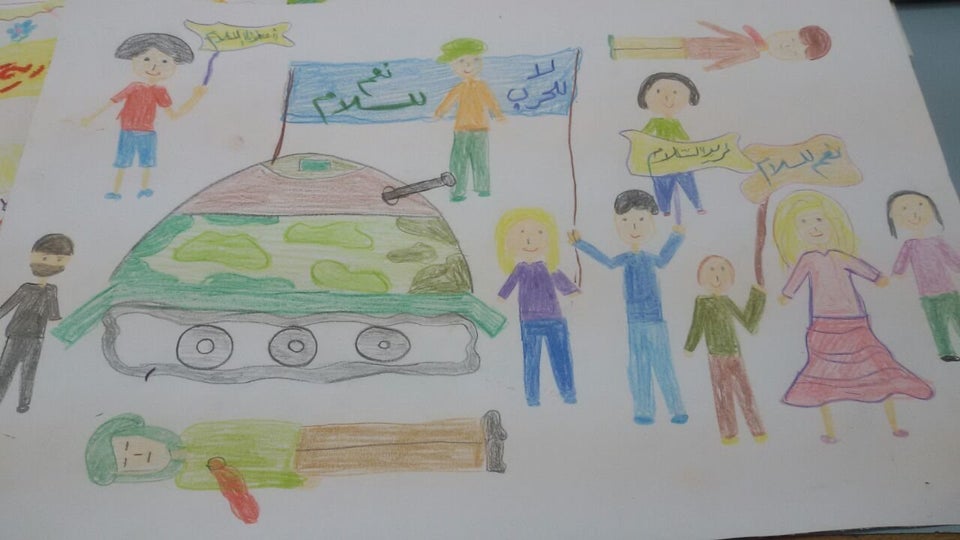 Syria's Children Draw Messages For Peace
Popular in the Community