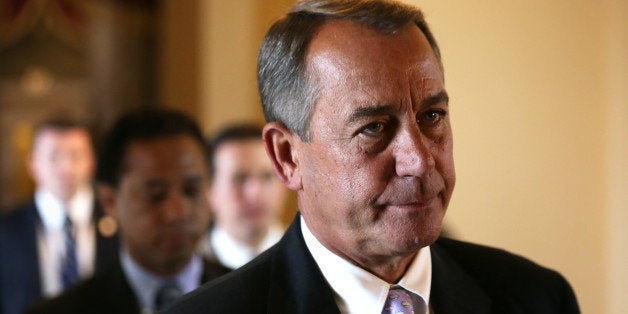 WASHINGTON -- House Republicans will soon present a third proposal to keep the federal government funded, but it seems all but certain to be rejected by the Senate, just like the two that came before it.
With just hours to go before the government shuts down, the office of House Speaker John Boehner (R-Ohio) confirmed that it will put together a new continuing resolution with amendments attached to it that will delay Obamacare's individual mandate for one year and end the employer healthcare contribution for members of Congress and their staff.
The outcome, of course, will be a rejection by the Senate, as Majority Leader Harry Reid (D-Nev.) has insisted that the Senate will not pass a continuing resolution that contains Obamacare provisions.
A plugged-in GOP lobbyist confirmed the contents of the offer, speculating that the goal is to get moderate Democrats on the record supporting the continued existence of the mandate. But at least one of those moderate Democrats, Sen. Joe Manchin (D-W.Va.), has said he will oppose a bill that delays the implementation of the individual mandate, even though he himself supports such a delay.
House Republicans had met on Monday afternoon to discuss the next path forward after the Senate tabled their second proposed continuing resolution, which included a one-year delay of the entire health care law as well as a repeal of its tax on medical device manufacturers.
Attendees told reporters after the meeting was over that the possibility of passing a clean bill -- one that included no Obamacare provisions -- was not even mentioned.
"We haven't discussed that," Rep. Sam Johnson (R-Texas) said.
When asked by reporters during a Monday press conference whether the House would pass a clean continuing resolution by midnight, Boehner said, "That's not going to happen."
Popular in the Community