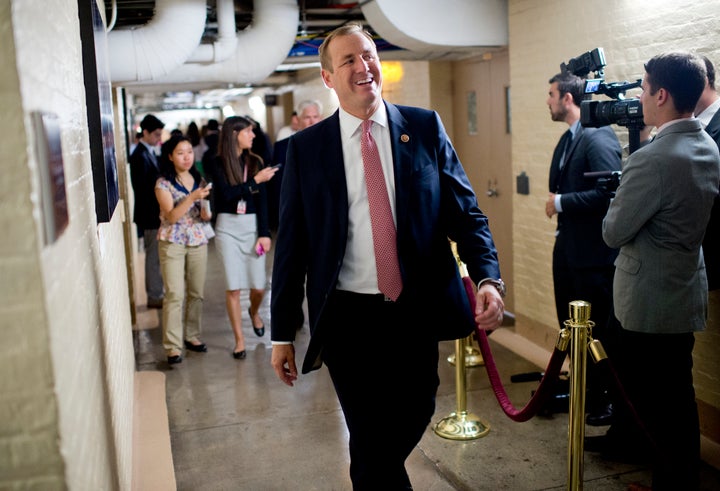 WASHINGTON ― House Republicans say they're making progress on a plan to do the long-impossible: unite a fractured GOP conference on the issue of immigration.
With GOP moderates still pushing for a slate of votes on immigration, House Republicans generally are feeling the pressure to come up with a plan to finally address the precarious state of the Deferred Action on Childhood Arrivals program.
A small group of GOP moderates, conservatives and leaders emerged from a meeting Wednesday afternoon saying they were getting closer to an immigration bill that might be able to pass the House with almost exclusively Republican support.
Rep. Jeff Denham (R-Calif.), one of those leading the effort to force a series of immigration votes through a discharge petition, told reporters he was hopeful that Republicans could come up with the outlines of an immigration deal to address DACA as soon as Thursday.
"We're getting pretty close," he said.
Other Republicans also sounded optimistic about the prospects of a deal. House Majority Whip Steve Scalise (R-La.) said members have been having some "really good talks." Rep. Mark Meadows (R-N.C.), the chairman of the conservative House Freedom Caucus, said there was "more than a reasonable chance" that Republicans would strike a deal by Thursday. And Rep. Carlos Curbelo (R-Fla.), another moderate immigration advocate, said the roughly hour-and-a-half meeting in the Capitol was "not a waste of time."
But as bullish as Republicans were on Wednesday, there were still some key sticking points that could ultimately prevent an immigration agreement.
For one, moderates and conservatives don't have a shared concept of a "permanent solution" for undocumented immigrants who came to the United States as children. Denham noted Wednesday that his preferred idea is to allow them to file for legal status for five-year periods, with the ultimate goal being legal permanent residence in 10 years, and Curbelo said a permanent solution for these types of childhood arrivals was "essential" to any deal.
Meadows, however, said it was important that any deal has "no special pathway to citizenship," although he did say he was open to allowing undocumented immigrants to "work toward citizenship."
These differences over the endpoint, which may seem like minor distinctions, are actually major policy disagreements that lawmakers have yet to sort out. And there are some Republicans who just don't see a way to split the difference.
Immigration hardliner Rep. Andy Biggs (R-Ariz.) told HuffPost on Wednesday that he saw himself as "diametrically opposed" to Denham on immigration and that he felt there were many members who would vote the interests of their individual districts rather than just accepting a deal.
Moderates believe that one solution could be to offer multiple votes on multiple bills during an immigration vote-a-rama. But conservatives see that proposal as hardly any different from what moderates want anyway, and Meadows was emphatic Wednesday that, if there were a deal, it had to consist of one bill.
Another problem standing in the way of GOP consensus is that moderates and conservatives both believe they have the upper hand. Moderates note that they are getting dangerously close to having enough Republicans and Democrats signed on to a discharge petition to force a vote on a slate of different immigration proposals. That means they could pass a bill through the House with the help of roughly a few dozen Republicans and every Democrat.
Meanwhile, conservatives believe any immigration deal that Republicans strike among themselves would skew more toward the conservatives' ideology, considering the small number of moderates in the 235-person Republican House majority. They also note that any immigration deal would have to win Senate approval and secure President Donald Trump's signature to become law.
On that point, lawmakers are left to mostly guess where Trump would do.
The Senate tried and failed to pass immigration legislation of its own earlier this year, sunk in part by hardline demands from the White House. Trump rejected bipartisan proposals to increase border security measures and grant legal status to Dreamers, and his administration lobbied senators to oppose those proposals in favor of a bill that included measures to restrict legal immigration and end protections for immigrants at the border.
The Trump-backed bill ultimately received only 39 votes ― less than the bipartisan alternatives that received a vote. But the president has shown no indication that he's willing to budge from his demands for a sweeping immigration bill. In the months since, he has only doubled down on calls to toughen policy against asylum-seekers and children at the border ― two items Democrats adamantly oppose.
Still, Trump's past vow to support any immigration bill that Congress sends him rings in the ears of moderates, and many of them believe the president is personally more open than his staff to a solution with a pathway to citizenship, particularly if it also includes money for a border wall.
Lawmakers have been grasping for an immigration bill since last year, when Trump rescinded the DACA policy that allowed nearly 700,000 young undocumented immigrants who came to the U.S. as children, often called Dreamers, to stay and work. DACA recipients are currently able to renew their protections because of court injunctions, which helped quiet some of the calls for action from Congress. But GOP moderates from districts with large immigrant populations see a pressing need to resolve the issue.
While those moderates believe they have the votes (with Democrats) to get a bill through the House utilizing a discharge petition, they are also open to a negotiation with their fellow conservative Republicans and GOP leaders in the hopes that it could result in a bill becoming a law.
"We want an opportunity to pass a bill that can be signed by the president," Curbelo said Wednesday.
And even though it seems like moderates and conservatives are on mainly opposite sides of the issue, both factions at least want to exhaust all options within the Republican conference before they truly square off ― either to strengthen their case that there is no solution or to actually, somewhat miraculously, come to an agreement.
As Meadows tried to explain the reasons for his optimism that an immigration deal could come together shortly, he said that even though Republicans have been arguing over this issue for decades, he thought that now they could finally write something that would win over almost everyone in the conference.
"I'm used to accomplishing the impossible," he said.
REAL LIFE. REAL NEWS. REAL VOICES.
Help us tell more of the stories that matter from voices that too often remain unheard.