At this very moment, there are civilians fleeing war in Yemen, Syria, Iraq, South Sudan, Ukraine and Central African Republic. There are more refugees now than any time since World War II.

War means food shortages. Children suffer the most in these conflicts. They feel the pain of hunger and live with the threat of malnutrition, which can stunt them for life.
Ertharin Cousin, the director of the UN World Food Programme, says we have to remember these victims of war are not just a statistic. These are human beings. While it can be easy to forget about their plight thousands of miles away, we must not.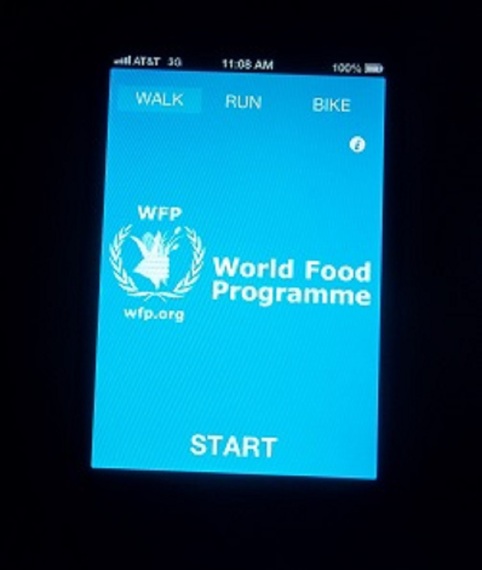 In fact, technology has developed unique and even easy ways to help people a world away. One of them is the free app Charity Miles.

If you own a smartphone you can download the app and raise donations for the World Food Programme, the largest hunger relief organization. You do this simply by running, walking or biking. You carry the smartphone with you and the app keeps track of your distance and workout.
All you do is select World Food Progamme (WFP) from the list of 28 charities on the app. You then walk, run or bike and every mile you cover donates a meal to WFP. The donations are paid for by corporate sponsors. So it's totally free for you.

The funding is used in the WFP school feeding programs across the world. I made a video about using Charity Miles help WFP feed school children. I actually made the video while doing a Charity Miles run!
So just by walking or running a mile you could provide a meal to a hungry child in war-torn Central African Republic. Or you will help feed a child in the Philippines or the Democratic Republic of the Congo. There are so many feeding programs that need funding support.
WFP relies entirely on voluntary donations from governments and the public. They are short on funding for many of their missions currently.
The WFP school feeding initiative helps improve class attendance and performance. It's an effective way to help children who are missing out on food and education, two things they need to survive and thrive.
You can also do the Charity Miles and help local food banks through Feeding America. The Charity Miles app supports about 28 different charities. There is a list where you select the charity you are going to run or walk for.
I have run Charity Miles for both WFP and Feeding America. I also have done a number of miles for Stand up to Cancer. And I had been "retired" from running prior to starting Charity Miles. So I think anyone can do this. I have raised well over 1000 meals using this app.

Now if every person who had a smartphone could raise 1000 meals, think of how many children would receive food and education.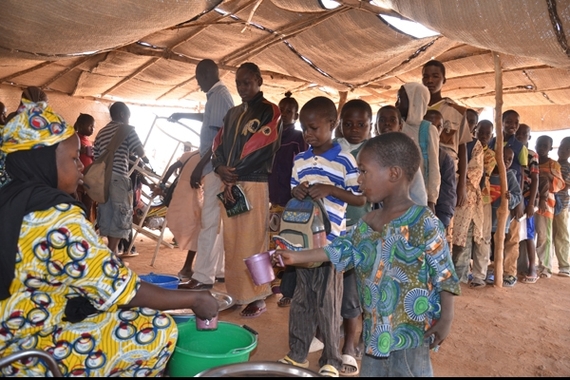 Every mile you run or walk can help feed a child such as in conflict-torn Mali where WFP has an emergency feeding program. (WFP/Daouda Guirou)
It would not only provide food to hungry children, but what a statement it would make as well.
If enough people become a "food ambassador" that will raise the profile of hunger among social issues. Think what that could mean for advocacy.
For example, the Congress will be deciding food aid budgets in the coming months. If the American public makes a statement about fighting hunger through Charity Miles and other means, that will encourage Congress to do their part.
It's worked before. The famous Marshall Plan to rebuild Europe after World War II was actually preceded by many public initiatives including the Friendship Train, which collected food for starving war victims in Europe.
So if you own a smartphone, download Charity Miles at www.charitymiles.org and you can get started right away. You can donate meals to feed hungry children just by running or walking. You can upload your workout results to Facebook or Twitter. Be a food ambassador.
Calling all HuffPost superfans!
Sign up for membership to become a founding member and help shape HuffPost's next chapter