When the disillusioned 21-year-old Dylann Roof shot and killed nine black worshipers at the Emanuel AME Church in Charleston, SC, the tragedy quickly focused on the legacy of the Confederate flag and its tacit endorsement of racism. For presidential candidates courting southern conservatives, this called for high-wire political acts.
As illustrated in Fig. 1, below, it was the twice-declared candidate for president, Mitt Romney, whose Reaganesque take-down-this-flag tweet helped Republican candidates balance the banner's latent meaning. Not known for his timing or social sensitivity, Romney's play, a Challenge, was uniquely pitch perfect. Coming from a GOP party father, it could neither be argued nor ignored, so it served to shield conservatives who, finally and safely, could disavow the tainted symbol.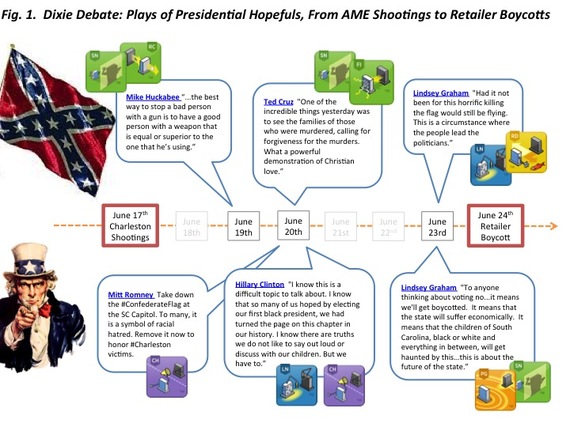 In as much as Romney cracked the unbreakable Dixie brand, it was the decision by major retailers, including Walmart, Amazon, Sears and eBay, to remove Confederate flag-stamped products from their catalogs, that crushed it. Get away from this symbol of bigotry or be boycotted, was the dogwhistle -- a Ping that southern lawmakers heard loud and clear.
To this point, the Confederate flag has enjoyed various positions of honor with state governments, for example, its conspicuous displays at southern state capitols. That it lived so long as a protected public fixture is explained by The Washington Post columnist E.J. Dionne, Jr. as a culture of evasion and illustrated in Fig. 2, below -- a map that characterizes the sequence of representative influence plays that, heretofore, have frustrated Dixie's detractors.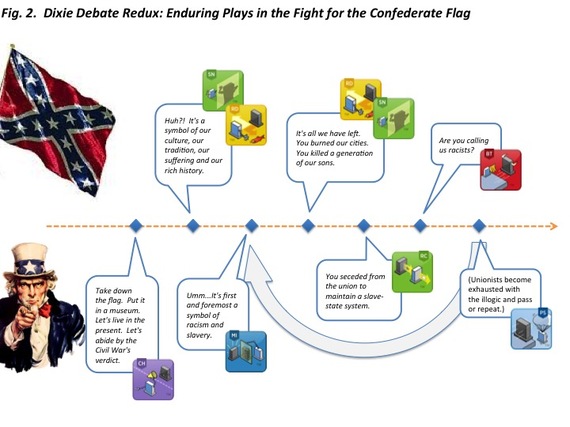 Graphics courtesy of Playmaker Systems, LLC
Calling all HuffPost superfans!
Sign up for membership to become a founding member and help shape HuffPost's next chapter