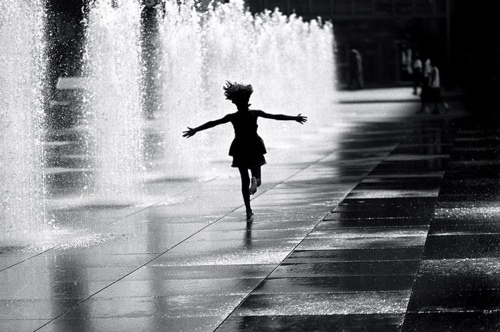 A natural human tendency is to look for happiness outside of ourselves.
We are bombarded with messages from almost every element of society telling us that we will be happier if we get a certain new shiny object, or date a certain attractive person, or make more money, or achieve some goal, or have more pleasurable experiences.
Have you ever stopped to question the truth of this message that in order to be happy we have to do more and get more?
I recently had a chat with Chade-Meng Tan (he goes by "Meng"), who is the author of an excellent new book called Joy on Demand.
Meng retired from Google last year, where his official job title was "Jolly Good Fellow (Which Nobody Can Deny)." But he wasn't always so jolly.
Meng grew up in Singapore. Although his family started out quite poor, by the time he was 21, Meng's father had retired from the Army as a high-ranking officer and had become a wealthy businessman.
In addition to having access to wealth, Meng was an outstanding student. However, despite all that he had going for him, he was miserable almost all of the time. Unless something extremely wonderful was happening, Meng was extremely unhappy.
Then Meng heard a simple statement in a talk from a mindfulness teacher, a Tibetan nun, that changed his life. He realized that the secret to both happiness and success in life is training the mind to function optimally.
Within a few years of training his mind, Meng noticed a huge shift had occurred. Instead of being miserable unless something great was happening, he was happy unless something really terrible was happening.
In our chat, Meng discussed some of the key ideas from his book, which can help you to tap into the sustainable happiness that he has realized.
Idea #1 -- Joy Is a Key Element of Happiness
Although joy is fleeting emotion, it is possible to access joy in almost any situation. The more often we access joy the more generally happy we feel.
Idea #2 -- You Can Access Joy in Just One Breath
During just the six seconds it takes to complete one full breath, you can begin to access joy. You could try it right now if you like. Bring your full attention to one in-breath and one out-breath. What do you notice?
You likely noticed that you were just a bit more relaxed during that conscious breath. As Meng explained in our chat, this happens because when we're conscious of the breath it naturally becomes a little slower and deeper, which triggers the relaxation response in the body.
Also, if your attention if grounded in the present moment, you can't be worrying about the future or regretting the past. You are free from those causes of unhappiness.
This physical and psychological sense of ease allows you to realize a subtle yet profound sense of joy.
Idea #3 -- There's a Simple, 3-Step Process to Training to Cultivate Joy on Demand
With a little bit of training, Meng suggests that we can gradually extend our realization of joy from one breath, to many moments of the day, including demanding situations, and that that joy can become deeper over time.
1. Step One: Easing into Joy
By practicing mindfulness throughout various moments of the day, we train the mind to be at ease, which allows us discover the joy that always present when we're not caught up in worry and regret.
2. Step Two: Inclining the Mind Toward Joy
The more steep the incline of a mountain, the more easily water flows down it. In the same way, Meng told me, "If the mind is inclined in a certain way, then positive emotions flow effortlessly."
To train the mind to naturally incline toward joy, Meng recommends that we make a new habit of noticing the joy that's already present in simple moments of daily life, and then paying close attention to the qualities of joy.
3 Step Three: Uplifting the Mind
Practice creating joyful mind states by practicing kindness and compassion. Whenever we are able to generate kindness or compassion, we also experience joy. As Meng told me, "A big secret of happiness is to be on the giving end of a kind thought."
You could start practicing this step right now if you like. Just take a moment to think of three people and wish them each happiness, one at a time, for one full breath. If you take a few seconds to do a few times each day, you might notice that you become a bit more of a jolly good fellow (or lady) after just one day.
If you'd like to listen to the entire chat Meng and I had, you'll be able to do so starting 6 June 2016 at www.TheMindfulnessEdge.com.

Related