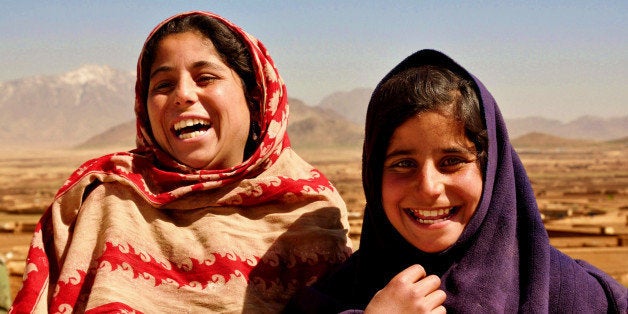 The stars of this year's Human Rights Watch Film Festival are as eclectic and awe-inspiring as ever -- a gang of 18 revolutionary cows in a Palestinian village, the women singers banned from performing in Iran, the teachers bringing education to girls in Afghanistan, a Colombian mayor with a penchant for wearing capes.
Organized around the themes "Art Versus Oppression," "Changemakers," and "Justice and Peace," the festival takes viewers around the globe, analyzing human rights abuses across our planet while celebrating the brave individuals who stand up against them. Starting on June 11 and continuing through June 21, the collection of feature documentaries and short films screening in New York City highlight everything from vigilante crime fighters to radical political candidates to underground resistance movements.
In anticipation of the festival, we've rounded up a few of our favorite films, amounting to a global tour of activists, reporters, leaders and educators working to cause change around the world. Here's your cinematic syllabus for understanding the human rights issues of today:
1. "The Black Panthers: Vanguard of the Revolution" (United States)
Nearly 50 years ago today, the Black Panther Party for Self Defense was founded in Oakland, California, positioned as a radical force for change in 1960s and '70s America. Rather than attempting to judge the moral or ethical impact of such an organization, this feature documentary provides firsthand accounts from founding members, rank-and-file fighters, police officers, writers, lawyers, FBI informants, critics and academics, all of whom experienced the sheer power of the Black Panther revolution in one way or another. The film attempts to show that while the movement, by many accounts, derailed in the early '80s, the legacy of a party dedicated to addressing racial injustice and police brutality prevails. Directed by Stanley Nelson. (Closes Sunday, June 21, at IFC Center)
2. "What Tomorrow Brings" (Afghanistan)
"What Tomorrow Brings" takes place in a small Afghan village that, until recently, did not allow girls to be educated in school. This film follows the lives of two teachers and three students at the Zabuli School, the village's first institution to provide education to young women, teaching them to read, write and apply their knowledge to spheres outside the classroom. The story takes place 12 years after the United States attempted to eradicate the Taliban, and, as the title references, revolves around a time when the fundamentalist movement is kicking up steam once again, when the future of Afghanistan's girls is unknown. Directed by Beth Murphy. (Screens Friday, June 19, at the Film Society of Lincoln Center)
3. "Burden of Peace" (Guatemala)
Meet Claudia Paz y Paz, Guatamela's first female attorney general, who, upon entering office, garnered a reputation for fearlessly indicting elite members of her country's government and organized crime units, many of whom had enjoyed decades of living "above the law." "Burden of Peace" follows Paz y Paz -- named by Forbes as one of the five most powerful women changing the world in 2012 -- throughout her term starting in 2010, watching as she tackles cases against former dictator Efraín Ríos Montt and the instigators of the Dos Erres massacre that resulted in the deaths of 200 men, women and children. Directed by Joey Boink. (Screens Tuesday, June 16, at IFC Center and Thursday, June 18, at the Film Society of Lincoln Center)
4. "The Wanted 18" (Palestine)
"The Wanted 18" tells the unlikely story of 18 celebrity cows producing milk on a Palestinian co-operative farm in the town of Beit Sahour that was declared a "threat to the national security of Israel." Upon being deemed an illegal security threat, the cows go underground, continuing to produce their "Intifada milk" while Israeli officials go to great lengths to stop it. Using stop-motion animation, Palestinian artist Amer Shomali and Canadian director Paul Cowan attempt to weave a story around the surprising, bovine-based grassroots activists. (Screens Saturday, June 13, at the Film Society of Lincoln Center)
5. "No Land's Song" (Iran)
Following the Islamic revolution of 1979, women singers were banned from appearing in public in Iran unless performing for an exclusively female audience. If one wanted to purchase recordings of past female icons, you'd have to head to the black market, leaving a gaping hole in Iran's documented musical history. To fix this, a woman named Sara Najafi teamed up with Iranian and French female soloists to stage an illicit performance meant to bring women's voices back into the spotlight. Directed by Ayat Najafi. (Screens Saturday, June 13, at the Film Society of Lincoln Center and Sunday, June 14, at IFC Center)
6. "Cartel Land" (Mexico and the United States)
This is not a story of the American or Mexican government's attempts to reduce the influence of cartels; rather, the film follows two vigilante groups devoted to taking down the drug cartels in Michoacán, Mexico and Altar Valley, Arizona. The two groups are the Autodefensas, led by Dr. Jose Mireles, and the Arizona Border Recon, led by U.S. veteran Tim "Nailer" Foley. Both the paramilitary vigilantes and the cartels work outside the systems of their respective countries, and the Western-esque "Cartel Land" ponders the reality we face when citizens and criminals take the law into their own hands. Directed by Matthew Heineman. (Screens Thursday, June 11, at The Times Center)
7. "The Trials of Spring" (Tunisia, Egypt, Libya, Yemen, Bahrain and Syria)
8. "The Look of Silence" (Indonesia)
A follow-up to "The Act of Killing," "The Look of Silence" follows the life of a family in Indonesia, grappling with the death of their son during the 1965 genocide. The documentary focuses specifically on the family's youngest son, who -- as an optometrist -- attempts to speak to the perpetrators of genocide while trying to test their eyesight. Directed by Joshua Oppenheimer. (Screens Saturday, June 13, at IFC Center)
9. "Life is Sacred" (Colombia)
"Life is Sacred" asks a pivotal political question: Can an unabashedly hopeful and idealistic candidate enact change in a country mired by violence and negativity, entrenched corruption and relentless fighting? According to Antanas Mockus, former mayor of Bogota -- a man who donned a cape as Supercitizen and campaigned for water conservation by hopping in a shower for televised commercials -- hope is what's needed to address everything from crime rates to poor traffic habits. This documentary is as much a portrait of Mockus as it is a glimpse into the independent youth movement that backed him. Directed by Andreas Dalsgaard. (Screens Thursday, June 18, at IFC Center and Saturday, June 20, at the Film Society of Lincoln Center)
10. "Beats of the Antonov" (Sudan)
Calling all HuffPost superfans!
Sign up for membership to become a founding member and help shape HuffPost's next chapter
BEFORE YOU GO
PHOTO GALLERY
Art History's Most Erotic Artworks