BUDAPEST ― Hungarian Prime Minister Viktor Orbán looks set to easily win a third consecutive term in Sunday's election and further cement his grip on the country, according to early official results.
"This has been a decisive win," Orbán told crowds of supporters outside his party headquarters in Budapest.
The country's National Election Office projects that Orbán's right-wing nationalist Fidesz party will win a two-thirds parliamentary majority, which would allow it to make changes to the constitution. In the lead-up to the vote, critics warned that such a majority would give Orbán free rein to impose restrictive laws against NGOs and undermine Hungary's democratic institutions.
Hungarians turned out in large numbers across the country to vote on Sunday, bringing to close an election campaign filled with anti-migrant rhetoric and nationalist fervor. The vote has drawn international attention not only for its spiteful campaign rhetoric and the implications for the country, but because opponents fear Orbán's rule threatens to create immense rifts in the European Union and provides a model of illiberalism that could spread to other states.
At polling stations in the more liberal capital of Budapest, long lines of voters gathered throughout the day to cast their ballots, while some expressed their disdain at the government's overwhelmingly negative campaign.
"They don't promise anything, they don't have a program, they cannot give us anything. All they can give us is fear," said Eszter Imrényi, a 25-year-old student.
Orbán and his Fidesz government made migration the central focus of the campaign, plastering ads around the country showing a crowd of migrants with a large red "stop" sign overlayed on top. In speeches, Orbán railed against "foreign interests" that wanted to bring massive numbers of migrants into the country and ruin Hungary's ethnic homogeneity.
The Fidesz campaign also focused its vitriol on 86-year-old Hungarian-American George Soros, with Orbán constantly accusing the Jewish billionaire of trying to overthrow the government by employing thousands of agents to do his bidding. Critics and Jewish groups condemned the anti-Soros campaign for promoting age-old anti-Semitic stereotypes.
"I have a sister, she's turning 7 this summer, she's in kindergarten," Imrényi said. "She was asking me: 'Soros ... what kind of witch is he?'"
"How come my sister even knows this guy's name? It's terrible."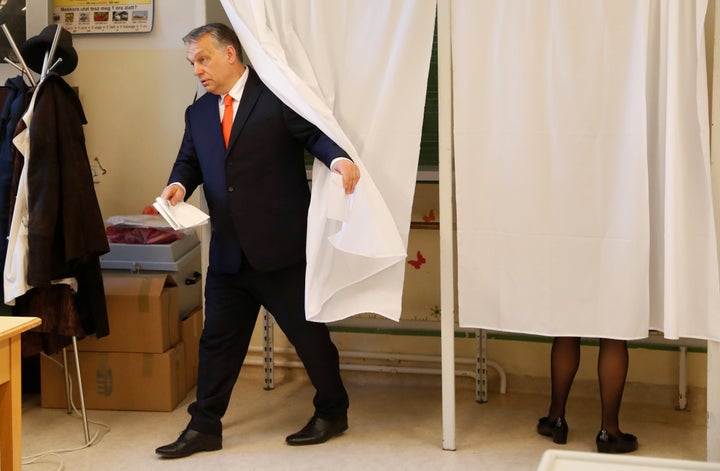 Opposing Orbán's rule was a field of parties that range from a largely fractured group of left-liberal parties to Jobbik, a party with a far-right history that in recent years has tried to moderate its messaging and disavow the anti-Semitic, anti-Roma actions of its past. Although liberal parties attempted to increase their cooperation in the lead-up to the vote, neither the left nor Jobbik was able beat Fidesz.
The election initially looked more competitive than expected, however, which observers say helped fuel the toxic atmosphere.
"I'm really happy it's over and we can vote," Máté Linka, a 27-year-old lawyer, said earlier on Sunday. "It was a really disgusting campaign."
After seeing friends and family members leave the country in recent years to find opportunities elsewhere in the EU, Linka and other young voters who spoke with HuffPost hoped that a shift in government could offer solutions.
But aided by what critics say is a stranglehold on the country's media and an electoral system engineered to benefit his party, Orbán ensured that he will remain in power.
They don't promise anything, they don't have a program, they cannot give us anything. All they can give us is fear.

Eszter Imrényi, a 25-year-old student
This is Hungary's second general election since Orbán's government changed the election law to switch from two rounds of voting to just one, making it more difficult for voters who oppose Fidesz to rally around a single opposition candidate.  
Orbán relies on strong support in rural areas and on the votes of hundreds of thousands of ethnic Hungarians living in neighboring countries, whom he granted voting rights following his election win in 2010.
"This was the first government that gave us the same rights as the natives," said Orsolya Laura Peterfy, a 35-year-old English teacher who was born in Romania. "This government helped us with money and support."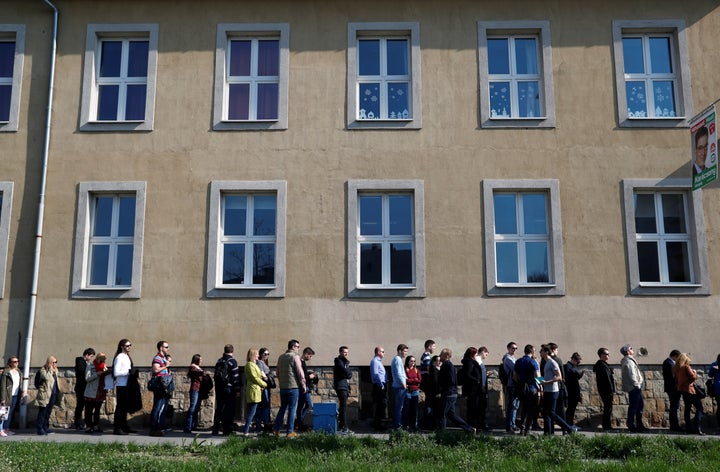 Even among voters who oppose Orbán, few believed this was a vote he could lose. Instead, they hoped that this vote would limit his power and send a message that many in the country don't support his rule.
"This election is not about to win over Fidesz, because we don't have a chance," said Gabor Bone, a 45-year-old chef lining up to vote on Sunday afternoon.
"It's just to make sure in four years time we have the chance to vote again, and that time we're gonna win."
Now set to enter his third consecutive term in power and likely armed with a powerful majority, however, Orbán appears more emboldened than ever.
REAL LIFE. REAL NEWS. REAL VOICES.
Help us tell more of the stories that matter from voices that too often remain unheard.