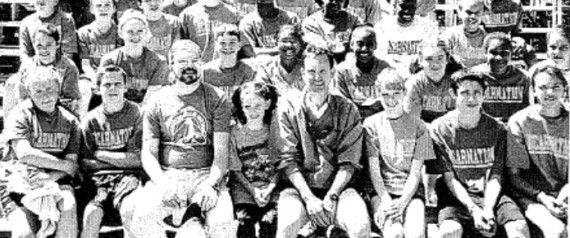 95 days until the New York City Marathon.
I've been thinking a lot about the "c-word" recently. The thing that took the life of a good family friend just last week. The disease that kills an average of 1,500 Americans every day. And the reason I'm running the New York City Marathon this year.
Cancer. It's always been a very scary word to me. My grandmother died of colon cancer when I was seven years old. The flashbacks I have -- seeing her in the hospital bed hooked up to what seemed to be a million tubes, or asking my mom why Nanny sometimes had hair (a wig) and sometimes didn't -- are my earliest memories of the word.
Last Monday night, I received the news that Mr. Miller died. My heart immediately broke for the always-spirited Mrs. Miller and their beautiful daughters, Mary and Kelly. And I was instantly flooded with memories of their amazing dad and all-around great guy -- many of which have to do with running.
The truth is, I think of Mr. Miller almost every time I'm out for a run. As the coach of my Catholic grammar/middle school's tiny track team (pictured above), Mr. Miller essentially "taught" me how to run. (You know what I mean -- he was the first person to tell me there's a little more thought and technique involved than just what our body naturally decides to do when we want it to move faster.) I recall one rainy, early morning practice on the track. While I took a few laps, Mr. Miller showed me how to hold my hands while I ran. "Keep your hands closed, but loose," he said. "As if you're holding drumsticks." It was such a simple thing, but something I still think about when I'm running now, 12 years later.
As I stood in line on Thursday night at the funeral home, ready to give the Millers the biggest hugs I could, tell them how much I always enjoyed chatting with Mr. Miller on the sidelines of the soccer fields or up at the pool during the summer, I spotted a photograph on the table next to the casket.
A photo that would give anyone (especially runners) immediate chills. It showed a much younger, very tired-yet-victorious Mr. Miller crossing the finish line of the 1983 New York City Marathon -- the clock reading 4:13:48.
I learned from Mary that he ran the New York City Marathon twice, something I wish I had the chance to talk to him about before he passed. I couldn't help but think how, after an eight-year-long battle with colorectal cancer, which eventually spread to his lungs -- a race filled with tough uphill climbs in the form of chemotherapy, surgeries and experimental drugs -- Mr. Miller had just reached another finish line.
It's a thought I echo from the July issue of Runner's World, which I finally (and serendipitously) read this weekend. The feature, "Outrunning Cancer," explores the connection between running and cancer. John Brant's article spotlighting TNT and other charitable running groups explains that battling cancer is a marathon. Neither are things that just happen overnight. They are journeys filled with intense pain that require unwavering support and extraordinary determination.
"If you have cancer, if someone you love has it... it's all a long march," says one TNT participant interviewed for the article. "It's not going to be over in a day. During the toughest miles, you find out you're all alone, but at the same time you feel incredibly connected. You learn that you're capable of doing things you never could have imagined."
It's a great issue that I just can't do justice in this blog. With a few tears in my eyes as I thought about Mr. Miller, I put down the magazine and felt a great sense of pride that I will be wearing purple as part of Team in Training, which along with Susan G. Komen for the Cure and the American Cancer Society's Relay for Life, is responsible for contributing more than $650 million dollars annually to fight cancer.
At last Tuesday night's TNT practice in Central Park, I ran a four-mile timed "race" (37:57:31) to track my progress with a benchmark. As I was cooling down, an older runner and TNT alumni came up next to me and talked to me about my training, offered me tips, asked about my fundraising and told me a great little story about randomly running in the park with marathon great Grete Waitz. It was a lovely conversation, but one thing that he said really stuck with me. Whenever he's struggling through a tough training run in the park, he looks up at Mount Sinai Medical Center and remembers how lucky he is to be "out here and not in there." He told me, "You just keep running... because you can." I didn't even get his name before he took off down the road.
While I was on my long, 10-mile run over the weekend throughout my hometown of Ewing, NJ, I thought about all of this. And whenever I felt like I needed an extra push (which was often) to get me up a hill, I tried to remember the basics, keep things simple and bring my thoughts back to Mr. Miller.
I remembered the day of the 1999 Mercer County CYO Spring Track & Field Meet in 7th grade, when Laura Medina, Jenna McGlynn, Kehnesha Oldacre and I ran the 4x100 relay. I can't recall my leg of the race or handing off the green baton, but I can clearly see the sight of Mr. Miller at the finish line, jumping around like a man possessed, telling us in between screams and cheers that we broke the CYO record with a time of 58:25 seconds. He might have been more excited than we were.
It's that zest for life, love of sports (especially the Villanova Wildcats and New York Giants) and competitive yet positive attitude that I'll remember most about Mr. Miller. He wasn't a big guy by any means, but he had the heart, courage and strength of a man twice his size.
As I passed the Ewing Cemetery around mile eight of my Saturday run, I realized how lucky I was at that moment to be doing what I was doing. Yes, tired knees, heavy breathing and intense thirst are the new definition of "lucky."
Sure, training for the New York City Marathon allows me to cross something off my bucket list, challenge myself physically and mentally and even run with a supermodel. But it also allows me to dedicate my 26.2 miles to the Millers and honor the memory of a loving husband, supportive father, tremendous spirit and fellow runner. I'm not sure I'll beat that 4:13:48 time, but I'm certainly going to try to get as close to it as I can.
As the miles wear me down, I know my hands (ready to play the drums at any given moment) will bring me back and help me remember the real reason I'm doing this. I run for Mr. Miller, for my grandmother, for my friend Sergio (a Hodgkin's Lymphoma survivor and TNT alumni), for all those currently suffering from cancer and for all of the survivors.
Looks like I just found my mantra.
To donate to the Leukemia & Lymphoma Society, click here.
Calling all HuffPost superfans!
Sign up for membership to become a founding member and help shape HuffPost's next chapter