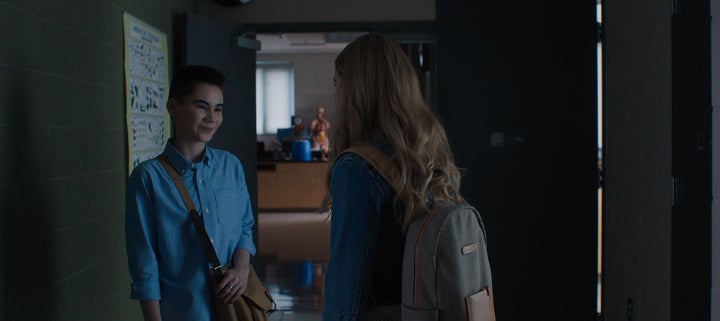 If I look familiar, it might be because you recognize me from my role as Buck Vu on the Netflix original series "The OA." I also play the role of Lev, a supporting character in the upcoming sequel to "The Last of Us" and I make a brief appearance in the film adaptation of David Levithan's novel "Every Day" out later this month. Through my work, I represent a previously overlooked demographic in Hollywood: transgender teenagers, and, more specifically in my case, transgender teens of color.
My acting career had its humble beginnings in community theater and drama classes at school. Before "The OA," I had no previous screen acting experience. I had always dreamed of becoming an actor, but it seemed like an unattainable goal; what opportunities would there be for me, a trans teen?
My answer came in the form of an online open casting call that I found via social media. They were looking for a 14-year-old, Asian-American, transgender male actor, with no previous experience necessary. It was perfect ― it seemed almost too good to be true. I fulfilled all the niche criteria, and decided to give it a shot. After all, I had nothing to lose.
I sent in my "headshot" (a hastily taken portrait in my bedroom) and the required information, not expecting a response. When I received a reply and a request to make a self-tape, I was ecstatic. I sent in some crude footage of myself that I took at home, because I didn't understand the concept of a self-tape audition, and was surprised to get another reply, and another, and another. After several months of negotiation, Zal Batmanglij, the director and co-creator of "The OA," called to tell me I got the part. I'm not a heavy believer in fate, but I truly feel as if this was my destiny. I didn't realize at the time that the entire course of my life would change as a result of this role, and I certainly couldn't have predicted the impact it would have on other people.
The first thing I noticed when I joined the production of "The OA" was the immediate acceptance and validation of my gender identity. When we began filming, I had only been living as openly transgender for about a year. I had never been in an environment where everyone accepted me for who I was without a second glance. On set, everyone knew me as Ian, and everyone knew I was a boy. It was on "The OA" that I heard my mother refer to me by my correct name and pronouns for the first time, in response to everyone around her doing the same. Before then, she was much more comfortable calling me by my given name, and exclusively used feminine pronouns for me; I remember feeling butterflies of excitement every time she referred to me as "he" while talking to the cast and crew. This was a pivotal moment in my life when I realized that I could be accepted for who I am. A world of possibilities was revealed to me in this moment, and I knew that I wanted to pursue acting as my career.
Akin to my experience working on "The OA," the cast and crew of "Every Day" were exceedingly supportive and accepting of my gender identity. At first, I was nervous; this was my first role in a feature film, and I didn't know what to expect. I remember feeling like the new kid at school, anxiously looking around for somewhere to eat lunch. I was immediately welcomed into the group, where Justice Smith, Angourie Rice, and my other fellow actors showed me nothing but kindness. My correct pronouns were always used, and if someone misgendered me they'd be corrected by another cast or crew member. I remember Michael Sucsy, the director of the film, listening attentively to my feedback on the script: We even worked together to make changes to my lines, adapting them to be more inclusive and accurate to my experiences as a transgender person.
It's important for Hollywood to give visibility to trans voices, and allow us to tell our stories in an authentic way. Proper representation is essential to uplift the voices of the transgender community. Far too often trans actors watch in dismay as cisgender actors are showered with praise and awards for playing trans characters. Our identities are not something that can be donned and displayed for entertainment, and then removed at the end of the day. I cannot discard my identity like a costume. When this topic arises in Hollywood, I often see the same excuses being made: a cisgender actor was cast because the character was "pre-transition." The truth is, "pre-transition" trans actors exist. I have not yet undergone hormone replacement therapy or any gender-affirming surgeries. All it takes to find actors like me is to have an open casting call, as "The OA" did for my character.
Another excuse I've heard for using cisgender actors to play trans parts is that productions want "big-name" talent rather than someone with no previous experience. But how will transgender actors become "big-name" talent unless they are given the opportunity to act? By casting cisgender actors in transgender roles, it shuts out a world of untapped potential in trans talent. Not only is authentic representation important for actors, but for audiences as well: if I had seen more young trans boys like myself in mainstream media while I was coming to terms with my gender identity, I could have accepted myself for who I was a lot sooner. In fact, I'm proud and humbled to say that since appearing in "The OA," many people have told me that I gave them the courage to come out as transgender to their family and peers.
Nothing compares to the comfort and validation of seeing yourself represented on screen. "Every Day" features a wide variety of characters, from all types of backgrounds. The film aims to show that love transcends boundaries, whether it be race, gender, sexuality, etc. It's important for mainstream movies like "Every Day" and television shows like "The OA" to reflect the diversity of its audience. I'm happy to be a part of this progressive movement in Hollywood and hope that further action is taken to include, elevate, and celebrate minority talent and creators.
Do you have a personal story you want share? Pitch it to us by sending it to Pitch@HuffPost.com.
Popular in the Community