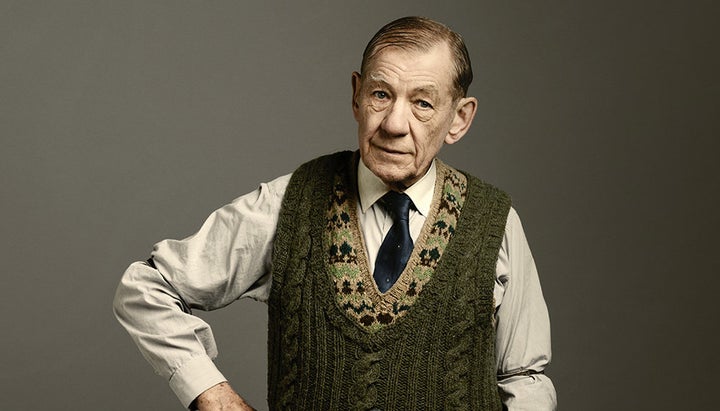 "Lord of the Rings" star Ian McKellen has the one comment to rule them all.
McKellen's new film, "The Dresser," which premieres May 30 on Starz, tells the story of an acting troupe putting on a show during WWII despite an air raid taking place and their lead actor losing his mind due to illness.
"It's a very particular period of time that they're in during the war, with the bombs falling around them, and that too is very believable. But the characters represent, I think, a nation that's under attack and refusing to give in or give up," McKellen told The Huffington Post.
Unfortunately, McKellen's words about a "nation that's under attack" are all too familiar. Donald Trump, the presumptive Republican nominee, continues to unapologetically spout out inflammatory statements about race and religion. McKellen's close friend Patrick Stewart recently added his voice to the conversation, sharing his opinion on Trump in a tweet:
Now, McKellen has something to say as well.
"This time last week, I voted for the new mayor of London, who's a Muslim. And that's all I need to say about Donald Trump," said McKellen.
But, actually, he wasn't done. McKellen continued, "The most important man in London, the London mayor [Sadiq Khan], is a Muslim, and he got voted in with a huge majority. I think that's the future ... enjoy the fact that we live in a multicultural world and rejoice in it. That's my feeling."
If somehow the unthinkable should happen and an unsavory person wins the election, let's hope Gandalf is standing in the door of the White House with something else to say as well.
"The Dresser" premieres Monday, May 30, at 9 p.m. ET on Starz.
REAL LIFE. REAL NEWS. REAL VOICES.
Help us tell more of the stories that matter from voices that too often remain unheard.
BEFORE YOU GO
PHOTO GALLERY
'Lord Of The Rings': Where Are They Now?