New Research: 8-12% Marketing Growth Projected For Cloud, Social, Mobile, and Big Data/Analytics
Since the 2007 recession it has been a challenging time for marketers and their budgets. This year things are starting to look up. I had a chance to talk with Sam Melnick, Research Analyst with IDC's CMO Advisory Service, about their latest survey, IDC's 2014 Tech Marketing Barometer Study and the increased optimism it shows within the tech marketing world. Industry confidence is now growing as a strong majority of marketers expect larger budgets in 2014 - led by Third Platform companies and products (those aligned with Cloud, Mobile, Social, and Big Data/Analytics). This confidence is well deserved; never before has there been as much opportunity for innovative marketing. With new technologies, processes, and an increased focus on the CMO, marketers have a lot to be excited about. However, while many signs are positive, marketers must be aware that there is still work to be done.
How should marketing leaders work to assure their marketing organizations are ready to take hold of this momentum? Here are the top three opportunities for marketing investment that Sam feels all CMOs and marketers should be aware of for the rest of 2014.

1) Identify Third Platform product lines within your organization and support them with stronger marketing budgets.
IDC continues to see optimism regarding marketing budgets; of the senior marketers surveyed in the 2014 Marketing Barometer Study almost 2/3 are expecting budget increases this year! In fact, IDC is forecasting that 2014 tech industry marketing budgets will increase 1.5 to 2.5% overall. However, Third Platform companies - again, those companies with revenue primarily from cloud, social, mobile, and big data/analytics technologies - will receive marketing budget increases that are six times greater than the rest of the industry, increasing their marketing spending between 8 and 12%.
So what does this mean? The CEOs and CFOs of the world clearly see the revenue opportunities within the Third Platform. This is with good reason; IDC expects 90% of new revenue over the next 10 years to come from the Third Platform. Marketers must get ahead of this growth and invest their budgets with bias towards Third Platform business units and product lines. The days of a peanut butter spread of the marketing budget are over. Find these growth areas and invest aggressively!
2) Digital is still a huge opportunity; utilize it to move away from a siloed approach of marketing and create systems throughout all marketing activities.
As a wise friend of IDC's CMO Advisory Service, Nick Panayi of CSC, has said, "Digital marketing is not what it's about. It's about marketing in the digital age." Nick is absolutely right, there is too much at stake with marketing and digital to simply create another marketing silo for digital marketing. Dollars are continuing to flow into digital programs. Within the tech industry, at the end of 2013, 34% of program dollars were spent on digital; by the end of 2016 (just 2.5 years away!) the entire industry will be spending more than half their program budgets online versus offline (see image below).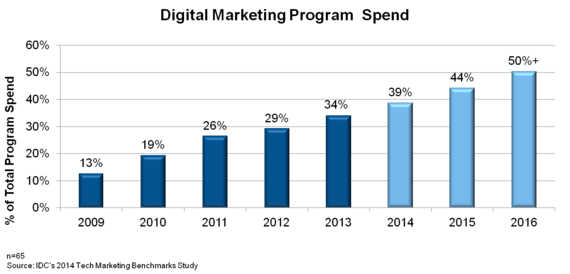 While digital is very exciting and offers many rewards, marketers too often create separate silos of digital (search engine marketing, social, technology) and non-digital areas (events, direct mail, print ads). This separation should not be the case. Marketing is moving towards (and in many cases is already at) a point where all areas of marketing have a digital element. All of these different areas must be aligned and working as one; if they are separated into their own silos or buckets, the task of alignment becomes nearly impossible.
For senior marketers it is imperative to benchmark your marketing spend and staff, but also to make sure that operationally your organization is not living in silos. Rather, take a systems approach to marketing by enabling your activities and programs to work as one across the entire marketing department. This approach provides more value to your customer and prospects and ultimately leads to more success for you and your team.

3) Lay the groundwork in definitions and internal processes for content marketing before creating new age content and programs.
The IDC 2014 Marketing Barometer Study shows that content marketing is a top three issue for CMOs across the entire tech industry. However, there is very little consistency as to what content marketing is and how to correctly execute content marketing. We would all like to jump in and create amazing content that is shared across the socialsphere and is lauded by clients and prospects alike, however, without the proper preparation this is unrealistic, particularly at larger organizations. While taxonomies, processes, and general operations are not sexy, these areas assure alignment across the entire marketing organization and company. Marketers who focus on setting up their content marketing organization before creating tangible content will be able to create more relevant, trackable, and useful content than those who skip right to the creation process.
When approaching content marketing - IDC's CMO Advisory Service recommends that marketers:
1. Define what content marketing means for your organization and what success should look like.
2. Map your content marketing to the Buyer's Journey.
3. Like with digital, consider a systems approach to your content marketing execution.
Both Sam and I strongly believe it is now marketing's time to shine, but in order for marketers to take advantage they must be decisive and exact with their approach. As always, the industry is concerned with ROI, but there is no R (revenue), without the upfront I (investment). To find success, marketers must focus on where they spend their budget and how they organize their department for the future. I recommend you seriously consider Sam's three opportunities as you adjust your marketing approach over the next 6-9 months.
This post was co-authored with Sam Melnick, Research Analyst with IDC's CMO Advisory Service. IDC's 2014 Tech Marketing Barometer Study captures the pulse of marketing executives in the technology sector and gauges the direction of marketing resource expenditures and priorities during the next six to nine months.
Popular in the Community