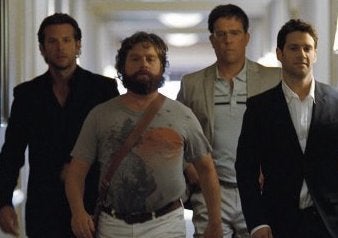 DISGRASIAN saw The Hangover recently, and we giggled a lot, because it was totally our kind of chick flick (i.e. a dick flick). But one thing that left me feeling queasy after the movie -- besides the Welch's fruit snacks Diana brought to the theater that I shoveled down by the handful -- was Ken Jeong's character, Mr. Chow. I hated the generic Engrish accent. And the character's queeny affectation left me cold, coming across more prissy than funny.
The thing is, Ken Jeong, in my book, can do no wreong. I have no idea why. There's something reassuring about his presence. Maybe he cultivated this as a real doctor. I think it also has to do with that classic Hardass Asian Dad-haircut of his and the soothing timber of his voice. He should read children's bedtime-stories-on-tape on the side or something. So post-Hangover, I had a hangover of my own, and I was really confused.

Then a friend forwarded this podcast Dr. Ken did with Adam Corolla last week about his role in The Hangover. In it, he went there, and by that I mean, he talks about his dick (there's a scene in which he does full-frontal). Not only that, he refers to it over the course of the interview as "the smallest cock," a "tiny penis," "a grower, not a shower," and a "mangina." In the movie, the only other dick we see is Zach Galifianakis's, but that was a prosthetic. And given prevailing stereotypes, I thought what Ken said in the podcast -- and the fact that he did full-frontal in the first place -- took balls.
So I'm back again to Ken Jeong can do no wreong. And I feel so much better now.
Support HuffPost
The Stakes Have Never Been Higher
Popular in the Community