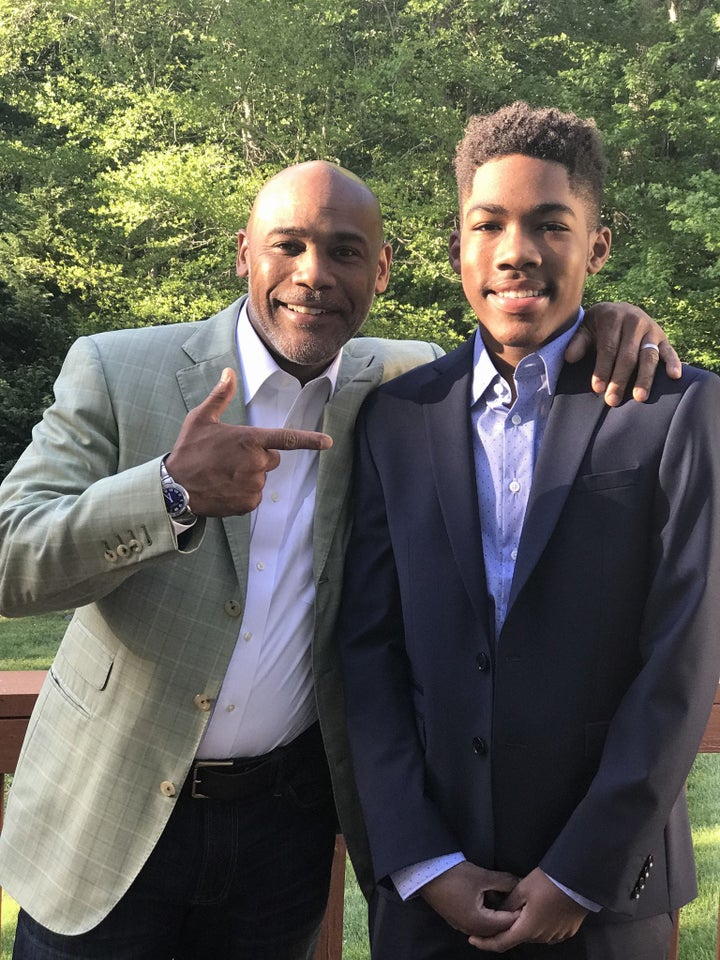 If you live in America today, it's impossible to miss a recurring headline: "Unarmed Black Man Shot by a Police Officer." These shootings have left loved ones grieving, police and community relations in areas worse, and have further divided our country.
In many households, including mine, parents are having conversations with our sons about a "code of conduct," what to do and how to act when you encounter the police.
Unfortunately, from what we've seen in some videos like the Tulsa shooting of Terrence Crutcher, not even a "code of conduct" would have saved his life. That's why I'm worried about my son.
I have the utmost respect for our police officers; there aren't too many jobs where every day you have to wear a bulletproof vest to work and put on an extra 25 pounds of gear. Leaving their homes and families not knowing if they will return.
They take an oath to protect and serve, and most would agree that without law enforcement there would be total chaos. However, I do believe the level of respect given to police officers should be reciprocated when dealing with people and the communities they serve.
"There is also a widespread perception in the American public and particularly within the law enforcement, that officers are more threatened, more endangered, more often assaulted and more often killed than they have been historically," says Seth Stoughton a law professor at the University of Southern California and former policeman.
With the ongoing threat of terrorism, I agree with that theory. However, when you consider the number of officers killed per 100,000, there has been a dramatic decrease. The annual per capita number of officers killed has dropped from 24 per 100,000 in the 10 years to 1980 to 7.3 per 100,000 in the 10 years to 2013 (the last year for which there is good data).
Oddly enough, there is no official data on the number of people killed by the police and as FBI Director James Comey said before the House of Representatives in October 2015, "We can't have an informed discussion because we don't have the data"
A study done by Harvard Economics Professor Roland G Fryer Jr. examined more than 1,000 shootings in 10 major police departments in Texas, Florida and California, also found "a primary obstacle to the study of police use of force has been the lack of readily available data." Fryer's study also contradicts the image of police shootings captured on video and shown in the media; confirming black men and women are treated differently in the hands of law enforcement. They are more likely to be touched, handcuffed, pushed to the ground or pepper sprayed, even after accounting for how, where, and when they encounter the police. Regarding the most lethal form of force, "police shootings," the study found no racial bias.
After the shooting of Michael Brown in August 2014, the Washington Post started tracking deaths of civilians by police officers and was generated from reports in the media and public record. The report is broken out by state, gender, race, age and other criteria. While the numbers are astonishing with the number of whites and blacks killed by police officers, "blacks are killed at a rate that's 2.5 times higher than whites" says Kimberly Kindy of the Washington Post.
Studies being done, major publications tracking deaths by police officers and the current trend that 1 out of 3 black males will be incarcerated in their lifetime is enough for any parent to be worried about their son. The worry continues even more for some of us because of black on black crime that exists in our community. In a column from last year I looked at the crime rate in several urban cities including Baltimore, Washington DC, Chicago and others, all reported an increase in shootings and each city had a murder index over a 100. At some point we have to recognize our differences, the issues that exist and take responsibility for ourselves – then maybe we won't have to worry as much about our sons.
Derrick Hollie is President of Reaching America, a nonpartisan organization developed to address complex social issues impacting African Americans today.
Popular in the Community