Co-authored by Ellen Dobbyn-Blackmore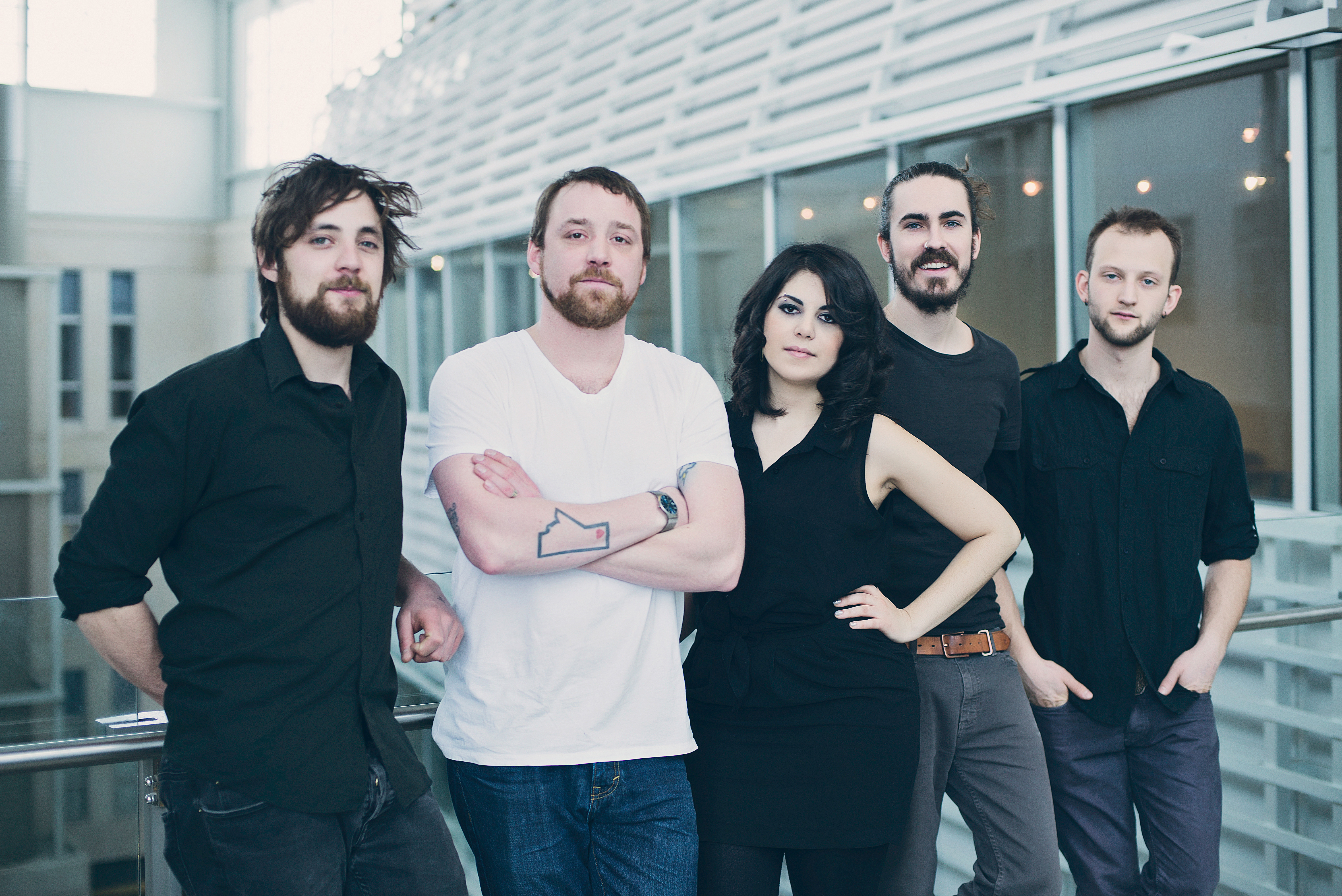 Imaginary Cities, photo by Izabela Rachwal
With their second album, The Fall of Romance, the Winnipeg-based Indie band Imaginary Cities is moving up another notch in the music business. While not yet well-known in the U.S., they are a favorite in Canada's festival scene and in Germany. Moving past the story of their initial chance meeting in a bar in Winnipeg, Rusty Matyas and his partner, Marti Sarbit are carving out an identity as they make beautiful music together. Matyas spoke to us from Winnipeg about making music, the new album and upcoming tour plans for the summer.
Imaginary Cities' sound begins with Sarbit's voice, a distinctive instrument that draws comparisons to Amy Winehouse, Norah Jones and Duffy. Sarbit grew up on the music of Motown and Ray Charles while Matyas brings more of a general pop sensibility and is a veteran, multi-instrumentalist musician. They are both diverse in their musical interests and that is apparent in their far-ranging sound palette. This sort of reductive description makes life easier for those types who need to know what they're getting into before they're willing to listen, but it doesn't begin to cover the rapturous nature of Imaginary Cities' work. When Matyas and Sarbit sink their teeth into a new song they don't come out of the studio until they're satisfied that that they've done justice to it. It lends the music a mood of immediacy; you have the feeling that they urgently need to tell you something that you both need and want to hear.
Working in their recording studio, Matyas told how the pair build songs up from the bottom: "Either Marti will have a melody idea or a lyrical idea or I'll have a word structure or a melody. We sort of let the song tell us what it needs." Then they begin to flesh it out: "I think it all starts with what is going to be the rhythm and what's going to be the tempo." Matyas explained how they add elements, one at a time, "Then we'll add a bass and from there we'll see if we need a keyboard sound, do we want clean guitars or dirty guitars and will they just be doing chords or a melody line? We don't have a band in the studio. It's just Marti and myself, and I play most of the instruments and then we both sing." Once they start, they keep going until it's done. "By doing that I think that we make sure all of the parts complement each other and aren't conflicting with each other," said Matyas. This is probably why there's a spacious and uncluttered feeling to their music. There's nothing that sounds gratuitous or overblown. It is lush and yet somehow spare.
There is a strong feeling of traditional musical values in their work. "There's a lot of back and forth, call and answer, the harmony thing. I know it's something that can be cliché or old-fashioned and a lot of people do it but we really like it. We both sing and we both write the songs and there's something about harmony that adds that extra level of beauty to a melody." Their music is not overrun with trickery or never-ending guitar riffs. It sounds, really, as though they've been working together for ten years.
Asked if the success that they've had thus far has added any pressure or changed their approach to music, Matyas said: "No, I don't think so. I don't think we feel any pressure to do anything specifically, or musically, or otherwise, that we need to live up to. We want to anyway because we like doing it but the approach is still to make music with our friends and have fun doing it. Without having fun doing it there'd be no point and we do have fun and the people who we travel with are wonderful people that we're really grateful for and they're super talented. When we're on the road, our main concern is that everyone is having a good time and we put on a successful show. That isn't a concern, I think it's just a result of everyone being happy in the first place. That's our main concern when we travel and when we make music." Every band should be this lucky.
Imaginary Cities - Chasing the Sunset (Live at the Ballroom in Winnipeg)

About the New Album
The Fall of Romance begins with a brief snippet of what sounds like a piece of classical piano music being played on an old vinyl LP. It conjures the feeling of a Chopin Mazurka, but played in 4/4 time. It's unexpected and is an immediate indicator that you're not just listening to another record of unrelated songs. There is a larger idea being presented. Matyas explained about his piano playing, "It's from a piece of music I had written ten or twelve years ago. We just thought it would be nice to have it somewhere on the record. We decided to open the record with a short version of it and it led into All the Time. I think it added another level to the overall flavor of the record. I think it's things like that that make a record fun to listen to."
Asked about the title song, Matyas replied, "I'm not even sure if the song or the album title came first. I just remember thinking, what would be a clever play on words? My mind just went to Fall of Rome... Fall of Romance. It blossomed into this idea that Marti and I both loved. We were in a hotel in Toronto and decided to write a song called Fall of Romance."
Who's Watching You? is a song that Matyas described as coming together easily. He added, "That was one of the first songs we had written for the record. Marti had a great melody for it and all the lyrics but no chords. That's the way the process works best for us. It's a nice little driving rock song. It's definitely one of my favorites and we're rehearsing it right now. It also has a handful of really great Canadian musicians on it that we admire on it too. It's kind of a special moment on the cd."
The Bells of Cologne is a tribute to Germany where they received early recognition and it remains one of their favorite places to perform. Matyas describes it as having a slight evocation of ELO in the string arrangement. Silver Lining was a demo song for a previous band Matyas worked with more than ten years ago. It never got released or played and now it finally has a home with Imaginary Cities.
A Way with Your Words is Matyas' tribute to some of his favorite songwriters who have inspired him including John Samson of Weakerthans and Ewan Currie of Sheepdogs. "I'm not really good with words although ironically, I think they were pretty good with that song. That's my tribute to them," Matyas said. This song showcases Matyas' voice, a sweet, soulful baritone. Imaginary Cities has a rare, even unforgettable vocalist with Marti Sarbit but when you get to Rusty Matyas singing lead you will never feel like hitting the skip button like you can with a Keith Richards song.
They've been rehearsing with their new band members and Matyas reports that among the songs, early favorites from the album are Chasing the Sunsets, Water under the Bridge and The Bells of Cologne. They are in the midst of working up set lists and figuring out transitions. Matyas favors performing from well-planned set lists as he thinks that gives the audience the best experience.
Asked how the audience affects their performance, Matyas said, "When you look out and people are looking up and they're excited and they know all the words, it hugely affects how I'm performing on stage. It can make or break my night. If the people are into it, I'm always going to be into it and I'm thankful for it."
As they head out on the road to promote their second album, Matyas wants everyone to know something: "I think that we'd like to show people that we have grown as songwriters and our show is a bigger production. It sounds bigger and we have all five people singing now with lots of harmonies and I feel like we're just more comfortable. We're renewedly excited about playing. Hopefully that comes across." It must be coming across because they've been selected to play with the Winnipeg Symphony Orchestra for the big Canada Day celebration there. Matyas was thrilled to be chosen and said, "For any musician to have their music scored out for an entire symphony is a privilege that rarely happens. It's pretty exciting."
Matyas says, "At the end of the day, as long as we both like what we've come up with then that's really all that matters to us." The music that Imaginary Cities makes radiates the sense that they are full of passion and enthusiasm for what they're doing and they're having fun while they're doing it. It's easy to get carried away with the floating melodies and ride the wave of their sound. For them, making the music is what it's all about. Getting to play their music for the growing and appreciative crowds that love them is just a bonus.
Support HuffPost
The Stakes Have Never Been Higher
Related
Popular in the Community