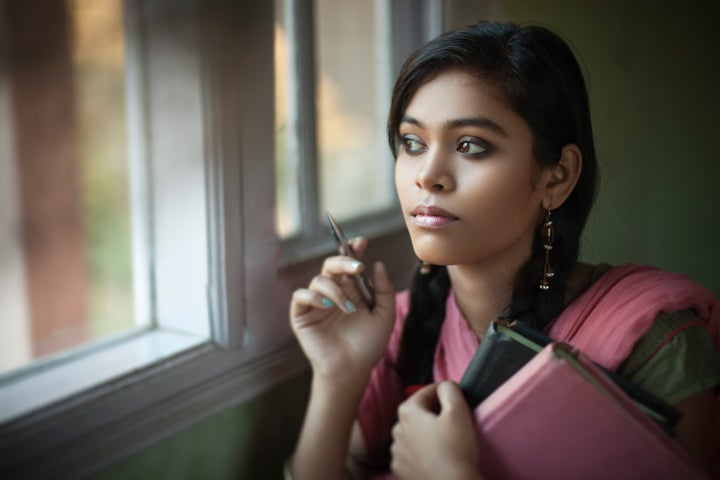 Indian students say they have some major worries regarding studying in the U.S., and experts say it's symbolic of the country's larger divide. 
A study that looked at the number of international students who enroll after being admitted for fall of 2017 showed that 80 percent of colleges and universities in the report indicated that students said physical safety was the most pronounced concern of Indian students looking to potentially study in the country. 
And experts told HuffPost the study's findings could indicate a reaction to recent events that have effected the South Asian-American community. 
"I'm not surprised at all," Suman Raghunathan, executive director of nonprofit South Asian Americans Leading Together (SAALT), told HuffPost. "Folks in Asia and in India and South Asia in general are paying very deep attention to the ... reality of hate violence impacting the lives of South Asians in the U.S."
There are more than 1 million international students in the U.S. They make up more than 5 percent of the student population at higher education institutions, with the top countries of origin being China, India, and Saudi Arabia. The group brings in a great deal of money as well, contributing more than $32.8 billion during the 2015-2016 academic year, according nonprofit NAFSA: Association of International Educators. Their contributions supported or created more than 400,000 jobs to the U.S. economy.
The report, released by the Institute of International Education (IIE), included responses from 165 institutions and detailed findings on international student admissions patterns. They included common locations of study, willingness to study at a U.S. institution, and top concerns both students and colleges and universities might have. The study showed that Indian students have a "high level of concern" about potentially studying in the U.S. In addition to physical safety, about 31 percent of institutions noted that feeling unwelcome was among Indian students' major concerns as well. 
In contrast, those from other countries in Asia were primarily concerned with post-graduation employment opportunities and program affordability. 
The number of incoming Indian students attending U.S. universities seems to have taken a hit. Though there was a 12 percent increase in offers to Indian students, enrollment of admitted students actually declined from 27 percent to 23 percent. 
Raghunathan explained to HuffPost she suspects prospective students have been shaken by the hate crimes targeting the Indian community including the February hate crime shooting in Kansas that killed 32-year-old Srinivas Kuchibhotla, an Indian engineer. 
Hate violence directed towards the South Asian community has become increasingly common. SAALT released a report earlier this year regarding hate crimes towards the group during the election cycle. The group found that the "unprecedented violence" that was witnessed following the September 11 attacks returned. And the hostile 2016 presidential election played a part in reviving the acts of hate, Raghunathan mentioned in a press release on the report.  
President Donald Trump's failure to immediately denounce or acknowledge the attacks, along with his policies, hasn't made the U.S. seem any safer to those abroad, Raghunathan said. She added that Trump's wish to reform the H1-B visa ― almost 70 percent of which have gone to Indian workers ― and the deportation raids under the administration have sent a strong message to those potentially looking to come stateside. She believes that these factors have likely caused some students to be concerned with feeling unwelcome too. 
"The current administration by virtue of its rhetoric, by virtue of the policies its advanced ... has provided an opportunity to advancing the interests of white supremacists and white nationalists as well as anti-immigrant leaders in this country," she said. "It all continues to send a strong message to prospective immigrants that we're not only not welcome in the US but there's a grave risk and threat to our very safety in the US."
About 31 percent of institutions are concerned that Middle Eastern students may not arrive on campus come fall ― many of these worries centered around the Trump administration's ban on refugees and travelers from six Muslim-majority countries. The report noted that concerns persist over the uncertainty about the outcome of the Supreme Court's review of the travel ban case as well as the extreme vetting processes of visa applicants.
About 20 percent of institutions are worried that Indian students may not arrive on campus. The report notes that there's a possibility the population may not continue growing as the second largest international group in U.S. higher education ― and will begin looking elsewhere for schooling, in part because of concerns over physical safety. 
John Yang, executive director and president of Asian Americans Advancing Justice | AAJC, told HuffPost that in interacting with Asian students looking to come to the states, he's noticed some questioning the country's openness towards immigrants. Echoing Raghunathan's comments, he mentioned that news stories about immigration raids have made people unsure of the country's attitudes towards foreigners. Though he feels it's too early to tell if these factors have already had an effect on the number of incoming students, he says it's possible they could in the future. 
"If this atmosphere pervades in the U.S. over the next year or two, I would not be surprised to see an actual drop," he said.
Though the study is focused on international students in higher education, Raghunathan said the Indian students' concerns should be of interest to Americans as a whole. She believes these concerns show that the safety and liberty that's been promised to immigrants is not necessarily open to all. And that's not something we should take lightly. 
"So much of the U.S.′ strength and vitality is constantly being renewed and refreshed by immigrants to the U.S. regardless of their skill level, regardless of their country of their birth and regardless of their religion ― it's been an equalizing factor that we're a country of immigrants." 
Calling all HuffPost superfans!
Sign up for membership to become a founding member and help shape HuffPost's next chapter