The Africa Caribbean Pacific (ACP) Summit being held in Port Moresby, Papua New Guinea is bringing together heads of state and other government representatives from around Africa, the Caribbean and the Pacific. We West Papuans are making our plea to the ACP as a cry for help because we are being brutally suppressed and silenced under Indonesian military occupation and colonialism.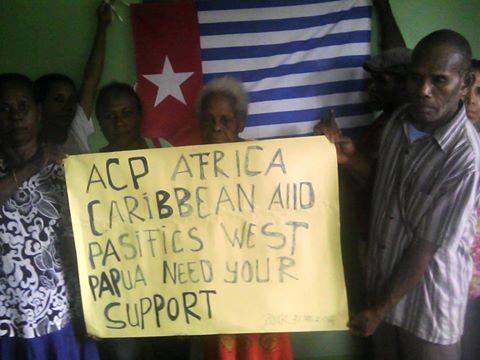 West Papuan elders hold up a message calling for the Africa Caribbean Pacific summit to support their calls for self-determination. May 31st 2016.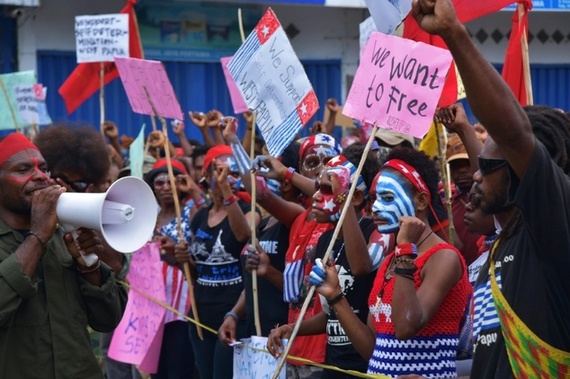 West Papuans in Jayapura call for the Africa Caribbean Pacific summit to support West Papuan self-determination. 31st May 2016.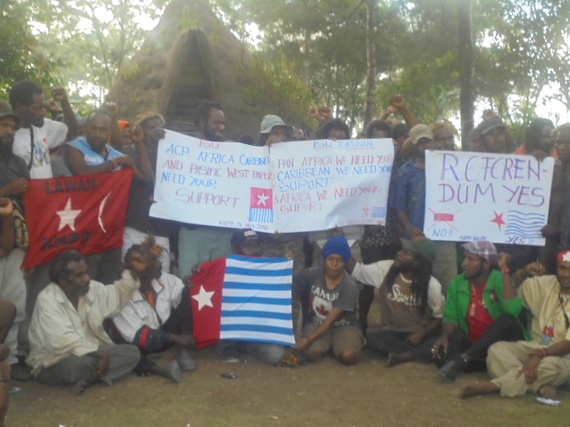 West Papuans in the highland town of Wamena send a message appealing for help to the international community. May 31st 2016.
There are unconfirmed reports that 469 people were arrested in Port Numbay/Jayapura, 112 people arrested in Wamena, 7 people arrested in Manado, 6 people arrested in Gorontalo and 3 people arrested in Yahukimo.Those who were arrested in Manado as well as 70 of those arrested in Wamena are still believed to be behind bars and are still at risk of being tortured like so many other West Papuan political prisoners.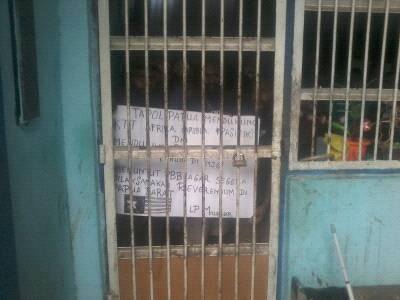 West Papuan political prisoners being held in a prison in Manokwari held up placards calling for international help. 31st May 2016
Therefore on behalf of my people I appeal to all human rights groups, the Africa Caribbean Pacific Group of States and the world to please join us in calling for their immediate release.It is not a crime to to peacefully call for international support for ones' fundamental rights. We West Papuans risk our extinction as a people in the next few decades if this illegal occupation and terrible genocide continues.
Please help to support the people of West Papua in our peaceful struggle for self-determination. We West Papuans desperately want and desperately need to be free like other members of the Africa Caribbean Pacific Group of States.
Related
Popular in the Community