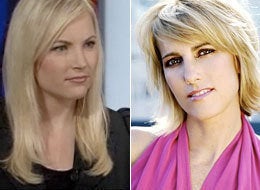 I am also confused, Meghan. Laura Ingraham and Ann Coulter seem to really, really dislike you. We know they disliked your father, but going after you seems to be taking it a little far. You are 24 years old, not an elected official, not making policy decisions, and not running for president.
Here we have two women, both within a year of the age of President Obama, with the power to reach the minds of young women. If these two women care about the Republican party, democracy, and the future of America as they say they do (and I take them at their word that they do care about those things), they would come up with something, anything, productive to say, rather than get involved in this kind of bullying.
Ladies, there are young women watching. I taught them at Harvard, and I teach them at Saint Anselm's New Hampshire Institute of Politics. Is this the civic discourse you want to teach? Will your lessons help them engage in civic and political life, or prepare them to discuss issues related to democracy?
Will it encourage them to question the world around them, or consider supporting the Republican party (if that is part of your goal)?
Not that it really matters, but it is interesting to read these Wikipedia bios on Ingraham and Coulter.
Here is wikipedia's personal bio section on Laura Ingraham, born in 1965:
Ingraham once was engaged to conservative author and fellow Dartmouth alumnus Dinesh D'Souza and has dated former New Jersey Democratic Senator Robert Torricelli as well as MSNBC host Keith Olbermann.
In April 2005, she announced that she was engaged to businessman James V. Reyes, with a wedding planned in May or June 2005. On April 26, 2005, she announced that she had undergone breast cancer surgery. On May 11, 2005, Ingraham told listeners that her engagement to Reyes was canceled, citing issues regarding her diagnosis with breast cancer. Despite the breakup, she maintains that the two remain good friends, and has told listeners in 2006 that she is currently in good health.
She is a convert to Roman Catholicism. In May 2008, Ingraham began proceedings to adopt a young girl from Guatemala, whom she has named Maria Caroline.
Here is Ann Coulter's, born in 1964:
Coulter has been engaged several times, but never married. She has dated Spin founder and publisher Bob Guccione, Jr., and conservative writer Dinesh D'Souza. In October 2007, she began dating Andrew Stein, the former president of the New York City Council, a liberal Democrat. When asked about the relationship, Stein told the paper, "She's attacked a lot of my friends, but what can I say, opposites attract!" On January 7, 2008, however, Stein told the New York Post that the relationship was over, citing irreconcilable differences.
Coulter owns both a condominium in Manhattan and a house, bought in 2005, in Palm Beach, Florida. Although she says that usually she lives in New York, she votes in Palm Beach and is not registered to do so in New York. She is a fan of the Grateful Dead, and some of her favorite books include The Bible, Wuthering Heights, Anna Karenina, true crime stories about serial killers and anything by Dave Barry.
REAL LIFE. REAL NEWS. REAL VOICES.
Help us tell more of the stories that matter from voices that too often remain unheard.