The number of Americans with no religious affiliation is at an all-time high, with 20 percent reporting no connection to any particular organized faith. But the positive impact religion can have is still realized every day. Often lost in the news of religious figures resisting social change and waging ideological -- and sometimes violent -- battles is the reality that people around the world are using their faith as an engine for tolerance, empathy and inclusion, not closed-mindedness, fear and malice.
Here are some great examples of groups and individuals getting back to the more compassionate and empathetic roots of religion.
Green Street United Methodist Church in Winston-Salem, North Carolina is not allowed to wed same sex couples, as decreed by their United Methodist church rules. But that doesn't mean they can't equally deny everyone the right to marry. "On the matter of gay marriage, the church sees injustice in the legal position of state government and the theological position of our denomination," said a Green Street spokesperson in a press release in March 2013. The North Carolina church is encouraging their ministers to refrain from marrying straight couples as long as the United Methodist Church as a whole continues to deny same-sex couples the right to get married.
2. Catholic Bishops held mass on the U.S.-Mexico border to raise awareness about the U.S.'s inhumane immigration system.
"This is not just a political or economic problem," says Pope Francis adviser and Boston Cardinal Séan O'Malley. "This is a moral problem. ... Those who have died -- and those deported each day -- have the same value and innate God."
3. After anti-Christian attacks, Pakistani Muslims surrounded a church to protect them during mass.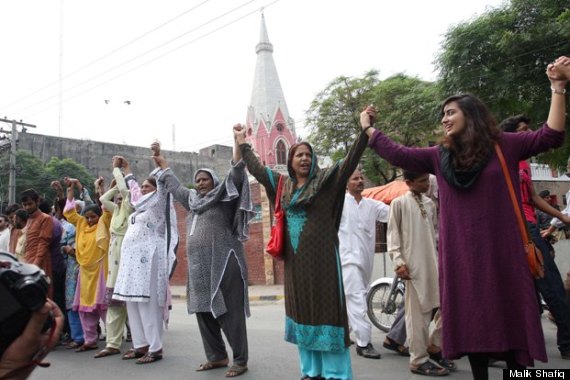 Two weeks after over 100 people were killed during twin suicide bombings at All Saints Church in Peshawar, a town in Pakistan's Khyber Pakhtunkhwa province, Muslims from the community came together in solidarity with Pakistani Christians, joining hands around St. Anthony's church to protect the congregation as they held mass on Sunday. "The terrorists showed us what they do on Sundays," said organizer Mohammad Jibran Nasi. "Here we are showing them what we do on Sundays. We unite."
4. Instead of retaliating against a thief, this Christian woman bought his groceries.
Jessica Eaves had her wallet stolen while grocery shopping in her hometown of Guthrie, Oklahoma. The mother of four approached the man she believed to be the thief and said to him, "You can either give me my wallet and I'll forgive you right now, and I'll even take you to the front and pay for your groceries," or she would turn him over to police.
The man apologized profusely and Evans, as promised, paid for the man's groceries, which amounted to about $27. As the head of a Christian outreach group at the First Christian Church Guthrie, Evans says when she saw the man, she was inspired by a passage 6:29 in Luke which says, "If someone slaps you on the cheek, offer the other one as well. If someone takes your coat, don't withhold your shirt either."
5. He lost his position in the church because of it, but nothing would stop this pastor from officiating his gay son's wedding. A pastor with the United Methodist Church, Rev. Frank Schaefer found out that his son Tim was gay when he came out at the age of 17. The Schaefers accepted him and promised to love their son unconditionally. Frank and his wife continued that acceptance when Tim and his partner announced their engagement six years later. Tim asked his father, pastor at a church that didn't allow the officiating of same sex marriages, to preside over the wedding. Without hesitation, the reverend agreed.
6. Religious leaders united in Africa to tell the world that animals need our protection, too. Sometimes what unites humanity's religions is the love and safekeeping of our planet. In 2012, the World Wildlife Fund partnered with various religious groups in Africa to raise awareness for the illegal slaughter of elephants and rhinos. Dozens of religious representatives of Christian, Muslim and Hindu faiths from nine African countries arrived at Kenya's Nairobi National Park and prayed over the charred ivory collected from a 1989 ivory burn intended to draw attention to poaching.
"Halting wildlife trade is a moral issue," says Dekila Chungyalpa, WWF's Sacred Earth program director, which is why he's turned to the religious community. "A religious leader can say, 'This is not part of our values. This is immoral.'"
7. This sick Christian Arab teen's dream was to meet Pope Francis, so a rabbi stepped in to make it happen.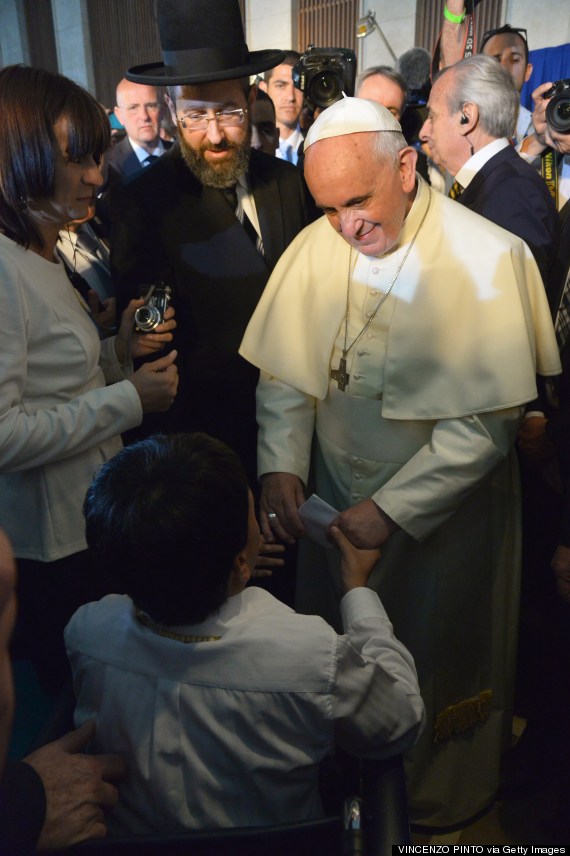 To some degree, the job of a believer is often to exhibit your faith through your everyday actions. And when a person of one faith helps out a person of another faith simply to do a good deed and not to preach or convert, that's a special moment.
Such was the case with Chief Rabbi David Lau in Jerusalem when he learned of a young local Christian Arab boy named Mark Rouk. Rouk, 16, is dealing with a debilitating chronic illness that has infected his joints and tendons, leaving him dependent on a wheelchair. It was the teen's wish to be blessed by the Pope in the hope that it might improve his condition. Rabbi Lau stepped in and facilitated a meeting with Pope Francis during the Pope's visit to Jerusalem.
"The Pope's visit in Israel is all about the strengthening of relations between the religions," said Lau. "There is no better way to display that than when a young boy feels he can ask the chief rabbi of Israel to help make this wish come true."
8. Many would have looked away, but Pope Francis embraced this disfigured man with a kiss. 9. The Metro Baptist Church started an urban garden initiative to combat food deserts.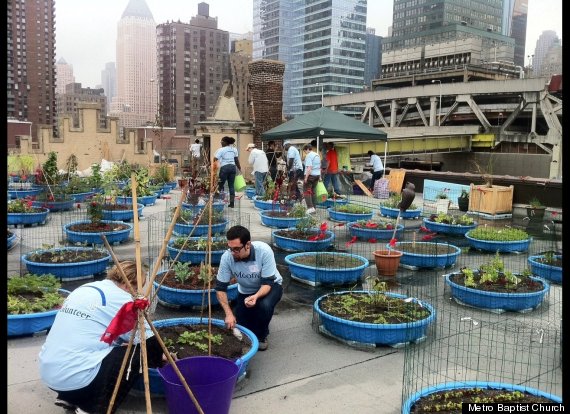 Perhaps the largest critique of organized religion is its inability to change with the times and be conscious of current social issues. Food insecurity is something that affects millions of Americans. According to the USDA, 17.6 millions households lacked access to adequate food. But one church in New York City wants to fix that.
In 2011, the Metro Baptist Church in the Hell's Kitchen neighborhood of New York City took seven metric tons of soil to their rooftop, along with a few dozen kiddie pools for flower beds, and began their own urban garden. At the end of the first season, all the produce raised was given to the Metro Baptist Church's food pantry and the food pantry of another community church.
10. Faith groups united in Washington to end the use of weapons that could mean the end of us all.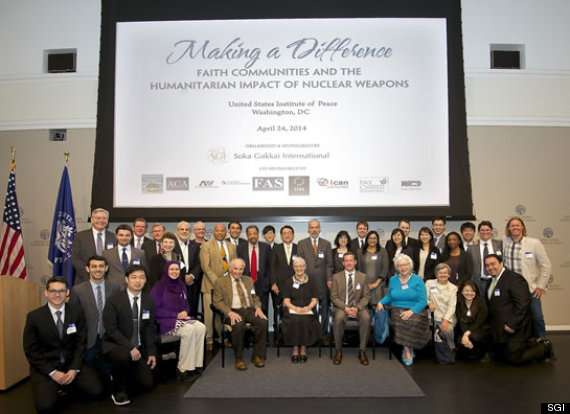 In April, a coalition of various faith groups gathered in Washington for "Making a Difference -- Faith Communities and the Humanitarian Consequences of Nuclear Weapons," an event to promote the abolition of nuclear weapons around the world. Eleven different faith groups, including Buddhists, Jews, Christians and Muslims, signed a statement promising increased activism by their respective religious organizations. Their goal is to highlight the incredibly inhumane and devastating effects these weapons have on the health of the planet and its people.
Religion shouldn't be about about rushing toward the end of the world (or worse, helping to facilitate it). For most people, it's a celebration of what we've been given by whichever higher power we hold most dear -- in this world, now.
Before You Go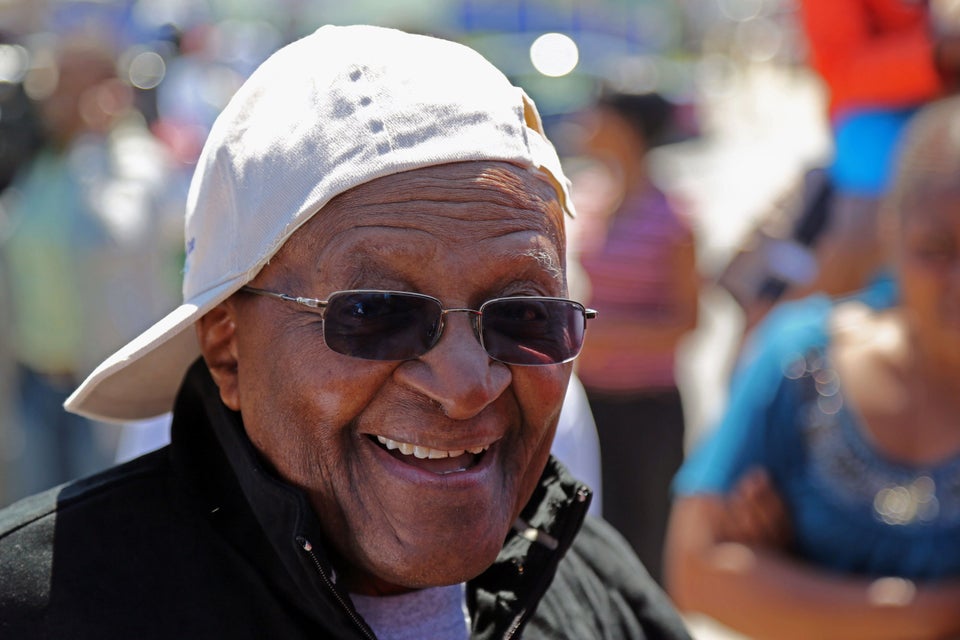 Statements On LGBT People From Faith Leaders
Popular in the Community