Amy Cole might never have made it to Instagram had it not been for two pairs of hot pink pants.
While on a Napa Valley wine tour last summer, Cole, just out of the Stanford Graduate School of Business and hunting for a full-time job, snapped a photo of two male friends who'd turned up in neon pink pants and posted it on Instagram, an "amazing" photo sharing app she gushed about to her fellow oenophiles.
A friend who overheard Cole's ecstatic review and had hired the same law firm as Instagram's co-founders promised he'd do what he could to help Cole meet the startup's small team. And some four weeks later, in October 2011, Cole became Instagram's sixth employee, second female staffer, and first -- and still only -- business guru.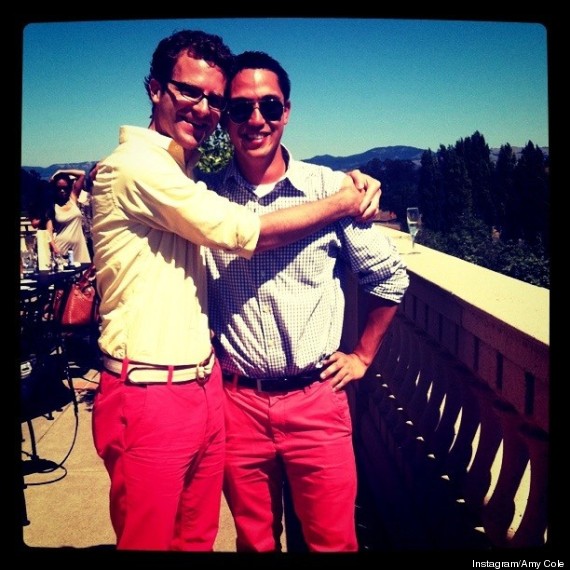 The pants that started it all
As head of business operations, Cole says she's in charge of "pretty much anything that you need to do to keep a business running." She helps brands find their footing on Instagram, works with smartphone manufacturers looking to partner with the app, and generally serves as Instagram's ambassador to the outside world. She's even moonlighted as head of HR and PR. Now, she's shepherding Instagram's integration with Facebook, which acquired the young startup for $1 billion this year.
"The idea was to bring in someone who'd be my right-hand man -- or in this case, right-hand woman -- and would be able to run the business with me. Amy has done a phenomenal job at that," said Instagram CEO and co-founder Kevin Systrom. "She's a renaissance woman."
Just three years before settling in at Instagram, Cole had worked as an aerodynamic development engineer at Chrysler, where she helped retool assembly lines in the car manufacturer's plant, provided engineering know-how to racecar drivers during their races and spent weeks in wind tunnels testing the aerodynamics of clay model cars. Cole can drag race, rebuild an engine, design a racecar and convince auto workers who've been manning an assembly line longer than she's been alive to switch up their routine.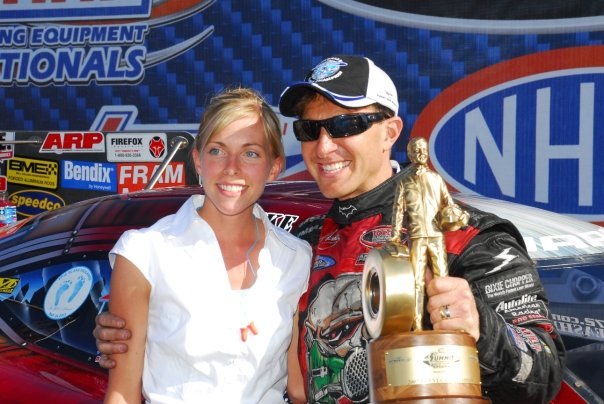 Cole after a successful Nation Hot Rods Association race
Cole was born in Grand Rapids, Mich., where she was raised by her mother, a high school math teacher whom Cole considers "one of my biggest role models." At 24, Cole's mother was a divorced single parent raising a two-year-old girl, while working full-time and finishing a B.A. in education.
"We went to school at the same time and would be working together at night," Cole remembered. "Seeing how hard she worked and how determined she was instilled a really strong work ethic in me at an early age … I am a stronger, more independent person because of her. "
Even after she moved west in 2009 to attend business school in the country's breeding-ground for entrepreneurs, a career in the startup world wasn't something Cole had seriously considered.
"Before I went [to Stanford], I don't think I understood what a startup was," Cole said. "Coming from the Midwest, every company I knew was 50 or 60 years old. You have a job you do for 60 years, then you retire. The startup world and startup culture were completely new to me."
While some Valley veterans have spent their entire careers trying to hitch their wagon to the next Facebook or Google, Cole found a rising star on her very first try. Since Cole joined Instagram, its userbase has increased nearly tenfold, from 13 million to 100 million users.
Cole's work at Instagram underscores that for young Silicon Valley startups, "business," in the first few years, means forging relationships with partners, wooing users and fostering company culture, while profits are put aside for a later day.
"Right now our focus is not on revenues. It's really on building up a product and making an awesome platform and getting great content on the platform," said Cole. "I think it's important to build relationships so that when we are big enough to do interesting things, we have relationships in place and [brands and partners] are familiar with the platform."
Systrom seconded Cole's assessment, noting that while the company has "always been thinking about" revenue, it's "just not necessarily what we're focused on currently."
Cole acknowledged that Instagram, like other social media companies, must eventually devise a way to embrace advertising without alienating users who have become accustomed to a space that's commercial-free.
"It's a balance and it's tricky. One of the things I love about Instagram is that we're really conscious of not making it feel commercial or like we're pushing big brands on users," said Cole. "If we did [introduce sponsored updates or accounts], I don't know how we'd do it. But I'd hope it would be in a way that feels natural and that people want to see."
The most immediate challenge will be figuring out how to integrate Instagram's staff of 16 -- which includes seven engineers, four "community team members" and two designers -- into the Facebook empire. The startup's sale to Facebook, which Cole says she hadn't anticipated, was finalized the first week of September.
Cole declined to comment on how Instagram's team will fit in at Facebook, or on any changes users can expect to see to the app in the near term. Facebook CEO Mark Zuckerberg said Tuesday that Facebook has "no agenda" with Instagram except to help it acquire more users, echoing his earlier promise to continue "building and growing Instagram independently."
"Our lives definitely changed overnight, but more in the sense that this it isn't what we had expected for the company or for the product," said Cole of the acquisition.
The photo-sharing tendencies of Instagram's users are evolving as well, with a growing number of casual snapshots showing up alongside the more polished photographs the service is is known for.
"When we started, when we were smaller, people were a lot more focused on the quality of photos. It was more the type of person who's an amateur photographer or professional photographer who wants to share beautiful photos," said Cole. "Now people are experimenting and really just snapping photos here and there, and not putting as much thought into it."
Whether used for sharing highbrow photos or just pictures of someone's feet, Cole says appeal of Instagram -– besides its ability to capture pink pants in all their glory -- is the unprecedented and intimate glimpses its photos offer into people's lives.
"Photos are so emotional that you build this connection with them and you feel like you know them in a personal way," said Cole. "You're seeing what they're seeing from their perspective."
The filters are nice, too.
With Instagram, "you feel like a better photographer," Cole added. "Any photos you're taking just look good."
REAL LIFE. REAL NEWS. REAL VOICES.
Help us tell more of the stories that matter from voices that too often remain unheard.
BEFORE YOU GO