What's the relationship between Instagram and art? The social media platform from which picturesque images flow like so much water is often condemned for its over-proliferating photographs to the point of meaninglessness. But there has to be something valuable, artistically speaking, in this hugely influential addition to visual culture at large, right?
This is the starting point of "Instagram Mini-Marathon," a dialogue and discussion taking place Saturday, July 26 in Los Angeles. Presented by ForYourArt, the marathon will be moderated by curator extraordinaire Hans Ulrich Obrist, who will discuss various perspectives and experiences with the photo app with artists well-versed in the medium, including Ryder Ripps, Alex Israel and Frances Stark, among others. Each will discuss their approaches and practices, while addressing the overall artistic impact of Instagram, or lack thereof.
Stark, an interdisciplinary artist based in Los Angeles, incorporates the app into her art practice, sometimes printing her Instagram uploads and including them in gallery exhibitions. "Instagram is this thing where have to get a bajillion likes for something to be relevant -- you have to have a certain number of eyeballs on it. But actually, in the scheme of human history, that's not really true. And I believe in the other thing. Franz Kafka, for example, how many people were like 'Woo! Thumbs up baby'? They weren't, and think how valuable that is. When I started using Instagram, I was thinking it was so interesting that I am actually so unpopular, I only have so many followers. But I know that in my career and my field I'm actually valued. This notion that everybody somehow has to suddenly subscribe to the tech metric is really troubling to me."
Yet Stark, whose work often explores the serious ramifications of trifling technologies, engineered the strange logic of Instagram to access the importance buried underneath the never-ending feed. "You take something on Instagram that's in a river of imagery, you take it out of that river, you print it and put it in a gallery. And it still contains its meaning. Just because it was floating down that river, you can still recover it. It can still have meaning. It's still a form, a crop of life. Life flows on but artists solidify it and make sense of life. That's what I essentially was doing was taking stuff out of the flow, printing them."
Before working with Instagram, Stark investigated the properties of another popular tech utopia, Chat Roulette. "I got well known for this film called 'My Best Thing' which is essentially taking from internet sex chats," she explained. "This is a major time wasting thing. You're like, oh, I'm going to go on the internet and cruise dudes and have sex with them and I should be working. Because of the technology of skype where you're on the video but also typing, you have a record of your interaction. So I went back to the record and made this story, made this film. I'm taking the wasteful indulgence of these free technologies that are supposed to make our lives better or easier and more fun, and showing they're not just frivolous."
For more from Stark and the rest of the artists joining her, check out ForYourArt's "Instagram Mini Marathon" at 7:30 pm (doors open at 7) at the Million Dollar Theatre in Los Angeles.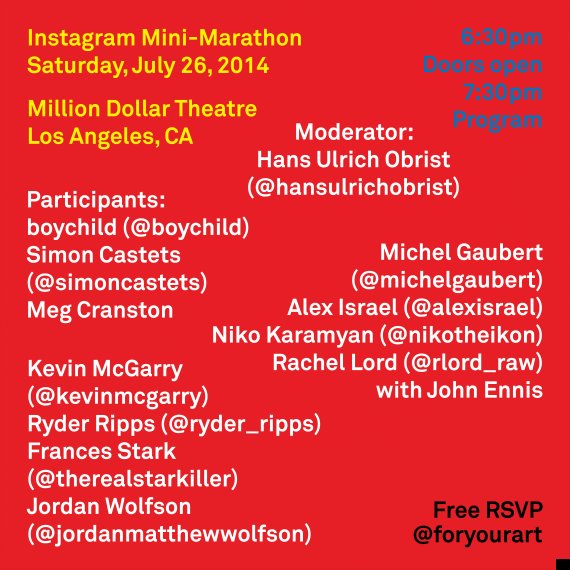 Popular in the Community