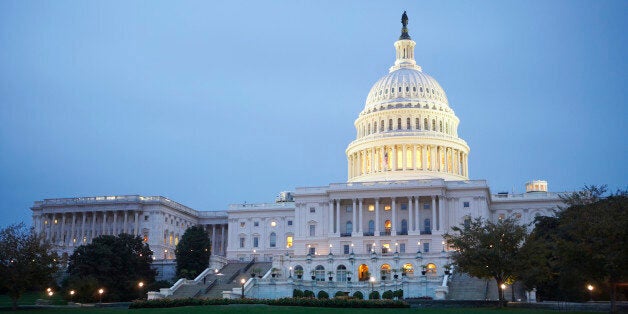 WASHINGTON -- Women from four foreign governing bodies said Monday that they think Congress should come together to prevent a government shutdown, while also looking to protect vulnerable Americans.
The women were gathered for an annual conference organized by Women Legislators Lobby (WiLL), a nonpartisan network of state lawmakers. The international delegation participates in the conference.
The group said that the concept of a government "shutting down" was foreign to them, and stressed that it is not their position to get involved in the internal politics of the United States. But they expressed concern over the U.S. situation and the potential international impact a shutdown could have.
"Politics is the art of possibility. When public representatives come together, they find a way out," Bushra Gohar, a former member of the Pakistan National Assembly, told The Huffington Post. "This is very concerning for the United States. We hope they get their house in order and find a way out."
The women said there is concern in Middle Eastern countries over the impact a shutdown, particularly a long-term shutdown, could have on foreign affairs and diplomacy missions.
Shinkai Karokhail, a member of the Afghanistan National Assembly, said her country is keeping an eye on the American situation and any potential impact. With the troop withdrawal coming, she said, Afghanistan is hoping for continued support from the United States on a variety of projects, including work related to women.
U.S. state lawmakers attending the conference pressed the federal government Monday to cut back on defense spending in order to focus on health, education and other social programs. Their international counterparts also spoke out for more focus on human and health issues.
Gohar said that she wants Pakistan to focus more on social issues, rather than defense. Marianne Malak, a member of the Egypt National Assembly, told HuffPost she wants to see the U.S. focus more on people in its own country than military operations overseas, citing the potential military intervention in Syria.
"They care a lot about Syria, but not humans," Malak said of the U.S. government. "Humans are a priority; not Syria."
When asked if she thinks Egypt should focus more on social policy, Malak said the main concerns for lawmakers in her country are Egypt's current economic situation and future economic development.
The international lawmakers likened the current negotiations between the Republican-controlled house, Democratic-controlled Senate and President Barack Obama to the negotiations in coalition governments in their own countries. Loubna Amhair, a member of the Morocco House of Representatives, said she believes that the tea party is holding up negotiations in the U.S. by viewing things as "black or white" and not compromising.
Karokhail echoed the need for compromise in Congress.
"The should adopt a 'do no harm' policy," Karokhail said. "Politicians should have the courage to compromise."
Support HuffPost
The Stakes Have Never Been Higher
Popular in the Community