WASHINGTON -- With the Iowa caucuses just seven days away, attention now turns to polls of Iowa's likely caucus-goers, the most important measure of the current state of the Republican presidential race. For now, Iowa polls show a close contest led by Ron Paul and Mitt Romney. But the outcome is far from clear, and the caucuses' history of volatility and surprise will make for a interesting and uncertain week of poll watching.
For the moment, multiple different polls are yielding reasonably consistent results: Six surveys completed in the last week all show a sharp downward trend for Newt Gingrich since he led the field in early December. Five of the six now show Gingrich running third or lower, with the one exception a poll that had been in the field for more than two weeks. Of the five more recent surveys, four show Paul ahead of Romney by margins ranging from 1 to 6 percentage points.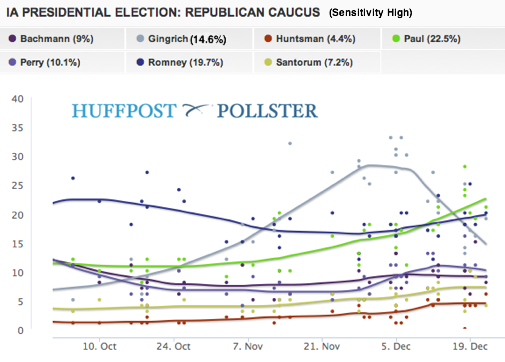 Similarly, the various polling averages are now in rough agreement: All show Paul with a slight lead over Romney, followed by Gingrich roughly 5 percentage points behind.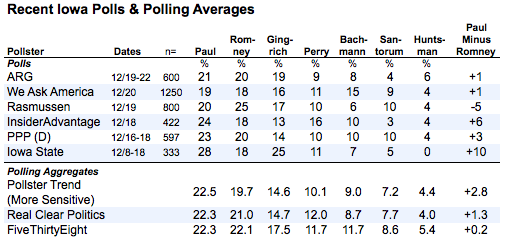 But be wary of placing too much faith in Iowa's current polling snapshot. The coming week will bring another round of surveys that may once again reveal changes in the standings. Equally important, the state's Republican caucuses will attract a very narrow slice of the potential electorate, historically about 3 to 5 percent of Iowa's adult population -- a group that pollsters cannot identify with precision beforehand. Most of the recent surveys depend on automated methodologies, most are missing voters who don't have landline telephones, and all will face the challenge of reaching Iowa voters between Christmas and New Year's, a time when many Americans are traveling away from home.
Twenty-four years ago, Republican pollster Richard Wirthlin described Iowa as "the ultimate sand trap for pollsters." Wirthlin, who died earlier this year, had polled Iowa for Ronald Reagan in 1980 and was working for Robert Dole in 1988. In an era before cellphones, when response rates were higher and robo-polls unheard of, he offered the Washington Post a blunt assessment: "Anyone who thinks they know who's going to win by what margin simply doesn't know."
The four GOP contests that followed -- 1988, 1996, 2000 and 2008, the four years with no incumbent Republican president running for reelection -- have proven Wirthlin to be only partially right. The average of polls taken in the final week before those Republican caucuses have identified the winner all four times and have mostly ranked the candidates in roughly the right order of support. However, the same polls also significantly understated the support for the second-place finishers in three of the last four contests: Pat Robertson in 1988, Pat Buchanan in 1996 and Steve Forbes in 2000.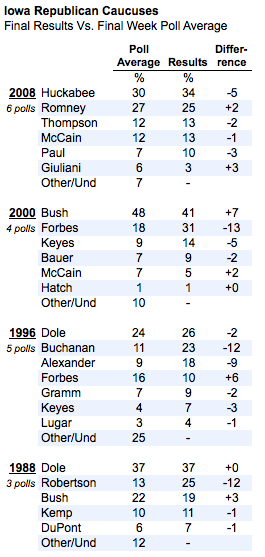 As Nate Silver of The New York Times observed last week, these errors form a consistent pattern: "Most of the candidates who have beaten the polls by a wide margin on caucus night have been staunchly conservative." Polls also understated support to a lesser degree for Mike Huckabee in 2008 and Alan Keyes in 2000 and 1996.
This pattern is consistent with the well-known challenges of identifying likely participants in Iowa's caucuses. Three explanations may be at work:
Polls may have sampled the likely caucus-goer universe too broadly, including too many moderate and independent-leaning Republicans, and thus diluted the greater support for more conservative candidates among the narrower caucus-goer universe.
Polls may have sampled the likely caucus-goer universe too narrowly. The more conservative candidates have mobilized supporters, such as evangelical Christians, who do not typically participate in Republican Party primaries and thus may have been missed by the mechanisms that pollsters use to identify likely caucus-goers.
The conservative candidates who significantly exceeded their poll numbers may have experienced late surges of support that occurred just after the final polls came out of the field. Such late surges are not uncommon in multicandidate primaries.
Although evidence exists to support all three explanations, it is probably strongest for the first. The few polls that disclose their "rate of incidence" typically show that they sample a portion of the electorate that represents at least two to three times the tiny number of eligible voters who actually participate in the caucuses.
Moreover, these three theories are not mutually exclusive, and all three may be at work simultaneously. Past polls may have sampled self-identified Republicans too broadly while simultaneously missing previously nonpolitical evangelicals who had been mobilized to participate for the first time by a conservative candidate.
Also, the process of mobilization may have contributed to a late surge that the polls missed, as some potential supporters of candidates like Robertson and Buchanan felt too tentative about participating to qualify as "likely caucus-goers" until after the final polls had ended.
These sometimes conflicting, sometimes reinforcing explanations are one big reason why the historical pattern provides too little help in anticipating how this week's final polls may differ from next week's results.
Another big reason is the candidacy of Ron Paul. Paul is arguably among the most conservative of the Republican candidates, as Silver noted, and Paul has repeatedly demonstrated the ability to mobilize his supporters to take part in various unofficial straw polls. Yet his support in most polls comes disproportionately from younger and more politically independent voters. In 2008, Democrat Barack Obama mobilized a cohort of younger and more independent voters whom many polls missed.
However, as New Jersey pollster Patrick Murray pointed out last week, younger and more independent Iowans are exactly the sort of voters who would also be over-represented in a too-broad sampling of likely caucus-goers.
And setting aside Paul, even if polls understate support for one of the other more conservative candidates, it is not clear which one -- Michelle Bachmann, Rick Santorum, Rick Perry or even Newt Gingrich -- might benefit most.
Popular in the Community