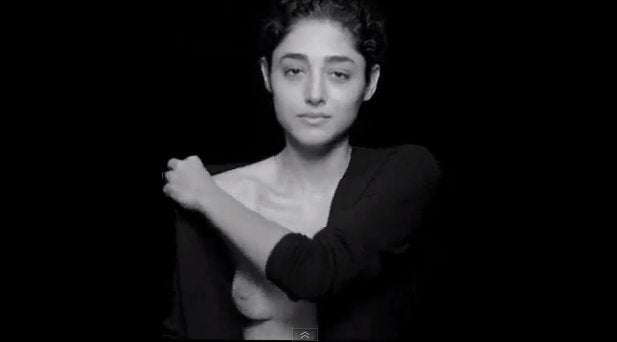 The Iranian actress Goshifteh Farahani has recently posed naked in a French short film alongside a few up-and-coming French artists. In the film, Corps et Âmes (Body and Soul), the actors undressed as a symbol of emancipation from social restrictions. Screenshots from the film were also published on Madame website in which Golshifteh poses topless, with her hands covering her breasts. The photo was removed just one day after being posted; it's likely that the onslaught of negative reactions forced the website to re-think its original decision. However, the photo is still available on the following website here.
Farahani was born in 1983 in Tehran. She started studying and playing piano when she was only five years old. When she turned 12, she was admitted to the Vienna Conservatory, which she refused to attend. Her debut in acting was at age 14, when she starred in Derakht-e Golabi (Pear Tree), which brought her the Crystal Simurgh, the most prestigious film award in Iran. Later she became the first young Iranian actress to play in an American film. In Body of Lies, she played Aisha, starring alongside Leonardo Di Caprio.
Farahani left Iran in 2007. After she appeared unveiled at various film festivals, government threats and harassment increased. But on the homefront she was, little by little, breaking taboos. However this time, she took an unprecedented step in becoming the first Iranian actor, born and raised in Iran, to expose her naked body in front of cameras.
It's not a surprised that the reactions from Iran were mixed. Comments on Facebook and the blogosphere ranged from repulsion in the name of women's modesty and chastity to approbation in the name of modernity, progress, and a woman's right to control her body. Fars, Iran's semi-official news agency went so far to call it "a shameless attempt" of an actress whose fate is nothing more than "immorality."
Many have compared her to Ali'a Al-Mahdy, the Egyptian blogger who posted controversial nude photos of herself a few months ago. Like Al-Mahdy, Golshifteh's action was referred to as a protest -- a move responding to the restrictions and the censorship of women's bodies in Muslim societies.
Even Iranian politicians chimed in. One prominent Iranian political figure associated with the reformist movement, Ahmad Pournejati, lambasted Farahani and called her "our country's petty insignificant actress... who does not belong to the green [opposition] movement."
Some regarded her move as a radical action that might jeopardize the peaceful, Iranian opposition movement that started in 2009 -- a movement under severe repression by the Iranian government. In the past two years, it has not held any significant public demonstration.
This is not the first time that women's bodies became a hotly debated issue among Iranians. I believe these dispute is rooted in the emergence of the discourse of modernism at the beginning of the 19th century, when Iranian nationalists-modernists advocated a "progressive." They believed one of preconditions for a modern Iran was to "emancipate" Muslim Iranian women from their veils.
The most important outcome of these debates was the state modernization projects in 20th century led by Reza Shah Pahlavi and his son Mohammad Reza Shah. During this period, women's bodies occupied a central role. In 1934, Reza Shah ordered compulsory unveiling, and 45 years later Ayatollah Khomeini reverted it by compulsory veiling. However, none of them asked or cared about women's opinions. Compulsory unveiling resulted in many Iranian women being forced to remain indoors because they did not want or were not allowed to step out unveiled.
One of the counter-discourses that emerged in Iran in the 1970s, in opposition to the Shah's modernization project that was accompanied by server political suppression, was the Islamist discourse that identified women's sexual freedom as a means of Western imperialism to corrupt Iranian society. Ali Shari'at, the Islamist theoretician of the 1979 Revolution advocated the veil as a symbol of an anti-imperialist movement for Muslim women.
The current Islamic government made women's chastity and modesty its moral bedrock and strove to pursue it by various tools from police enforcement to state-sponsored hejab festivals and celebrations. After 35, the Iranian government is still struggling to institutionalize the notion of hejab in society. Bad-hejabi (or having loose hejab) as the Iranian government names it, became so widespread in society that every now and then it has taken central stage in Iranian politics. Some scholars and activists have regarded "bad-hejabi" as a civil disobedience enacted by Iranian women to demonstrate their opposition to everyday state harassment.
The naked photos of Golshifteh Farahani emerged in the moment when Iranian youth are transforming the political and social language of their country, freeing themselves from any state-imposed discourse towards women in their "public" presence. They should be observed in light of this context. These pictures may be yet another crack in the 30 years of Islamic discourse of the Iranian government regarding women's bodies and the imposed state-control over them. Like many of us who were raised in post-Revolution era, Golshifteh was expected to be the Islamic government's "ambassador" of modesty. We, as young Iranian women, were lectured by the government to be pious women with veiled bodies that would represent the state's identity to the world. However, like many of her compatriots, Golshifteh refused to do so. She preferred not to be the representative of the dominant state ideology. Apparently, many do not approve of her actions. However, I wonder if this even matters.
Calling all HuffPost superfans!
Sign up for membership to become a founding member and help shape HuffPost's next chapter