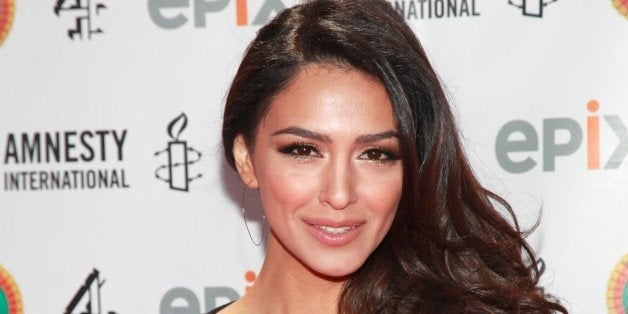 Despite the onslaught of attacks against freedom of expression in Iran in recent years, the international community has largely averted its gaze, until now. Pharrell Williams' smash hit song "Happy" has thrust Iran's dismal human rights record back into the spotlight.
The Oxford dictionary defines the word happy as "feeling or showing pleasure or contentment," and that is exactly what six young men and women in Iran were doing when they danced to Pharrell's song in their own version of a music video.
Sadly, Iranian authorities found this expression of happiness offensive and arrested the people who appeared in the video, citing their behavior as a threat to Islamic morals and later forcing them to repent] on state-run TV. While they have been released on bail, they are likely to be summoned to a later court date on charges of violating Iran's Sharia chastity and morality laws. The women in the video may also face prosecution for not wearing their mandatory headscarves. The director of the video, Sassan Soleimani, has also been released on bail but could also still face charges.
The unjust arrests ignited a Twitter frenzy, giving rise to the popular #FreeHappyIranians. Pharrell also used his considerable social media platform to challenge Iranian President Hassan Rouhani and voice his disapproval of the arrests, observantly tweeting "Then free these kids ... "@HassanRouhani: '#Happiness is our people's right. We shouldn't be too hard on behaviors caused by joy.' 29/6/2013."
Artists often become vocal advocates of freedom of expression because we depend on it so heavily in our work. But it is an inalienable right that belongs to everyone on an equal basis. Clearly, this right is facing serious challenges in Iran, a country that has an extensive record of imprisoning and punishing its artists, journalists, activists and anyone who relies on freedom of expression in their vocation.
The Iranian judiciary has also intensified internet crackdowns, sentencing eight Facebook users to as long as 20 years in prison on charges that include propaganda against the state, spreading falsehoods and blasphemy.
Even a friendly greeting can have severe consequences. Acclaimed Iranian actress Leila Hatami was recently chastised by hardliners in Iran who called for her to be flogged and imprisoned for publicly greeting 83-year old Cannes president Gilles Jacob with a kiss. It is unfathomable to those of us who enjoy our human rights to think that we could be so severely punished for such a pure and instinctual act.
Similarly, dance is a universal and fundamental form of self expression and its punishment seems utterly absurd and shocking. So much so, that when first time British film director Richard Raymond came across a small newspaper article about the brutal repression of an aspiring dancer (Afshin Ghaffarian) in Iran, he was compelled to turn it into the upcoming feature film "Desert Dancer" and bring Afshin's story to the silver screen with the hope of shining a light on the injustices faced by the youth in Iran. It marks the first time Iran's Green Movement protests of 2009 have been depicted cinematically.
Iran is a country where more than half the population is under the age of 35 and there is a strong desire among the youth for reform, freedom and equality.
With the release of films such as "Desert Dancer" and influential artists such as Pharrell Williams lending their voices to the human rights movement for Iran, we hope the world takes notice.
While awareness building is a crucial first step, cohesive efforts are needed to translate this into real-world change.
Executive Director of the International Campaign for Human Rights in Iran, Hadi Ghaemi, urges people around the world to consistently and loudly express their collective condemnation of rights violations in Iran so that their own governments and the Iranian government understand that ending Iran's international isolation is predicated on serious domestic improvements. "In the age of the Internet, international public opinions voiced and echoed through it, can positively influence the Iranian government's policies and practices, especially right now when it is trying hard to break out of its current isolation," he says.
This is exactly why Amnesty International USA urges people to take action on their website's Iran page, to send a unified message to Iranian authorities that we stand in solidarity with individuals who are being repressed.
Amnesty International USA Executive Director Steven W. Hawkins puts it simply:
"Global solidarity sends a strong signal that Iran's human rights defenders are not alone. We have seen time and again that when the international public speaks, Iran's government reacts."
Our rights are interconnected and inseparable. When freedom of expression is threatened, the rights to freedom of association and assembly, of thought, conscience and religion, are also compromised.
Dance connects us to the musicality of life and to one another. No one should be denied such basic pleasures.
As world renowned Iranian poet Rumi wrote: "Dance, when you're broken open. Dance, if you've torn the bandages off. Dance in the middle of the fighting. Dance in your blood. Dance when you're perfectly free."
The right to freedom of expression is enshrined in the Universal Declaration of Human Rights, and in the International Covenant on Civil and Political Rights, to which Iran is a party. It is crucial that we protect this globally as one of the most fundamental rights we have, and we no longer turn a blind eye to the plight of our counterparts in Iran.
Calling all HuffPost superfans!
Sign up for membership to become a founding member and help shape HuffPost's next chapter