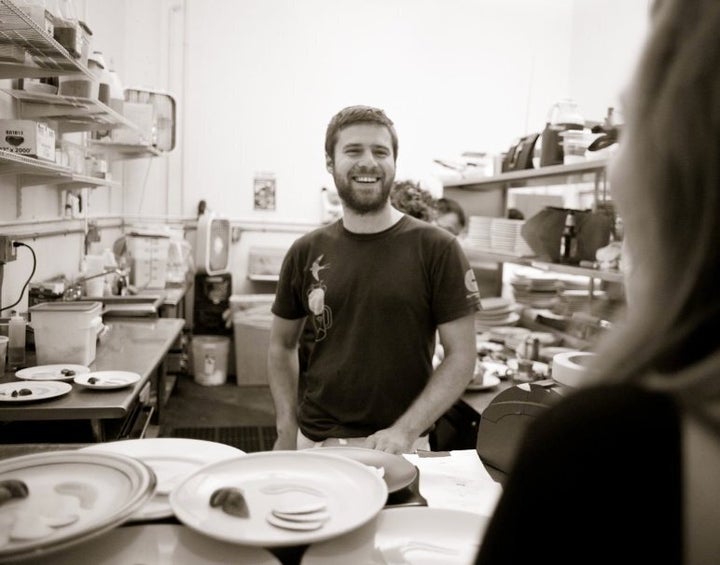 Neighborhood: The Panhandle.
Current Gig: Step one: Collect snails from underneath a mossy log at dawn or dusk. Step two: ????? Step three: Feast.
Rabins has been turning San Francisco's conception of fine dining on its head for nearly half a decade. The founder of ForageSF leads a community of foodies eager to explore a secret universe of eating. He hosts the popular Wild Kitchen dinner series featuring food gathered from foraging adventures throughout the city. His Underground Market, a veritable food carnival for budding producers, has grown into a national phenomenon (and returns to Public Works this Saturday!). These days, Rabins is working to expand his empire further through the Forage Kitchen, an incubator space for food entrepreneurs.
We caught up with Rabins to hear about his life as a forager, his vision for the city's first food-centric coworking space, his challenges with the city's regulators and the best places to find a hidden something to eat in San Francisco -- restaurants need not apply.
(SCROLL DOWN FOR RECIPE AND PHOTOS)
How did you get started in the whole foraging world? Kind of randomly. My dad lives up north, near Eureka, and I met some foragers up there and was inspired by them. It's nothing I even thought about before. I started collecting mushrooms and would knock on the back doors of restaurants and try to sell them. That was the beginning of my business.
Tell me about Forage SF. I started following my own interests in wild foraging and morphed that into something that supports local food producers and organizes events around food. The Underground Market, for example -- it's an incubator space for small food producers. I started it because i couldnt find a farmers market to let me in, and I realized that there were a lot of people like that out there.
Why wouldn't they let you in? I was trying to sell wild foraged food, and most farmers markets are certified, so you have to produce everything you sell. Then you need to apply to sell there, and that can take up to two years on a waiting list to even get in...you spend all this money, then you have to wait. It's emotionally stalling, and it stops a lot of people.
So the Underground Market removes those barriers? What's really cool about the Underground Market is that it's low-bar entry. You get in there, see if it's something you want to do with your time. I've seen people set up shop at one market and play it cool...and once they come to a second market they design beautiful signs and packaging for their products; they get so excited. Two restaurants have even started from people selling at the market: Mission Cheese on Valencia and Homeroom in Oakland.
The SF Health Department famously shut down the market last year. How did you manage to bring it back? I brought it back by making everyone get permits. Now it's totally legitimate. When it got shut down, I wasn't interested in opening it up as a totally legit market. Let the farmers markets do what they do best. But then I changed my mind, and it's cool because most of our vendors started at the original one. Back then they were totally beginner. Now they've all taken the steps to push their businesses forward. It's kind of the grown-up version, almost like proof of concept.
Did that experience color your opinion of working in San Francisco at all? For me, the thing that's most frustrating is that the regulations dampen the level of creativity I can have. It feels like overkill. There needs to be some kind of reality check -- whats actually dangerous? I think Outside Lands pays the same permitting fees that I do. An event grossing 1,200 bucks shouldn't be held to the same standard as something that earns 15 grand. It's dampening the scrappy, startup side of things.
But these kinds of laws are everywhere. And to be honest, the law is overwhelmed by the support and the ideas you get here. There's a lot of support for innovation here, even on the bureaucratic side, which is unusual. It's definitely one of the best places in the world to live. I don't want to leave San Francisco. It's beautiful; tons of stuff going on. I can come up with all sorts of weird ideas and know people will show up to them.
What are some of the best foods that can be foraged here? Tons of greens, fennel, wildflowers that are really nice, radish flowers, mustard flowers. There are lots of backyard snails that are the same genus as escargot snails. At dawn and dusk they're mostly active; just look on the stalks of things. People say you can find porcini mushrooms in Golden Gate Park, but I have yet to. You can catch crabs down at Fort Mason, which is fun. Foraging really changes your relationship to your environment -- you see it in a different way. It's not just beautiful to look at; its a much more tangible connection.
Any local producers you have your eye on? Rice Paper Scissors. My ex-girlfriend runs that. They make great stuff; I'm really proud of them. Blair Warsham of graffEats does these really fun underground dinners that partner with musicians. And tons of people from my market. Danny from Sour Flour makes bread, offers bread classes. And Mission Cheese -- I really love that place. Their design is amazing; good food, good coffee.
How about actual brick-and-mortar restaurants? Shanghai Dumpling King. I love the soup dumplings; I can't get enough of them. And Kabuto, a sushi place out on Geary. It's so good. They do super composed sushi; all the flavors work so well together. They wont give you soy sauce unless you ask for it.
What are you hoping to accomplish with Forage Kitchen? The idea grew from what I saw at the market: Helping people get through the process of starting a food business while at the same time creating a community of these people. You go in there, pay your fee, use the equipment...it will be a coworking space for food. We just raised a bunch of money on Kickstarter and I'm working out negotiations with a beautiful warehouse in the Dogpatch. Sixty foot ceilings, exposed brick. I'm super excited. Hopefully we'll open within a year. It's going to be really great -- it's something that people really want.
Check out Rabins' recipe for his famous foraged sea beans below. Then take a look at a handful of images from his various events. See you at the Underground Market!
Seabeans Four Ways

1 oz dried porcini
2 shallots – sliced
2 cups sea beans
butter
olive oil
2 cloves garlic – minced
1 inch plug ginger – minced

Soak porcini for 15-20 minutes in cold water, then slice thin. Heat 1 tbsp butter over medium heat, then add onions. Cook until onions start to caramelize, then add garlic and porcini, stirring often to make sure garlic doesn't burn. A line cook trick is to throw a small splash of water into the pan if you see the garlic starting to brown. Now you add the sea beans, stir to incorporate, and then turn heat to low, cover, cook 8 minutes. Take off cover, turn heat up to cook off any liquid. Serve.