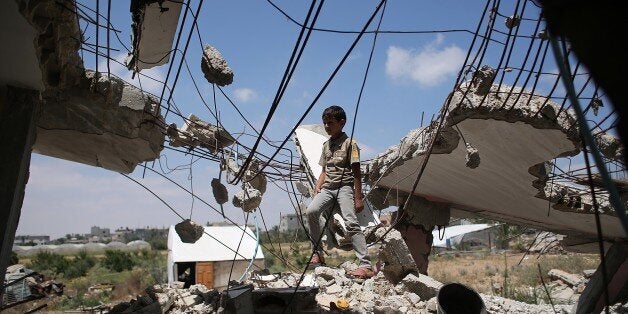 One year into the cease-fire agreement that ended last summer's 50-day war in the Gaza Strip, Israel and Hamas appear to be advancing toward a series of understandings -- an agreement, even -- that would practically end the siege on the Gaza Strip and bring long-term quiet to the area. The agreement talks are being mediated by former British Prime Minister Tony Blair, who three months ago stepped down as the longtime envoy of the international Quartet. Since then, Blair has already met with the leader of Hamas, Khaled Meshaal, twice in recent weeks.
The influential, London-based Arabic daily Al-Hayat reported recently that Palestinian sources say that Israel has agreed to set up a sea passage between the Gaza Strip and Cyprus in exchange for a cease-fire of seven to 10 years. The following day, Hamas convened several factions for an update on the still-forming agreement, following which one Palestinian source remarked that "something serious is on the horizon." Meshaal described the current diplomatic efforts as "positive," but stressed that "we have not reached an agreement so far."
The agreement currently being hammered out would include, among other things, the opening of all commercial crossings between Israel and the Gaza Strip, a move long supported by Israel's military establishment, which has been quietly pushing for a significant relaxation of the siege and openly views Hamas as the only realistic alternative in Gaza.
Hamas, whose ideology is centered on armed resistance to Israel, has for some time now been preparing its supporters for the possibility of a long-term truce with "the Israeli occupation." Last summer's hostilities had been well underway when a prominent Hamas columnist called for a ten-year truce in exchange for a seaport, "according to an agreed work plan." A written agreement to that effect, he argued in the Hamas-run daily Filastin, would benefit both parties and "pave the way to a mutual agreement on all the other issues."
A month later, senior Hamas leader Mousa Abu Marzook stated that the movement might be forced to negotiate directly with Israel. Direct negotiations, he told Hamas's Al-Quds TV, have "almost become a popular demand." More recently, hardline Hamas writer Mustafa al-Sawwaf flat-out made the case for direct negotiations with Israel. Writing in the Hamas-run weekly Al-Risalah, he noted that as long as Hamas was not forced to formally recognize Israel or abandon the right of return, there should not be any concerns about "negotiating with the Israeli occupation, even directly."
In recent days, pro-Hamas writers struck positive notes on the idea of a long-term cease-fire. The editor-in-chief of Al-Risalah said that Gazans desperately need "to catch their breath and receive a citizen's respite." The editor of a pro-Hamas news site argued last week that "those who are capable of war are also capable of quiet, and those who were prepared to fight are the ones most capable of the realistic political choices that come afterwards." A third writer lashed out at Fatah for criticizing Hamas's efforts to achieve a cease-fire, and a fourth one called on all Palestinian political parties to rally behind Hamas. All parties, he argued, must be "real partners and shoulder full responsibility," as "there will not be an agreement unless all Palestinians agree to it."
While neither party formally recognizes the other, both Israel and Hamas are well versed in indirect talks and tacit coordination. Their previous confrontation in November 2012 produced an open-ended written agreement that stipulated that the parties would turn to Cairo with any disputes. That informal dispute-resolution mechanism proved itself quite well: on several occasions, Hamas was quick to communicate reassuring messages to the IDF following cases in which rockets were fired into Israel by rival factions. Other attacks were preempted by the 600-strong security force Hamas had established for the sole purpose of securing Israel's border. Hamas even acted on intelligence data relayed to it by Israel through the Egyptian backchannel and had dozens of rival activists jailed for cease-fire violations.
However, these patterns of behavior began to unravel following the July 2013 ouster of former Egyptian President Mohamed Morsi by the Egyptian army, and the latter's onslaught on the Muslim Brotherhood. Identifying itself as "one of the wings of the Muslim Brotherhood in Palestine," Hamas was deemed a threat to Egyptian national security. Before too long, the Egyptian army directly took on Hamas's economic lifeline -- a vast network of underground tunnels linking the Gaza Strip and northern Sinai. Determined to cripple Hamas, a Cairo court banned the movement's activities in the country in March 2014 and proceeded to label Hamas a terrorist organization.
Egypt's sharp policy shift was to reshape Hamas's strategic calculus and provide part of the backdrop to last year's war. Israel and Hamas were to lose their most effective mediator. Prominent Hamas figure Ahmed Yousef told me last month that while Hamas remains open to Egyptian mediation, it does not consider this a realistic option in the present climate.
In other words, the current international effort remains the only game in town. Will Israel play along? Prime Minister Netanyahu's office denied holding any direct or indirect negotiations with Hamas, but Israel is nonetheless following Blair's efforts, which one Israeli source described as a "feasibility check."
A practical end to the siege would put Hamas in a better position to deal with the challenge posed by local armed groups, including ISIS, to increase the movement's dependence on the international community and to decrease the likelihood of Hamas gravitating back into the orbit of a sanctions-free Iran.
Still, long-term understandings, let alone an agreement on core strategic issues in the relations between Israel and the Gaza Strip, will require both adversaries to pursue a risky political balancing act. When Abu Marzook spoke of the prospect of direct negotiations, he added, "The issues that were sort of taboo policies become on the agenda." In that respect, Israel will demand that Hamas cease military build-up, primarily its underground assault tunnels. Either way, both parties will have to live with the prospect that the adversary's relative gains from a long-term truce could be higher.
All of this might prove to be beyond Israel and Hamas's political capacity, which is why both are more likely to opt for a gradually implemented informal "accommodation" or "arrangement," than to an actual binding "agreement." But the matter involves more than semantics: a seaport -- even if closely supervised by Israel or some other international mechanism -- would gradually solidify Hamas's grip on the Gaza Strip and ultimately undermine the PLO's credibility as the sole legitimate representative of the Palestinian people. This would further cement the political division in the Palestinian arena. Under certain circumstances, an excessively glaring achievement for Hamas in Gaza could even destabilize the West Bank.
PHOTO GALLERY
Gaza War Anniversary Photos
Calling all HuffPost superfans!
Sign up for membership to become a founding member and help shape HuffPost's next chapter