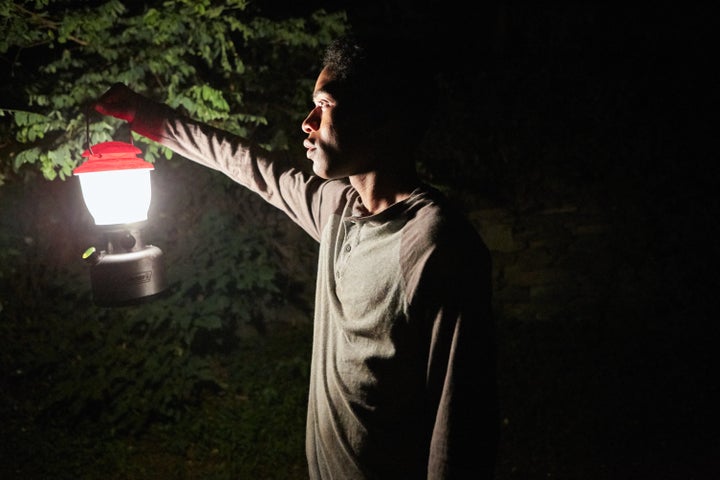 Horror movies are often bathed in red. Blood oozes from the Overlook Hotel's elevator in "The Shining." A crimson-cloaked figure stalks the central family in "Don't Look Now." Freddy Krueger's "Nightmare on Elm Street" sweater matches the tint of his victims' gore. The sludge pits in "The Descent" are speckled with a foreboding scarlet.
"It Comes at Night," opening in theaters this weekend, brandishes a red door at the end of a slender hallway. The only portal leading in and out of an isolated home in the woods, it provides security and alarm. Open it at the wrong moment, and whatever apocalyptic sickness that's seized the world could seep in. Keep it closed, and resources will run out.
Equal parts family drama and end-times horror feast, Trey Edward Shults' first film with professional actors ― following last year's superb micro-budget psychodrama "Krisha," which starred the 28-year-old director's relatives ― is a boiling, 91-minute labyrinth that grows more ominous by the minute. Fuse the simmering paranoia of "The Witch," the post-apocalyptic dread of "Night of the Living Dead" and the domestic tension of "The Others," and you'll get "It Comes at Night."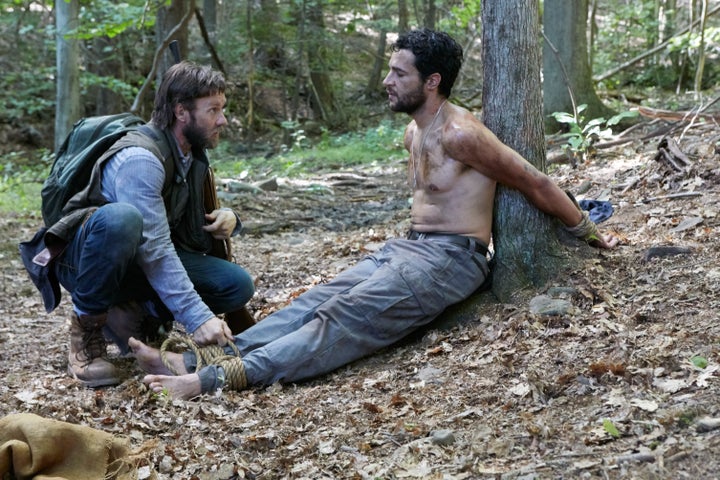 "I actually didn't read it as a horror at all," Christopher Abbott told HuffPost at the movie's junket earlier this week. "When I read it, I though it was a heavy family drama with some creepy moments."
Abbott and Riley Keough play a desperate couple seeking shelter after their truck breaks down. Fleeing an epidemic that's never detailed, they land at a home sporting boarded windows and a skeptical family that doesn't leave once the sun sets. The latter clan ― played by Joel Edgerton, Carmen Ejogo and standout newcomer Kelvin Harrison Jr. ― are the narrative's spine. They don't know exactly what's happened to the world, but they've entered full-blown panic mode. Their house, their rules. No one exits alone, the red door remains locked, gas masks are mandatory whenever potential threats loom. There's always something lurking beyond that door, at least in their minds.
"Who told him to put a gas mask on? No one," Harrison said, referring to Edgerton's patriarch, Paul, who is hell-bent on protecting his wife and 17-year-old son. "They decided that on their own, and that's what's kind of messed up about it. Is anyone actually sick?"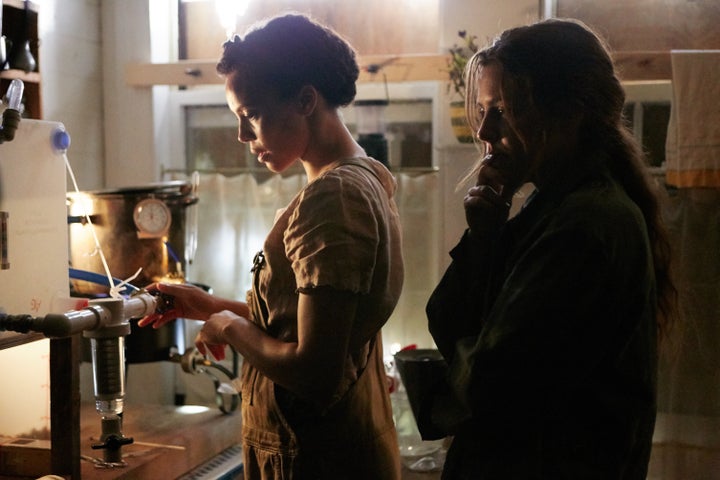 Characters break these rules as often as they keep them. What resonates is not the apocalyptic trivia ― it's how everyone deals with it. Delusions. Hallucinations. Knee-jerk reactions.
Like the best ambiguous horror tales, "It Comes at Night" conceals enough information to send its audiences down similar paranoia spirals. Paul agrees to house this rogue family, but are they trustworthy? Will teenage Travis' voyeuristic interest in the couple align with his burgeoning, inhibited sexuality? Will whatever vague peril haunting the forest that surrounds the house infiltrate the families' newfound shared domesticity?
The script, written at the start of 2014, "spewed out of" Shults after his semi-estranged father died. Through this story of two clans processing their hysteria, Shults processed his grief. A cinephile completing a two-picture deal with trendy indie studio A24, Shults channeled some of his favorite movies ― "There Will Be Blood," "A Woman Under the Influence," "The Shining," David Lynch's catalog ― in developing the stylistic menace suffused throughout "It Comes at Night," shot in upstate New York. He knows some viewers will be frustrated by the lack of finite information about the disease that may have seized civilization, but he hopes the film will play like the aforementioned gems: richer, deeper and more meaningful upon second and third encounters. In the meantime, horror stalwarts will be treated to a production that expands the genre's finest tropes into a coming-of-age trance built on nightmares, yearning and that sinister red door.
"I love movies that have an openness, movies that don't sum up everything for me," Shults said. "[With time], I see different things about them or I interpret them in a different way. That's my jam. I think this movie is intentionally designed that way. There's some tough subject matter in it."