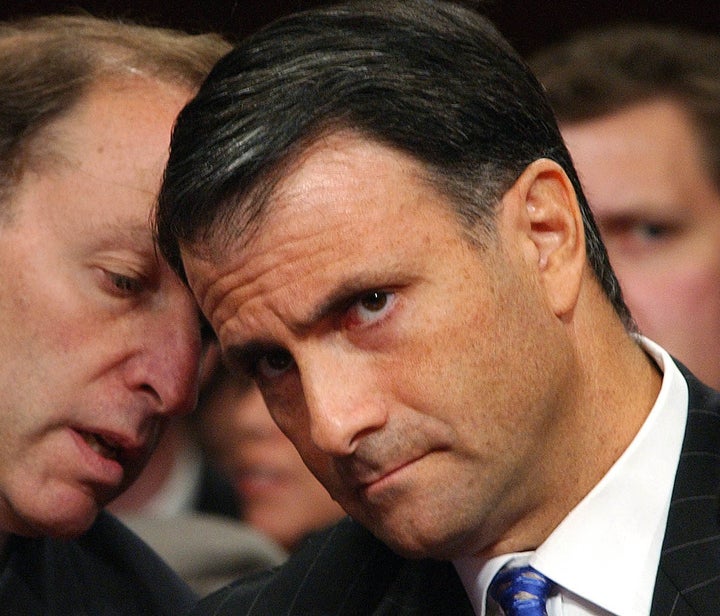 WASHINGTON -- Looking to host an event and have $25,000 to spare on the entertainment?
Or you could get Jack Abramoff, Washington's most famous former lobbyist, who is out of prison and promoting his new book, "Capitol Punishment: The Hard Truth About Washington Corruption From America's Most Notorious Lobbyist."
The going rate for a speech by Abramoff is $15,000 to $25,000, according to Eye to Eye Strategies, which is helping him book events.
Still, he's hopeful. Not only is he looking to talk about government reform, but he'd also like to make big bucks.
"I owe a lot of restitution, so I hope I get as much as possible," Abramoff said. "I owe $44 million in restitution, and I certainly can't pay anywhere near a large chunk of it with book revenue. I do hope that that'll happen, but I don't know that it'll happen. There hasn't really been a lot booked yet. It just started. Frankly, I haven't given one speech in terms of this."
Despite his desire to rake in the cash, Abramoff said he wouldn't be interested in speaking at events held by groups perpetrating the corruption in Washington, although he doubted they would be knocking at his door anyway.
"If I were invited somehow to somebody who's sort of the main purveyor of this type of activity, I would no sooner go speak to them than frankly, in the old days as a lobbyist, I would have gone and spoken to Melanie Sloan's group," he said, referring to the head of Citizens for Responsibility and Ethics in Washington. "Now in fact, I do speak with her. I switched teams."
Abramoff has called for an end to the revolving door between Capitol Hill and K Street by prohibiting lawmakers from becoming lobbyists after they retire and banning campaign contributions from anyone doing business with the government, including lobbyists. He has also continued to explain how lobbyists exploit congressional offices for favors and to leak tidbits of information about wrongdoing, alleging, for instance, that lawmakers bragged to him about their insider trading of stocks.
When asked whether he would be doing any events or working with government reform groups in the coming days, Abramoff replied, "I'm actually in discussion with a number of people right now about that very thing, to see if my voice can help move things forward."
Some of his former foes are cautious, however.
Ellen Miller, executive director of the Sunlight Foundation, previously ran the Project for an Accountable Congress, which sounded the alarm against Abramoff and others.
"To prove himself, Abramoff has to act like a reformer, not just talk like one," Miller told HuffPost's Paul Blumenthal recently. "Rhetoric is cheap, easy. He needs to start naming names and giving us the documents that prove that he actually had 100 congressmen in his pocket. Then, maybe, I'd believe his conversion is for real."
Abramoff declined to respond directly to Miller, but did say that he wants to focus on moving forward.
"In terms of naming names, my god, I've been through probably 2,000 investigations with people who are actually in charge of determining whether somebody is guilty or not," he said. "Having been to prison personally -- hopefully, Ms. Miller hasn't been to prison and most of your readers haven't been and never will go -- but having been to prison, it's very hard for me to put anybody in harm's way, even people I don't like. And that's besides the point anyway. The point is to change the system."
Still, Abramoff seemed to agree with Miller on the need to do more than simply talk about change. He praised Sens. Scott Brown (R-Mass.) and Kirsten Gillibrand (D-N.Y.) for recently introducing legislation that would end federal lawmakers' exemption under insider trading laws.
"Both are heroic," he said. "You know Washington. You know the pressure they're under by their colleagues for even raising the matter. ... The approach they're taking could be better, but it's a good step in the right direction, so I think that's positive."
"One of the things I'm bothered about is that none of the candidates, including Obama, is talking about real reform anymore. So I actually wrote a column recently -- five hard questions I'd ask these guys if I were up there asking them," Abramoff said, referencing his recent piece on WorldNetDaily. "Of course, they're never going to let me up there. ... I'm very surprised that Republicans don't focus more on this. There's tremendous anger out there. They seem to be missing this for some reason."
"Somebody needs to get vocal about this," Abramoff added. "We can't have an election where nobody's speaking seriously about this, and right now, that's what we've got."
CORRECTION: An earlier version of this story incorrectly stated that Abramoff owed $4 million in restitution. It has been changed to reflect the correct figure, $44 million.