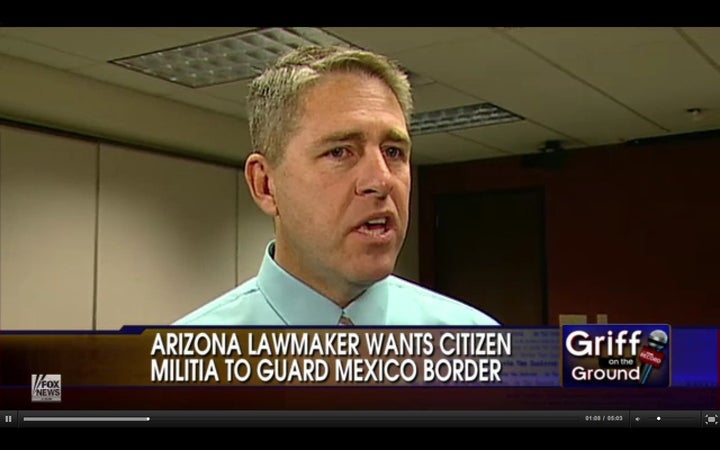 Arizona State Rep.-elect Jack Harper, a Republican, announced Monday his plan to submit legislation that would pave the way for the creation of a citizen-militia force to protect his state's border with Mexico.
His bill would establish the "Homeland Security Force," Harper told Fox News on Monday. The outfit would supplement the National Guard troops currently at the border, which Obama reinforced in 2010.
Harper, a rabid cost-cutting conservative who once sparked outrage with a blunt letter warning Arizonans that he was planning to sever entitlement-program lifelines in order to address a mounting budget crisis, claims that the National Guard is too expensive and the Border Patrol is too weak.
"It'd be volunteers trained by volunteers, maybe with -- with, definitely, oversight by the Arizona Army National Guard -- that shouldn't take more than one full-time employee and maybe about $50,000, $60,000 a year of state funding," he said. "Border Patrol's under -- you know, it's under Janet Napolitano, and that's not really an intimidating factor."
KTAR reports that Harper, formerly an Arizona state senator, was thwarted in his previous attempts at similar legislation:
Harper, a Republican who represents the northwest Valley, got a bill passed in 2007, but it was vetoed by then-Gov. Janet Napolitano, who moved on to become the secretary of Homeland Security.
But with Republican Gov. Jan Brewer now in power and apparently willing to implement controversial tactics to combat illegal immigration, Harper has renewed hopes for his measure.
"They have not come out against creating the Homeland Security Force," Harper said of Brewer's response to his initiative. "But they have come out saying that they're apprehensive about funding securing the border when it is the federal government's responsibility."
Calling all HuffPost superfans!
Sign up for membership to become a founding member and help shape HuffPost's next chapter